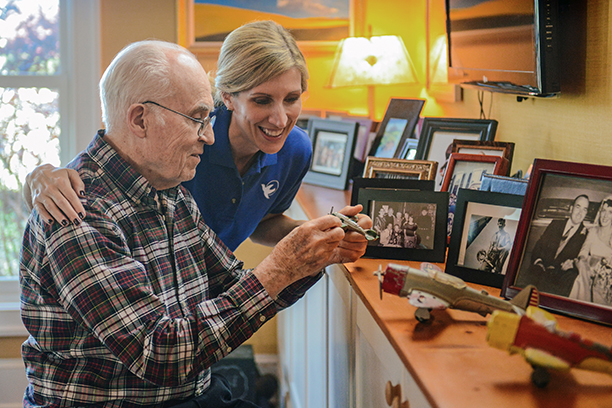 Senior Care in Grandview, MO
Visiting Angels of Kansas City Offers Senior Care to Aging and Disabled Adults Living in Grandview
When it comes to helping aging family members, many families will assist them with daily needs, as more and more seniors choose to live at home throughout their golden years. Aging can mean changes in physical and mental health that affect your loved one's ability to care for themselves in their own home, but that does not mean they have to give up their independence. If you are looking for senior care in Grandview to make sure a loved one stays safe and healthy, Visiting Angels of Kansas City is here to help.
Essential Senior Care in Grandview
Our quality essential care services are provided by our caregivers, who are licensed, bonded, trained, and trusted by many families across Grandview. Companionship is at the heart of what we do, with a dedicated Angel assisting your loved one continually, and building a communicative relationship with your loved one and your family. Companionship has been proven to prevent isolation and loneliness in seniors, resulting in many positive physical and mental health outcomes, like decreases in depression and better heart health.
Our senior care services include:
Compassionate and Experienced Caregivers
Quality care means that your loved one should feel safe, comfortable, and happy when working with their caregiver. Which is why we match clients and senior care providers based on interests, personality traits, and specializations to make sure they are compatible. We have heard from countless clients that our caregivers become like family, and that is how we know we are successful in providing quality care.
Care in the Community
Connecting with our neighbors and community is important to all of us, and part of what makes Visiting Angels of Kansas City different. Your care plan might incorporate transportation to medical appointments at the University Hospital, but did you know it can also include a meal out at Pappy's Smoke House, or getting a breath of fresh air at Forest Park? At Visiting Angels of Kansas City, we believe in caring for the whole person—and that is why our care incorporates your loved one's hobbies, interests, spirituality, and other preferences into their care.
Contact Us Today!
If you and your family are helping to care for a loved one who lives alone, Visiting Angels of Kansas City is here to help. We provide top level care that is designed for you, by you, and can meet any budget. Contact our agency today by clicking one of the buttons below to learn more about our long term senior care services!
Serving Kansas City, MO and the Surrounding Area
Visiting Angels
KANSAS CITY, MO
7819 Wornall Road #7
Kansas City, MO 64114
Phone: 816-361-9800