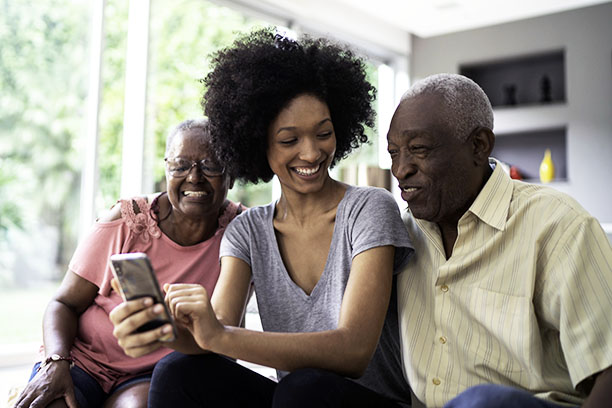 Social Care at Home Promotes a Social Lifestyle for Seniors in Greater Kansas City, MO
Visiting Angels' Social Care at Home Helps Seniors Engage with Family and Friends in Kansas City, Lee's Summit, Liberty, and Nearby Areas
Your elderly loved one may feel inactive if they have to stay at home all the time. Just like any other human being, they need to socialize and reach out to their friends and family. But what if they live alone and driving to their friend's house is out of the question because of their condition? This does not mean that you must tell them they cannot go. What you need to do is to enroll them in our social care at home program at Visiting Angels of Kansas City.
Social Care Program
At Visiting Angels of Kansas City, we provide social care at home to your loved one in Kansas City and surrounding area. This means that we do not only provide the physical care needs of our clients but also their social needs. Their confinement or lack of mobility should not hold them back from socializing. Through technology, this can be done easily. Our essential home care and caregivers can help them stay get connected by using platforms like FaceTime, Facebook, and Skype.
Technology can help improve their emotional well-being. Recent studies show that logging on to the internet can help reduce depression among the elderly by as much as 20%. Moreover, those who use Facebook can help improve their cognitive skills by as much as 25% as well as provide them with a positive emotional experience.
How Our Caregivers Can Help Your Loved Ones
With our social care program, our one-on-one home care does not only provide companionship to your loved ones, but they will also be able to help open doors so that your loved ones will also be able to connect to friends and families that they haven't seen for a long time. Using technology, our home care providers will teach them how to use a smartphone to send an email or set up their own accounts on Skype or Facebook. We can also assist your loved ones on how to do online shopping, watch YouTube videos or do research from the search engine.
Despite their distance to their loved ones, it is the aim of our social care at home program to enrich their lives so that they will have something to look forward to every day.
Contact Us Today!
Contact Visiting Angels of Kansas City at 816-361-9800 to learn more about our social care at home program for seniors in Kansas City, Lee's Summit, Liberty, Belton, and the surrounding area. Our staff will be happy to schedule a free, in-home assessment with one of our care coordinators to go over any questions you have, dive into our services, go over logistics, and more.
Serving Kansas City, MO and the Surrounding Area
Visiting Angels
KANSAS CITY, MO
7819 Wornall Road #7
Kansas City, MO 64114
Phone: 816-361-9800