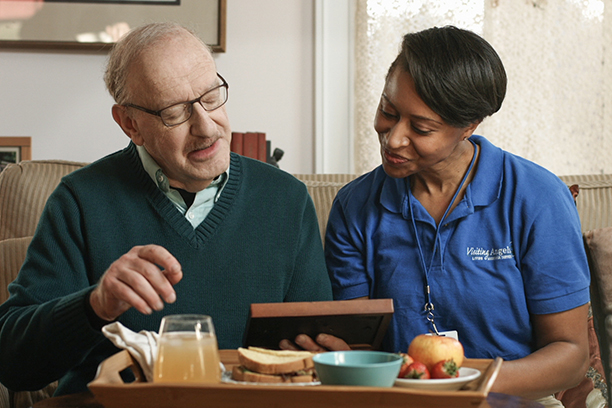 Living Assistance and Chronic Illness Support in Kansas City, MO
In Kansas City, MO, and the surrounding regions, a Visiting Angel senior caregiver offers living assistance support.
What Does It Mean to Have a Chronic Illness?
Before an illness may be classified as chronic, physicians must treat it for at least a year.
These illnesses may have a big influence on a person's quality of life, making even the most basic chores more difficult.
"Chronic diseases" refers to a group of ailments that last for a long time.
Among them include arthritis, asthma, respiratory difficulties, diabetes, heart disease, various cancers, osteoporosis, and other disorders.
People with chronic diseases may not be able to enjoy their senior years in their own homes without help if they get in-home care.
What Are the Benefits of Having the Angels Come to My House?
It might be difficult for family members to care for an elderly relative who has acquired an age-related chronic disease.
Despite their chronic diseases, many seniors appreciate their independence, so putting a loved one in a nursing home or assisted living facility may seem to be a wise move at first, but it may be devastating for them. Visiting Angels of Kansas City, MO, offers in-home care services to help your loved ones get the help they need.
Our personalized home care services cater to the specific requirements of each client. Many chronically sick persons now have access to services that allow them to manage their diseases while remaining healthy and secure in their own homes.
Our senior caregivers are critical to the well-being of the elderly with chronic illnesses.
The following are some of the ways our home health care professionals help our clients:
Meal preparation and planning
Light housekeeping includes things like vacuuming, dusting, and sweeping.
Assisting the elderly with personal hygiene and clothes
Care for incontinence
Reminders to take medications
Assist with everyday duties
Caring for persons who are reaching the end of life with compassion
Fall-prevention techniques
Your loved one will have more relaxed days and fewer health concerns if you choose a Visiting Angels of Kansas City, MO caregiver to care for them.
Because we go to great lengths to screen prospective team members, you can be confident that your loved one will be competent and have delicate hands.
Please contact our Kansas City, MO office right now to learn more about the benefits of having a senior caregiver come to your house for you or a loved one.
Serving Kansas City, MO and the Surrounding Area
Visiting Angels
KANSAS CITY, MO
7819 Wornall Road #7
Kansas City, MO 64114
Phone: 816-361-9800