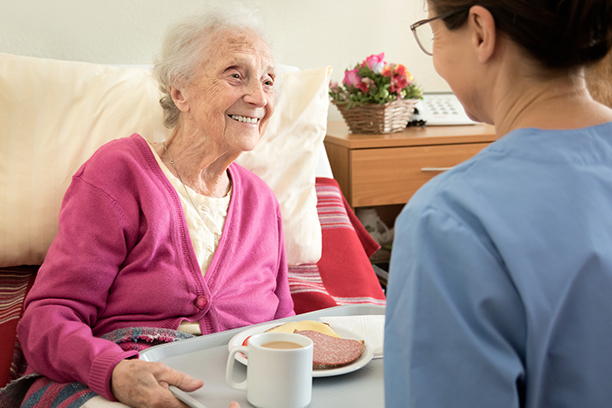 Home Care Aides Provide Medication Reminders in Kansas City, MO
If your loved one needs more senior care, please contact the Visiting Angels home care aides servicing Kansas City, Missouri, and the surrounding areas.
Senior home care aides from Visiting Angels of Kansas City may provide seniors with assistance and reminders for taking their meds to do it appropriately and on time each day.
Our kind and dedicated caregivers at Visiting Angels of Kansas City can help the elderly with everyday chores since we are a certified home care service (ADLs). Examples include bathing support, senior care, light cleaning, laundry aid, and assistance with food preparation.
We may also send email reminders to ensure the elderly take their medicines correctly and on time daily. We can't administer medications or handle pill bottles since we only provide the most basic kind of personal care. Our home care aides can help the elderly remember to take medications and other medicines as planned by family members or healthcare experts.
The Benefits of Medication Reminders for Seniors
Seniors often take a variety of medications throughout the day. Seniors often take their drugs on an empty stomach, with meals, or both. Your aging parent must take medications at certain times, such as in the morning, afternoon, or night. Keeping track of several drug regimens and instructions may be difficult for older people with dementia.
We provide the following services to the elderly:
To remind your loved ones to take their medicine, set a timer.
It will be spoken aloud when it's time to take the drug.
Observe medication guidelines
Ensure that your senior is properly administered or taking their medication by keeping an eye on them.
Keep track of the days and times they did so.
While taking new medications, check for any uncomfortable side effects or symptoms.
Typically, effectiveness depends on using medications as directed and regularly. If a family member forgets to take their blood pressure medicine, it might seriously affect their general health.
The Visiting Angels of Kansas City Provide Helpful Support
Medication reminders are just one of the many services that Visiting Angels of Kansas City offers. Our home care aides can help seniors with the tasks mentioned below while they're at home:
Buying groceries, running errands, and preparing meals
Seniors are entertained and motivated to eat by conversation and companionship during meals.

Essential domestic duties include emptying the garbage and cleaning towels or bed linens.
Maintaining personal hygiene includes using the restroom, dressing, and taking a shower.

Your loved ones' home care services are tailored to their needs and preferences. Each senior client's care plan is personalized to match their specific requirements, preferred schedule, and personality.
For additional information, please get in touch with Visiting Angels of Kansas City.

Don't hesitate to contact our Kansas City, Missouri office to learn more about medication reminders and our other senior assistance services. To create a personalized care plan, we'll set up a free in-home evaluation with you and your loved one.
Contact us right now to get started!
Serving Kansas City, MO and the Surrounding Area
Visiting Angels
KANSAS CITY, MO
7819 Wornall Road #7
Kansas City, MO 64114
Phone: 816-361-9800