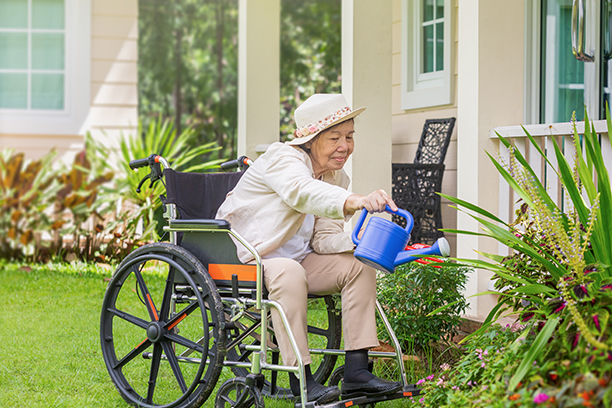 Our In Home Care Providers Can Cook for Seniors in Kansas City, MO and the Surrounding Area
Our In Home Care Providers Improve Seniors' Daily Diet in Kansas City, Lee's Summit, Liberty, Belton, and Nearby Cities
For many seniors, maintaining a healthy diet is nearly impossible, due to lack of access to transportation for groceries, limiting mobility issues, and loss of appetite. With changes in physical health dietary changes are often necessary. However, when older adults can no longer prepare and cook their meals on their own, it becomes a challenge to get the healthy food they need.
Luckily, with a in home care provider like Visiting Angels of Kansas City, we can take care of your beloved elder by providing affordable care in Kansas City and the surrounding areas. Whether your loved one needs daily, weekly, or occasional support, our caregivers and quality care services can help you access fresh produce, healthy ingredients, and maintain a nutritious diet.
Meal Preparation Services
Transportation: for many older adults, it can be difficult to run errands or do groceries. Trained caregivers can help by providing secure transportation to wherever your loved one needs to go, including their preferred shopping centers or stores.
Mobility: running errands or medical visits can be incredibly challenging for older adults. However, with a companion by their side, your loved one will gain the confidence to go wherever you need to go with the use of their mobility device.
Meal preparation: Conditions like arthritis can making cooking difficult – sometimes even dangerous. Our in home care providers can assist in the kitchen, supporting your beloved elder as needed, be it with meal planning or preparation, as well as clean-up and food storage.
Medication reminders: while some medications can impact taste and digestion, others can cause equally unwanted side effects – which may cause some seniors to avoid taking them altogether. As trained caregivers, our aides can give medication reminders, establish a medication routine, and monitor and help resolve any side effects that may occur.
Contact Visiting Angels of Kansas City for Your Dietary Needs
Worried about the quality of life of your beloved elder in Kansas City, Lee's Summit, Liberty, Belton, or the surrounding area? Concerned they are not eating properly? At Visiting Angels of Kansas City, our compassionate, patient in home care providers can help your loved one on a daily, weekly, or occasional basis. Contact us today to set up a free, no-obligation, in-home assessment with one of our trained care staff. With Visiting Angels of Kansas City's essential care services, your senior is in great hands!
Serving Kansas City, MO and the Surrounding Area
Visiting Angels
KANSAS CITY, MO
7819 Wornall Road #7
Kansas City, MO 64114
Phone: 816-361-9800