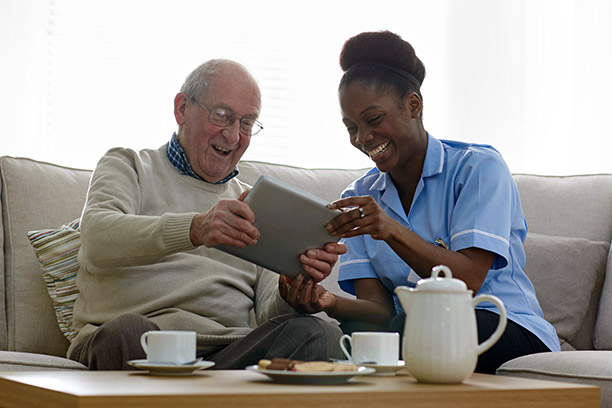 At Home Senior Care Alzheimer's Services in Kansas City, MO, and the Surrounding Areas
Visiting Angels Provides Professional At Home Senior Care Alzheimer's Services to the Elderly Living in Kansas City and the Nearby Areas
Your elderly loved ones will start to experience a variety of new, normal difficulties that come with age. Memory loss is more than just a sporadic irritation; it may be an indication of something more serious. Other difficulties might include joint issues, weakened muscles, decreasing vision, and fading memory. Memory loss is a hallmark of the degenerative cognitive condition Alzheimer's disease, which presents difficulties for elderly people and their family.
It might be difficult to care for a loved one who has Alzheimer's, but for the person who has the condition, going to a nursing home or assisted living facility can be traumatic. Working with one of our at-home elder care providers is your best option if you have a loved one who has Alzheimer's disease.
As our trained caregivers provide expert and compassionate care, your loved one with Alzheimer's is able to stay in the comfortable setting of their own home thanks to the sensitive personal care we offer at Visiting Angels of Kansas City.
Alzheimer's Care Provided Services
Visiting Angels of Kansas City can provide at-home elder care that is customized to meet the unique requirements of your loved one. Direct caregivers will visit your loved one at home to provide care and help with many everyday duties, including:
The Advantages of Alzheimer's Care at Home
Choosing at-home elder care from our care organization has several advantages. All of our Alzheimer's care specialists are kind, knowledgeable, and committed to assisting elders in living their remaining years to the fullest. Other advantages are:
Compassionate care methods developed with the Alzheimer's Foundation of America

Family members' peace of mind knowing their loved one is in good care

Customer support 365 days a year

Care schedules that fit the needs of seniors and their families, as well as accommodating last-minute changes

Our personalized care plans are tailored to each senior's requirements.
Getting Started
If you or a loved one has just been diagnosed with Alzheimer's disease, it is critical to have a safety net in place. Caring for an Alzheimer's patient is difficult, and many family caregivers develop caregiver burnout if they are the primary carer. Whether you need assistance right now or recognize that you will want assistance as your loved one's sickness worsens, it is never too early (or too late) to call out. To learn more about how Visiting Angels of Kansas City may assist you and your senior loved one, please contact us by clicking one of the icons below!
Serving Kansas City, MO and the Surrounding Area
Visiting Angels
KANSAS CITY, MO
7819 Wornall Road #7
Kansas City, MO 64114
Phone: 816-361-9800