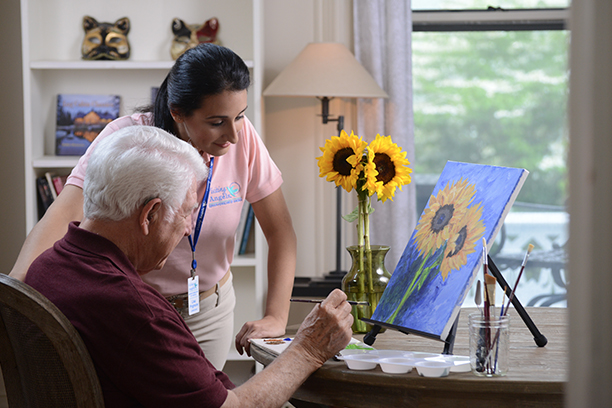 At-Home Care for Social Isolation in Gilford, NH and the Surrounding Area
Technology connects us. The Visiting Angels of Gilford holistic approach encourages seniors to socialize and connect with friends and family. Connection with others is an essential cornerstone of good mental health. Utilizing modern technology, our social at-home care helps families stay in touch by assisting seniors to access social and entertainment platforms. Sending texts and emails, using Facebook and Zoom, and even playing digital games can keep seniors mentally active and engaged.
Visiting Angels' At-Home Care Agency Provides Social Care to Seniors in Gilford, Laconia, Wolfeboro, Moultonborough, and Surrounding Areas
Adopting a digital social life may not come easy to older adults who have difficulties grasping new technology. Our Visiting Angels of Gilford caregivers will sit beside your loved ones and show them how to use their device, whether it be a cell phone, tablet, or personal computer. They can assist with connecting to the internet, identifying icons, and recording passwords. Basically, our at-home care providers will show your loved one which keys to push and where to click.
Technology Provides Numerous Benefits for Seniors
Digital tools can provide cognitive and emotional benefits, according to recent studies:
A University of Arizona study reveals that seniors using Facebook show a 25 percent increase in "mental updating" skills, essentially improving their working memory.
Seniors who visit social networking sites like Facebook have a positive emotional experience when measuring breathing rates, brain stimulation, and pupil dilation.
Surfing the internet can reduce depression in seniors.
Social Care Helps Seniors Engage in Technology
Our Visiting Angels of Gilford caregivers can teach seniors to:
Use a cell phone
Send texts and emails
Use online video chat platforms like FaceTime, Skype, or Zoom
Create a Facebook account to interact with family and friends
Use a search engine for online research or shopping
When Can We Start?
Visiting Angels of Gilford at-home care can typically begin within 48 hours of the initial consultation. In some cases, services can start on the same day. If you're in Gilford or the surrounding areas, call us at 978-216-4326 to learn more about our social care program.
Call Visiting Angels today if you think our senior care services are right for you and your loved one!


"Because of this program, I was able to experience two of the greatest joys in life – becoming a grandmother and seeing my son become a new father. Skyping and Facebooking with my son and his family are now a normal part of my life. It helps me feel like I'm still an important part of their lives even though I'm miles and miles away."
— Kathryn
Serving Lakes Region of New Hampshire and Surrounding Towns
Visiting Angels
LAKES REGION, NH
401 Gilford Ave STE 208
Gilford, NH 03249
Phone: 603-366-1993