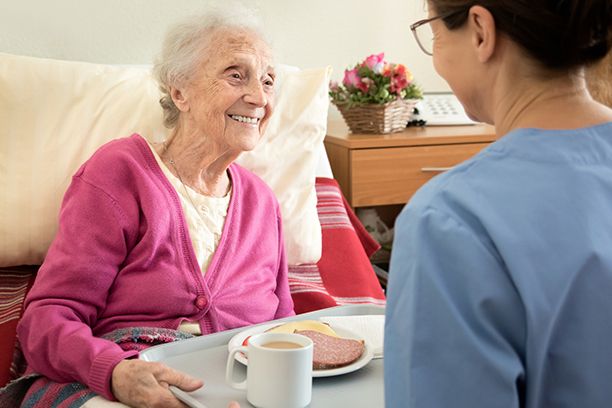 Visiting Angels Newton/Canton, Your Home Care Provider of Choice
Visiting Angels Newton/Canton MA is an award winning local home care agency providing high caliber in-home care services to elderly and disabled adults. Since 2004, countless families in Newton, Needham, Brookline, Watertown, Stoughton, Canton, Dedham, Westwood, Norwood, Wellesley, Natick, Roslindale and surrounding areas have benefited from our cognitive health programs, dementia care, Alzheimer's care, companion care, elderly assistance, 24-hour care, respite support, transitional aid, and senior home care services. While non-medical in nature, the care provided by Visiting Angels Newton/Canton can make a big impact on your loved one's happiness and quality of life.
Our Home Care Services Team
Larry Michel & Karen Woodrow - Owners
Larry has co-owned the Visiting Angels Chelmsford/Burlington with his wife, Karen, for the past year. Larry spent 25+ years as a business consultant to the US government and other international agencies working in developing countries before becoming a Visiting Angels franchise owner. He managed multi-million-dollar projects covering healthcare infrastructure, micro-finance, and privatization. When Larry moved to Warsaw, Poland, to join the Peace Corps in 1991, his mother asked him why he couldn't stay in the United States and help people here. That question stuck with Larry for many years. He is happy to say that he is now assisting local seniors to age in place safely and comfortably.
For the past year, Karen has been the co-owner of and the Marketing Manager for Visiting Angels Chelmsford/Burlington. Karen has over 25 years of experience in marketing consumer products. She is thrilled to be able to spread the word about the amazing services that Visiting Angels can provide to seniors who need an extra hand to remain happily wherever they call home.
Karen and Larry have been married for 22 years. During that time, they have lived in Sarajevo, Bosnia; Washington, DC; London, England; and Nairobi, Kenya. They love traveling the world but are glad to have called Newton home for the past ten years with their two sons, and their dog Patches.
Barney & Eileen Freiberg-Dale - Emeritus
Barney and Eileen Freiberg-Dale became franchise owners of Visiting Angels Newton/Canton in January 2004. They devoted their professional careers to human services before venturing into the home care industry. They share the same belief with Larry and Karen in valuing their employees while providing
essential care to adults with disabilities and seniors aging in place.
Learn more about the Visiting Angels' Difference >>
---
Julie R. McBain, CCM, CDP - Director of Client Services
Julie McBain has successfully led the Case Management team and office staff as Director of Client Services for over four years. She initially joined Visiting Angels Newton/Canton as a Case Manager in 2011. Julie plays a vital role in all aspects of the day-to-day management and achievements of the company. She spent seven years serving disabled individuals as a rehabilitation counselor in both Massachusetts and Virginia before returning to her first passion of working with seniors. Julie's many years of addressing the concerns of disabled and elderly individuals have provided her with an excellent background for helping families navigate the difficult decisions in caring for their loved ones.

---
Susan Saris, CDP
Susan has worked as a case manager since 1980 in both public and private home-care. She brings a holistic orientation and a variety of skills to her work with a purpose of enhancing our clients' quality of life and help maintain their independence. Her insights into family dynamics and ways to maximize the effectiveness of support from family and friends makes her especially effective in handling the many complex issues that arise in elder home care.
---
Elizabeth Quagraine, CDP
We first employed Elizabeth as a home health aide in 2007 for four years. She then became a case manager for 5 years at Elder Services of Worcester Area, still working part-time as a direct caregiver. She rejoined us in 2016 as Case Manager, bringing great experience as both home health aide and service manager. Her perspective as a former home health aide herself enables her to make a unique contribution in our team of outstanding case managers.
---
Katherine Jennings, RN, CDP
RN, has over 30 years of experience in the nursing field. She is a registered nurse with a degree from Quincy College, School of Health and Sciences. Her background spans from over eight years as a VNA Case Coordinator to a Medical Coordinator for the N.E. Shelter for Homeless Veterans (NESHV). Katherine has professional experience working with patients of all ages and complicated medical conditions.
---
Naté Paige
Naté Paige has over nine years of home care experience, working as a CNA, Scheduler, and a Case Manager. She approaches each client and their family with compassion, patience, and transparency. Naté has a passion for providing the necessary support to help clients stay safely in their homes. She knows the importance of communication with her client's loved ones during all stages and changes in their family member's life. She worked as a Phlebotomist and medical assistant before becoming a professional in the home care industry, which has given her a depth of understanding about many aspects of the medical field. Naté values all the knowledge and experiences our older generations have to share and enjoys being able to use her skills on their behalf.
---
CONTACT INFORMATION
617-795-2727 or 781-828-9200
Address:
Visiting Angels Newton/Canton
383 Elliot Street, Suite 100 E
Newton, MA 02464
Email:
Roanne@BostonAreaAngels.com
---
Home Care Accreditation & Awards
Visiting Angels Newton/Canton is accredited by Home Care Alliance of Massachusetts. We have won the Best of Home Care Leader of Excellence Award, Provider of Choice Award and Employer of Choice Award for six consecutive years. In addition, we have also been named one of the Top Places to Work in Massachusetts by The Boston Globe for five years.
Learn more about our awards and accreditations >>
Kudos From Our Clients
"They have caring people. They do what they say they will. First of all, they cared for my father at his home. They were very flexible and worked with my sister. They were also flexible and able to take care of my mother at a nursing home. They gave us the same caregiver who helped my father who worked well with him." ~Frank H. in Newton, MA
"The caregiver and I are a match made in heaven. She just seems to know exactly what I need without even asking me. I haven't had any problems because Visiting Angels is so efficient. The impact that Visiting Angels has had on my quality of life is tremendous. Visiting Angels does exactly what I wanted. There are things that they do that I didn't even know I wanted! I am really very pleased." ~Helen, client in Norwood, MA
Your Home Care Agency of Choice
Visiting Angels Newton/Canton is dedicated to providing professional and compassionate non-medical home care services for our clients. Trust us to provide the best home care for your loved one! Call us now at 617-795-2727 to get started with a free in-home consultation!
Serving Brookline, Canton, Dedham, Natick, Needham, Newton, Norwood, Stoughton, Watertown, Wellesley and Westwood
Visiting Angels Newton/Canton, Massachusetts
383 Elliot St #100E
Newton, MA 02464
Phone: 617-795-2727