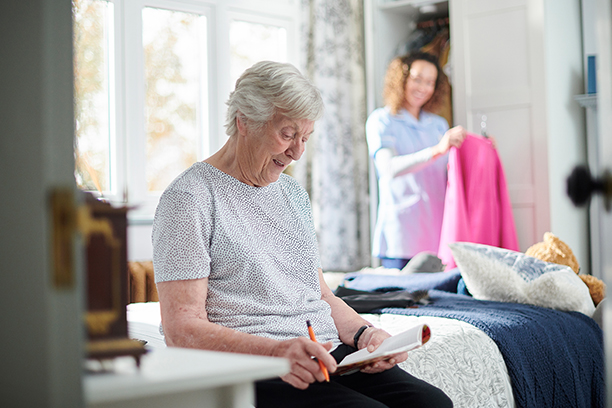 Private Duty Care (Personal Care) in Newton, MA
Serving Boston Neighborhoods, Brookline, Canton, Chestnut Hill, Dedham, Hyde Park, Jamaica Plain, Natick, Needham, Newton, Norwood, Roslindale, Stoughton, Upper Back Bay, Watertown, Wellesley, West Roxbury, and Westwood
Private duty care, also known as personal care, provides one-on-one assistance and attention to seniors or disabled adults in the comfort of their own homes. Private duty care from Visiting Angels Newton/Canton offers seniors help with daily tasks and companionship. If you have a loved one living with the effects of stroke, multiple sclerosis, Parkinson's disease, rheumatoid arthritis, osteoporosis, diabetes, disability, dementia, or chronic pain, our elder care at home can help.
Visiting Angels Newton/Canton is a go-to source for private duty care, or personal care, throughout Metro Boston. We are committed to helping seniors, and disabled adults live a better quality of life at home. We understand your loved one's desire to remain independent, despite their mobility issues. We are here to help them age in place. Our professional home caregivers specialize in working with elderly and disabled adults and can help your loved one live comfortably at home.
About Our Private Duty Care Service
Private duty care, or personal care, can be a useful resource for a broad range of seniors living in Newton and the Metrowest area, thanks to our home care services' customized nature. We develop a one-of-a-kind care plan for your loved one, which allows your family member to retain full control over their schedule and maintain their current routines. We can accommodate their needs if your loved one would like to adjust their care or schedule.
Some of the private duty care services your loved one can choose to receive from Visiting Angels Newton/Canton include:
Dressing & grooming, bathing and hygiene
Walking assistance, transferring aid
Medication reminders
Light housekeeping
Transportation aid
Grocery shopping, running errands
Caring companionship
Getting Started with Personal Care in Newton MA
At Visiting Angels Newton/Canton, we want it to be easy for your loved one to get started with private duty care from our home care agency. We offer a no-cost consultation for seniors and adults with disabilities throughout our community. A friendly care coordinator from our agency will go to your loved one's home to discuss your needs and provide answers to any questions you may have, including scheduling options, costs, services offered, caregiver qualifications, and whether in-home care is the best choice for your loved one. The consultation also helps our care coordinator get to know you and your loved one and understand any specific care needs.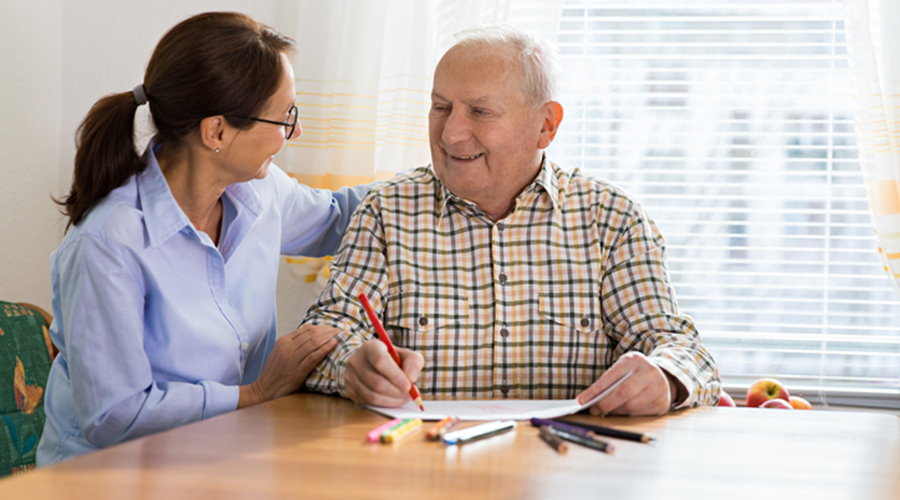 Before your consultation, the most crucial step is letting your senior loved one know you are considering hiring an in-home caregiver. The home care decision can be an emotionally sensitive issue and may be met with objections. If your loved one resists the idea, be sure to listen to his or her opinions and concerns. Emphasize that their well-being is your top priority.
It may also help you to think about your senior's needs, such as what time of day he/she needs assistance and what tasks are most challenging. You may also want to review financial situations in advance, so you can know how much to budget for private duty home care.
It is helpful to make a list of home care questions or concerns to have for the consultation. Discussing personal care needs may feel embarrassing for your loved one. You can rest assured our compassionate care coordinators are skilled at putting older adults and family caregivers at ease. Topics discussed may include:
Personal care needs
• Assistance with bathing and grooming, dressing, mobility, fall prevention, and toileting.
Homemaking needs
• Light housekeeping, laundry, meal planning/preparation, and grocery shopping.
Memory care needs
• Reminders to eat, stay hydrated, engage in physical activity, and take medications.
Emotional care needs
• Social interaction, conversation, activities, and hobbies.
Scheduling
• Daily routines, times when assistance is needed, and caregiver schedule options.
Logistics and policies
• How do caregivers enter your loved one's home, how to communicate with us, and how to reschedule care.
Other specific requests
• Health conditions, dietary restrictions, meal preferences, assisting with errands, transportation to appointments, live-in care, and more.
Our in-home consultations also include complimentary home safety and fall-risk assessments and a discussion of your loved one's specific safety needs.
Your care coordinator will take the time to answer any questions you may have about caregiver qualifications, safety, oversight, emergency procedures, and other concerns. She will use information from your care consultation to develop a comprehensive care plan tailored to your loved one's unique needs. The comprehensive plan will include a care schedule and a description of specific activities and tasks that require caregiver assistance.
Your care coordinator will then match your loved one with a compatible caregiver based on character, technical skills, and experience. Through our Select Your Caregiver® program, you can be confident your loved one will get a caregiver who is the right fit for their needs and personality.
If you are long-distance, we will conduct a one-on-one in-home consultation with your loved one and a detailed phone consultation with you.
How Soon Can Personal Care Services Begin?
Visiting Angels caregivers can typically begin providing services within 48 hours of the initial consultation. In some cases, home care services can start the same day. We have a large pool of back-up professional caregivers. Your loved one will not be alone if your regular caregiver cannot provide service due to unexpected circumstances.
Visiting Angels Newton/Canton - Your Essential Personal Homecare Agency of Choice

Visiting Angels Newton/Canton prides itself on professionalism, expertise, experience, and compassionate care. We have won the Best of Home Care Leader in Excellence Award from the national client satisfaction survey firm Home Care Pulse six years in a row!
What Our Private Duty Care Clients Say
"We were referred to Visiting Angels Newton/Canton several years ago. I like the caregivers they selected for my husband. I feel like they try to match us with people my husband would be receptive to. I'm my husband's primary caretaker, but it got to the point that I could no longer help him in the shower, so having his caregiver tend to his bathing and grooming has been a big deal. Our caregivers are patient and caring and encourage my husband to be active. We had another agency before this one that didn't work out. Since switching to this agency, I have felt more at peace and calm."
~ Barbara H., West Roxbury, MA
"They are very capable, honest, and dependable. My wife has impaired vision so the caregiver is here at least two times a week to help with showers and everything."
~Al S, Newton, MA
Contact Visiting Angels Newton/Canton
Visiting Angels Newton/Canton services seniors and disabled adults in Newton, Needham, Brookline, Chestnut Hill, Canton, Westwood, Dedham, Watertown, Natick, Wellesley, Stoughton, Roslindale, Norwood and nearby areas. We are dedicated to making your home care experience a positive one. Choose the best at-home care service in the Newton and Metrowest area. Call Visiting Angels Newton/Canton today to learn more about our private duty care, or personal care service, and how your loved one can benefit from living assistance at home.
Serving Brookline, Canton, Dedham, Natick, Needham, Newton, Norwood, Stoughton, Watertown, Wellesley and Westwood
Visiting Angels
NEWTON/CANTON, MA
29 Crafts St #320
Newton, MA 02458
Phone: 617-795-2727
Fax: 617-244-0260