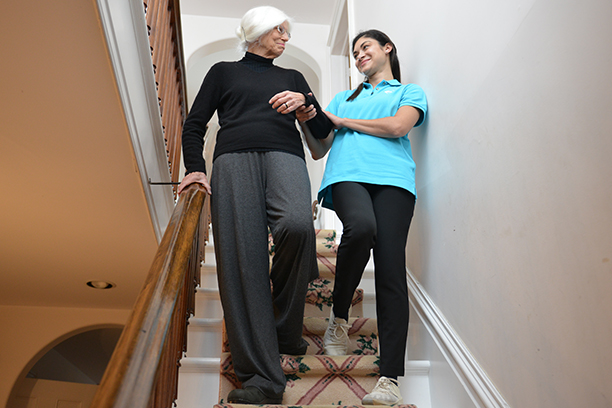 Home Caregiver Recognitions
Our Case Managers meet to choose a Caregiver for Angel of the Month. A Case Manager will generally nominate someone with an explanation as to why this person is chosen. The Caregiver is notified that they have been selected and comes in to the office for a full celebration. This person is honored with treats, a certificate, gift card and the Case Manager that selected them will read a full write-up about why they were chosen. The Caregiver is interviewed and then featured in the monthly newsletter as well as on Facebook. Visiting Angels Newton/Canton has the most amazing team of people to care for our Clients. Our Caregivers work tirelessly with their Case Managers to ensure top quality care.
Angel of the Month
ANGEL OF THE MONTH | Grace Quaye
June 2021
Visiting Angels Newton/Canton is thrilled to award Grace Quaye "Angel of the Month" for July 2021. Grace just celebrated her one-year anniversary on July 13th. She has assisted sixteen of Visiting Angels' clients to date. It is quite an accomplishment to be honored with this award after only one year on our team.
According to Webster's dictionary, "grace" means "a disposition to kindness and courtesy" and "the quality of being considerate or thoughtful." These definitions prove that Grace Quaye was properly named as they genuinely describe our team member, who has dedicated her entire professional career to caring for others.
Grace shared her enthusiasm and appreciation for the Visiting Angels Newton/Canton office staff, particularly the case managers. Grace said, "I adore all of the case managers. This is such a nice company of people – everyone wants to help you. It isn't just something they say; they mean it. If I realize I need to take some time to rest and won't be able to do an upcoming shift, I can call my client's case manager, Katherine (Jennings) or Susan (Saris), and they will modify my schedule. I know that everyone genuinely cares about my well-being."
A True Angel
Grace refers to RN Case Manager Katherine Jennings as "Katherine, my love," and the feeling is entirely mutual. Katherine said, "When I first met Grace, she was like a breath of fresh air. She carries herself with joy and a zest for life. I have enjoyed watching her work with a few of our clients, and her happiness is infectious. They have all expressed their appreciation for Grace.
One of our clients nicknamed her 'Amazing Grace,' and the name suits her well. She is forthright in her response to her availability for shifts, very competent, and her sense of confidence soothes even the most anxious of clients, which allows them to trust her.
"I have enjoyed every interaction I have had with Grace. My wish is for Grace to remain an active and integral member of Visiting Angels for many years to come."
Grateful for Grace
Case Manager Susan Saris praised Grace and her caregiving skills. "It is such a pleasure to be honoring Grace today for all the wonderful care she provides to our clients. She is someone who does this work from her heart and deeply cares about her client's needs and comfort. She is always well-received wherever she goes because as soon as a client meets Grace, they can tell she is sincere, someone who shines and is delighted to help them!
"I have been very fortunate to have Grace on one of my current cases, and I know my client's son appreciates all that Grace does for his mom. When I told him we were celebrating Grace as our Angel of the Month, he said, 'Grace is skillful and serene; she emanates calmness, and she really cares!'
Professional Background
Grace began her career as a professional caregiver in 1991 when she moved to Massachusetts from Ghana. She quickly decided to earn a Certified Nursing Assistant certification through The Red Cross to support her growing family. Grace started out working in various nursing homes in the Boston area before accepting a caregiving position for the Commonwealth of Massachusetts for a group home facility that housed and supported disabled adults. The facility has since been shut down, and smaller sites have been put in place. She was promoted to a shift supervisor position and has been working for the Commonwealth of Massachusetts for over 25 years.
When Grace started looking for a second job to support her extended family, Alberta Akyea, a fellow parishioner at Triumphant End-Time Ministries in Brockton, recommended that she apply to our agency. Alberta has been a caregiver with Visiting Angels Newton/Canton for six years and knew she would be a great fit. Paying it forward, Grace referred Williams Ejimonyeabala, who joined our team this past February 2021.
Keys to Success
Grace credits her successful career to her core values, "I treat others as I want to be treated." She explained, "I am the same person as a mother, daughter, wife, and professional caregiver."
Grace also shared a personal story that describes one of her motivations and dedication to caregiving, "I couldn't be there with my mother when she was in her last stage of life. My sister cared for her. I would guide my sister over the phone through what she needed to do to keep our mother comfortable in her last days. I hold those memories very close to my heart and treat all of my clients as if they were my family, giving them the hands-on care I couldn't give to her."
Words of Wisdom
"Love yourself and find the love for others in your heart," Grace recommends to other caregivers.
"Be genuine, have integrity, show kindness and patience."
Even your clients that may have memory challenges still feel how they are being treated. Remember that many of the people we care for are much older and are frail. Their skin is fragile – just the simple steps of washing them and putting on lotion can be painful. Take care and be gentle with your client. Your input is helpful, be transparent, and don't hesitate to share recommendations with your client's case manager. Minor adjustments to what a client is eating or wearing can make a big difference and improve their comfort and safety."
On a Personal Note
Although her husband also works night shifts at his job, Grace makes sure to spend as much time with him as she can, referring to him as the love of her life. She also spends time with her three adult children whenever possible. Grace now enjoys watching movies from the comfort of her home so she can express her opinions freely, commenting, cheering, and questioning the plots without disturbing other moviegoers. Grace loves music and dancing. She is eagerly looking forward to the next Caregiver Appreciation Celebration, which she will not miss so she can dance with Case Manager Elizabeth Quagraine!
With Appreciation
Grace, we are thrilled to celebrate you as our Angel for July 2021. Your positivity, love, and dedication to caring for our clients with professionalism and sincerity are greatly appreciated.
We all agree with our client - you truly are amazing, Grace.
newton-GraceQuaye_AOM_JULY2021.pdf
---
ANGEL OF THE MONTH | Colbert Pierre
June 2021
newton-ColberPierre_AOM_JUNE2021.pdf
---
ANGEL OF THE MONTH | Garlyne Renois & Ernestina Arthur
May 2021
newton-Garlyne Renois and Ernestina Arthur_AOM_MAY2021.pdf
---
ANGEL OF THE MONTH TEAM | Dawn Burrell, Stella Spencer, Rebecca Namatovu, Adiaba Bofia, Silvana Caruso & Carline Bijou
April 2021
newton-TeamHerbert_AOM_APRIL2021.pdf
---
ANGEL OF THE MONTH | Aminah Nakafeero
March 2021
newton-Aminah Nakafeero_AOM_MARCH2021.pdf
---
ANGEL OF THE MONTH | Judith Pierre-Louis
February 2021
newton-JudithPierreLouis_AOM_FEB2021.pdf
---
ANGEL OF THE MONTH | Renette Glaure
January 2021
newton-RenetteGluare_AOM_JAN2021b.pdf
---
ANGEL OF THE MONTH | Amanda Adolphus
December 2020
newton-AmandaAdolphus _AOM_Dec2020.pdf
---
ANGEL OF THE MONTH | Nadya Harriet
November 2020
newton-NadyaHarriet_AOM_Nov2020.pdf
---
ANGEL OF THE MONTH | Sam Ssebbowa
October 2020
newton-SamSsebbowa_AOM_Oct2020.pdf
---
ANGEL OF THE MONTH | Christine Kemiyondo
September 2020
newton-ChristineKemiyondo_AOM_Sept2020b.pdf
---
ANGEL OF THE MONTH: CONTINUING THE TRADITION
August 2020
newton-AOM Cont the Tradition August 2020b.pdf
---
ANGEL OF THE MONTH | Elizabeth Namutebi
July 2020
newton-ElizabethNamutebi_AOM_July2020b.pdf
---
ANGEL OF THE MONTH | Patricia Durrant-Campbell
June 2020
newton-PatDurrantCampbell_AOM_June2020b.pdf
---
ANGEL OF THE MONTH | Sonia Tibekyinga
May 2020
---
ANGEL OF THE MONTH | Daniella Franklin & Daphney Sainvilus
April 2020
newton-DaphneySainvilus_AOM_April2020.pdf
newton-DaniellaFranklin_AOM_April2020.pdf
---
ANGEL OF THE MONTH | Eslie Lacroix
February 2020
newton-EslieLacroix_AOM_February2020.pdf
---
ANGEL OF THE MONTH | Jackie Asiimwe
January 2020
newton-JackieAsiimwe_AOM_January2020.pdf
---
ANGEL OF THE MONTH 2019 Awardees
---
ANGEL OF THE MONTH 2018 Awardees
---
Special Recognitions
Timeless Gratitude to Alice Kimani
No, this is not a new award we're giving, but a special commendation to Alice Kimani, who gave live-in care to one of our clients. One night in November 2016, she was awakened by the smell of smoke. There was a fire in the garage, which quickly spread to the rest of the house - but not before Alice successfully evacuated the senior whom she was caring for, as well as the adult son. The house was burned to the ground, fed by a full tank of heating oil. Two cars in the driveway, one of them Alice's, were melted. But thanks to Alice's heroism, nobody was injured, except for the senior's pet cat, which unfortunately perished. Alice, we think that you are wonderful!
---
Tama Lewis – Massachusetts Home Care Alliance 2009 Aide of the Year
The HCA has 150 member agencies employing over 19,000 home health aides, and one of our very own was chosen as the 2009 Home Care Star Award Aide of the Year. Tama embodies the essence of what every family wants in a home care aide: skill, good judgment, compassion, integrity, kindness, reliability, good humor, caring, wisdom, dedication, warmth and respect in dealing with seniors. She has been with Visiting Angels for five years, but like all our caregivers, she came to us with years of experience in giving care to seniors.
For four years she was the lead caregiver to a man named Joe, who had no family or friends to help in his declining years. Although he had Alzheimer's disease, diabetes and high blood pressure, with Tama's care he was able to remain at home, where he wanted to be. When she came on the case, his health was declining rapidly despite ongoing medical attention. Soon Joe's deteriorating health began to improve as Tama made sure that he got a healthy diet and took his medications. His home got cleaner, and his appearance improved. Eventually Tama was joined by other caregivers, but she remained the lead person of the team that organized his life, did the shopping, got him to medical appointments, cleaned his house, prepared meals and kept him clean. With help from Tama and the rest of our team, Joe attended his Masons meetings, continued his treasured Saturday evening buffet at the Marriott, and visited places where he had spent his youth. When he developed pancreatic cancer, he died at home with Tama by his side. She was the closest thing to family that he had.
At Visiting Angels of Newton & Canton, we are proud of our reputation with our many referral sources and clients who note the excellence of our services and the quality of the people that we employ. That reputation rests on providing home care with men and women like Tama Lewis since 2004. As deserving as she is of the award, Visiting Angels has many other caregivers who are just as dedicated, give just as much of themselves, and who deserve their own awards. We salute Tama and all of the fine caregivers who work for us and allow seniors the joy of remaining at home where they want to be.
Visiting Angels Newton/Canton is an award-winning accredited home care agency that provides elder care services in Brookline, Newton, Needham, Brookline, Chestnut Hill, Canton, Westwood, Dedham, Watertown, Natick, Wellesley, Stoughton, Roslindale, Norwood and nearby areas. If you aspire to be the best caregiver you can be, contact us at 617-795-2727 or fill out the form on our home care careers page.
If you are looking for the best home care services in the Newton/Canton area, contact us at 617-795-2727 or click the button below to tell us about your case. We're ready to help you!
Serving Brookline, Canton, Dedham, Natick, Needham, Newton, Norwood, Stoughton, Watertown, Wellesley and Westwood
Visiting Angels NEWTON/CANTON, MASSACHUSETTS
383 Elliot St #100E
Newton, MA 02464
Phone: 617-795-2727