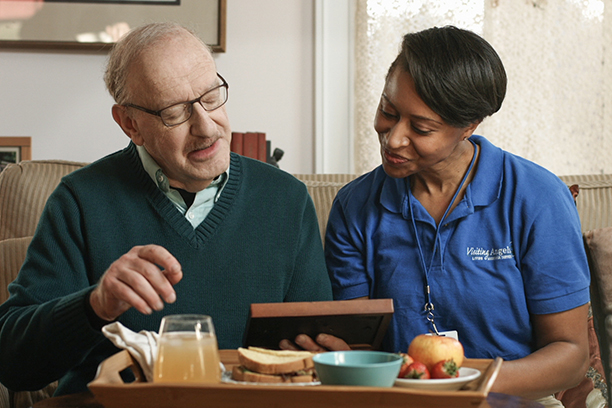 Home Caregiver Recognitions
Our Case Managers meet to choose a Caregiver for Angel of the Month. A Case Manager will generally nominate someone with an explanation as to why this person is chosen. The Caregiver is notified that they have been selected and comes into the office for a full celebration. This person is honored with treats, a certificate, gift card and the Case Manager that selected them will read a full write-up about why they were chosen. The Caregiver is interviewed and then featured in the monthly newsletter as well as on Facebook. Visiting Angels Newton/Canton has the most amazing team of people to care for our Clients. Our Caregivers work tirelessly with their Case Managers to ensure top-quality care.
Angel of the Month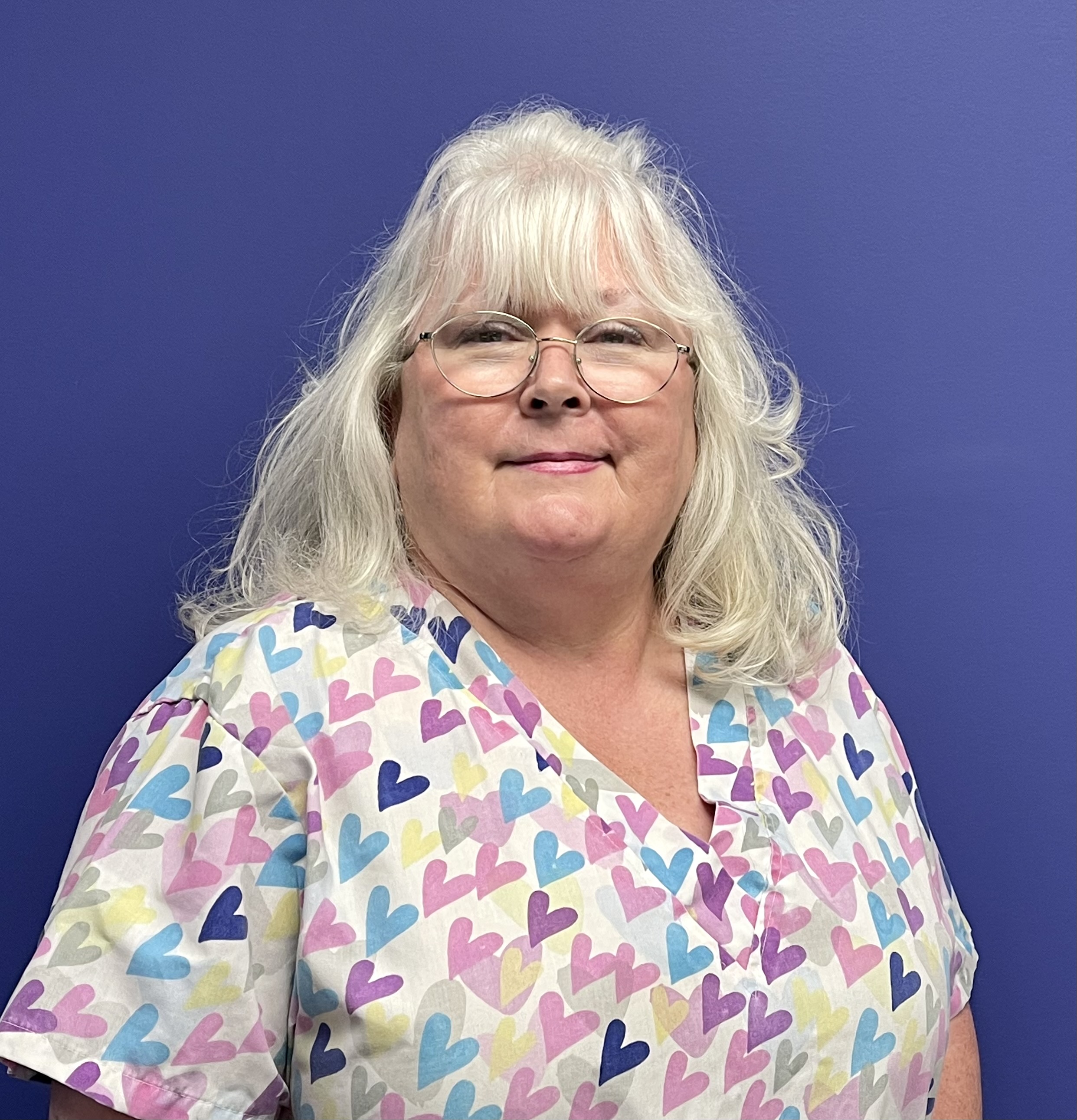 ANGEL OF THE MONTH | Sandy Souza
April 2023
It is with an abundance of joy that we award Sandy Souza Angel of the Month for April 2023. Sandy joined Visiting Angels Newton/Canton in December 2004, shortly after we opened our doors to provide quality home care to seniors in our community. While we certainly could have honored Sandy every month of the 19 years she has been a Visiting Angel, this is Sandy's third time winning Angel of the Month. Sandy earned this award early on in her tenure and again in March of 2020. For her exceptional work and for consistently providing outstanding care to our clients, we once again name Sandy as this month's Angel of the Month.
During her time with us, Sandy has supported over sixty-two clients. Her work as a caregiver is exceptional. She is outgoing, knowledgeable, and energetic. Sandy takes the time to learn her client's likes and dislikes to ensure a successful working relationship. She has been honored with countless Caught in the Act of Caring and Home Care Pulse Excellence awards for consistently exceeding expectations while helping our clients. While all our staff would like to clone Sandy, we will have to settle for the next best thing. Sandy will soon begin to work as a mentor for new caregivers starting with our agency.
For Julie McBain, Director of Client Services, having Sandy pass on her skills as a caregiver to new hires, is a benefit for everyone. "I remember meeting Sandy for the first time at our client's home in Canton. My impression was that she is skilled, compassionate, reliable, responsible, and has a great sense of humor – all of the crucial traits needed to be a successful caregiver.
"The rapport and bond between Sandy and the client were evident even though they had only known one another for about two months. The client told me that she thoroughly enjoys her afternoons out with Sandy. The two would have lunch together and then go out shopping. Sandy always made sure that when they returned home, that the client had her medications and completed her nebulizer treatment. The client made a point to tell me that she was very grateful for her daughter, her grandson, her granddaughter, and for Sandy.
"I, too, am very grateful for Sandy," Julie said. "I really enjoy working with her. She commits wholeheartedly to every client. With her high-level skills, she builds incredible relationships and rapport with our clients. She is reliable, professional, and has been a true Angel with all sixty-two clients and counting!"
Sandy has loved every minute of working with the Visiting Angels Newton/Canton team. She has had several long-term cases and holds many special memories in her heart. She loves meeting different people and learning about them and how they live their lives. Sandy began her journey caring for the elderly by working with her senior neighbors and later assisting her mother. She said she loves working with older people and finds it very rewarding.
Senior Case Manager Elizabeth Quagraine described Sandy as the Angel on earth who consistently goes above and beyond in everything she does. Elizabeth said, "Sandy is dedicated, reliable, and extremely loyal. She is a true professional and has immense empathy for everyone."
As our newest case manager, Michael Albrecht has not had the opportunity to meet Sandy in person yet, but that hasn't stopped him from understanding what an amazing caregiver she is. Michael said, "I have the feeling that I already know Sandy from the stories my colleagues have told me about her. Everyone has the best impression about her. And those impressions were absolutely confirmed when I had the chance to connect with Sandy over the phone. Her sunny personality shines through, even over the phone, and placed a big smile on my face after I talked to her. She is very reliable and a great support to our clients."
Case Manager Traci McCarthy said that Sandy is an absolute pleasure to work with on any case. "Sandy is currently working for a client who only says wonderful things about her. She brings a warm, welcoming energy to her cases, and clients feel at ease around her. She is responsive, reliable and a very skilled caregiver which makes any case manager lucky to have her on a case. You can feel confident that the client is getting great care."
Sandy said that a great caregiver needs to be dedicated and have the compassion and passion to assist elders in their daily lives. She also highlighted that it is important that you love what you do! Sandy explained that she is happy and feels good at the end of each day as she has been able to help our clients.
When Sandy encounters a client that is stressed or upset, she said that she sits with them and holds their hand until they are calmer to discuss what has them upset. Sandy explained that it is of the utmost importance to give our clients their dignity. She allows the client to be the lead in their own caregiving. Sandy's advice to newer caregivers is to make sure that our clients know we are there to provide support for them, not to take their independence away.
Case Manager Patrick Murray said, "Congratulations, Sandy, on being named Angel of the Month, a very well-deserved award for a wonderful person and caregiver. I have always been impressed with your dedication to your clients and your passion for this work. From speaking with you after our Newton client passed away last year, I could tell how upset you were. It was like losing a family member for you. To me, that further proved how much you care about your clients and how strong of a bond you develop with them.
Patrick continued by saying, "Sandy, you are such a joy to work with. From speaking with our clients, I know they feel the exact same way. We are all so lucky to have you as part of the Visiting Angels team, and I look forward to working with you on many more clients."
Sandy stated that she truly enjoys working with each of the case managers at Visiting Angels. She appreciates how well informed and communicative they are on each case. Any client she has gone to has given positive feedback and praised her caregiving abilities. Sandy works on some of our more challenging cases and handles each situation in stride without complications or complaints.
Sandy, you are an essential member of the Visiting Angels Newton/Canton team and have touched the lives of so many of our clients. We are grateful to you for your beautiful personality, impressive skillset, and compassion. We thank you from the bottom of our hearts for your hard work and dedication and look forward to working with you for years to come.
Sandy-Souza-AOM-April-2023.pdf
---
ANGEL OF THE MONTH | Glorieuse Antoine
March 2023
Glorieuse-Antoine-AOM-March-2023
---
ANGEL OF THE MONTH | Leonie Benson
February 2023
Leonie-Benson-AOM-February-2023.pdf
---
ANGEL OF THE MONTH | Raxanne Wright
January 2023
Raxanne-Wright-AOM-January-2023.pdf
---
ANGEL OF THE MONTH | Karen Breen
December 2022
Karen-Breen-AOM-December-2022.pdf
---
ANGEL OF THE MONTH | Nadya Harriet
November 2022
Nadya-Harriet-AOM-November-2022.pdf
---
ANGEL OF THE MONTH | Betie Mondestin
October 2022
Betie-Mondestin-AOM-October-2022.pdf
---
ANGEL OF THE MONTH | Marie Bellefleur-Raymond
September 2022
MarieBellefleur-Raymond_AOM_September2022
---
ANGEL OF THE MONTH | Paul Geneus
July 2022
---
ANGEL OF THE MONTH | Nosa Ogbebor

June 2022
---
ANGEL OF THE MONTH | Kettlie Juste
May 2022
---
ANGEL OF THE MONTH | Williams Ejimonyeabala
April 2022

newton-WilliamsEjimonyeabala_AOM_APRIL2022.pdf
---
ANGEL OF THE MONTH | Rody Fils-Aime
March 2022
newton-RodyFils-Aime_AOM_MARCH2022.pdf
---
ANGEL OF THE MONTH | Mirla Joseph
January 2022
newton-MirlaJoseph_AOM_JANUARY2022.pdf
---
ANGEL OF THE MONTH 2021 Awardees
---
ANGEL OF THE MONTH 2020 Awardees
---
ANGEL OF THE MONTH 2019 Awardees
---
ANGEL OF THE MONTH 2018 Awardees
---
Special Recognitions
Timeless Gratitude to Alice Kimani

No, this is not a new award we're giving, but a special commendation to Alice Kimani, who gave live-in care to one of our clients. One night in November 2016, she was awakened by the smell of smoke. There was a fire in the garage, which quickly spread to the rest of the house - but not before Alice successfully evacuated the senior whom she was caring for, as well as the adult son. The house was burned to the ground, fed by a full tank of heating oil. Two cars in the driveway, one of them Alice's, were melted. But thanks to Alice's heroism, nobody was injured, except for the senior's pet cat, which unfortunately perished. Alice, we think that you are wonderful!
---
Tama Lewis – Massachusetts Home Care Alliance 2009 Aide of the Year
The HCA has 150 member agencies employing over 19,000 home health aides, and one of our very own was chosen as the 2009 Home Care Star Award Aide of the Year. Tama embodies the essence of what every family wants in a home care aide: skill, good judgment, compassion, integrity, kindness, reliability, good humor, caring, wisdom, dedication, warmth and respect in dealing with seniors. She has been with Visiting Angels for five years, but like all our caregivers, she came to us with years of experience in giving care to seniors.
For four years she was the lead caregiver to a man named Joe, who had no family or friends to help in his declining years. Although he had Alzheimer's disease, diabetes and high blood pressure, with Tama's care he was able to remain at home, where he wanted to be. When she came on the case, his health was declining rapidly despite ongoing medical attention. Soon Joe's deteriorating health began to improve as Tama made sure that he got a healthy diet and took his medications. His home got cleaner, and his appearance improved. Eventually Tama was joined by other caregivers, but she remained the lead person of the team that organized his life, did the shopping, got him to medical appointments, cleaned his house, prepared meals and kept him clean. With help from Tama and the rest of our team, Joe attended his Masons meetings, continued his treasured Saturday evening buffet at the Marriott, and visited places where he had spent his youth. When he developed pancreatic cancer, he died at home with Tama by his side. She was the closest thing to family that he had.
At Visiting Angels of Newton & Canton, we are proud of our reputation with our many referral sources and clients who note the excellence of our services and the quality of the people that we employ. That reputation rests on providing home care with men and women like Tama Lewis since 2004. As deserving as she is of the award, Visiting Angels has many other caregivers who are just as dedicated, give just as much of themselves, and who deserve their own awards. We salute Tama and all of the fine caregivers who work for us and allow seniors the joy of remaining at home where they want to be.
Visiting Angels Newton/Canton is an award-winning accredited home care agency that provides elder care services in Brookline, Newton, Needham, Brookline, Chestnut Hill, Canton, Westwood, Dedham, Watertown, Natick, Wellesley, Stoughton, Roslindale, Norwood and nearby areas. If you aspire to be the best caregiver you can be, contact us at 617-795-2727 or fill out the form on our home care careers page.
If you are looking for the best home care services in the Newton/Canton area, contact us at 617-795-2727 or click the button below to tell us about your case. We're ready to help you!
Serving Brookline, Canton, Dedham, Natick, Needham, Newton, Norwood, Stoughton, Watertown, Wellesley and Westwood
Visiting Angels
NEWTON/CANTON, MA
29 Crafts St #320
Newton, MA 02458
Phone: 617-795-2727
Fax: 617-244-0260