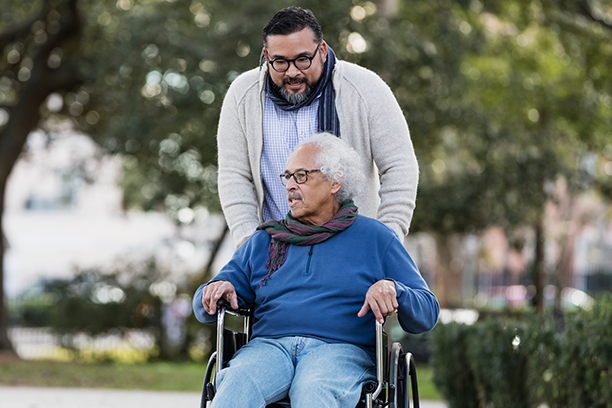 Elderly Companion Care
Serving Boston Neighborhoods, Brookline, Canton, Chestnut Hill, Dedham, Hyde Park, Jamaica Plain, Natick, Needham, Newton, Norwood, Roslindale, Stoughton, Upper Back Bay, Watertown, Wellesley, West Roxbury, and Westwood
As your loved one ages, they may spend increasing amounts of time on their own. If they have stopped driving, relocated, lost a spouse, or are dealing with chronic health issues, they may be alone much of the time, leading to feelings of senior isolation.
Senior isolation has been known to have a negative impact on both physical and emotional health. Suppose you notice an older loved one struggling with chores at home, missing meals, letting the refrigerator go empty, battling loneliness, or socializing less often. In that case, you may want to consider elderly companion care from Visiting Angels Newton/Canton.

Visiting Angels Newton/Canton is an award-winning, locally-owned elderly care agency. We have won the Leader in Excellence Award and Provider of Choice awards from Home Care Pulse, a national client satisfaction survey firm consistently, and the Boston Globe's Top Places to Work for six years. We are invested in the seniors and disabled adults in our community and strive to increase their quality of life wherever they call home. If your loved one has expressed a desire to remain independent for as long as possible, non-medical home care can be a great resource. Not only will your loved one have regular companionship to look forward to, but they will receive assistance with everyday living activities.
Our Elderly Companion Care Services in Newton, MA
Elderly companion care services from Visiting Angels Newton/Canton stand out from other agencies because they are tailored to suit individuals' specific requirements. We take the time to get to know your loved one and gain a clear understanding of their health and wellness needs. Once we are confident in your goals, we will design a customized care plan. Our flexible services are available at any time, during the day, overnight, as well as assistance on holidays and weekends.
What Does a Companion Caregiver Do?
Companion caregivers help older adults continue to age in place at home safely and comfortably by performing essential caregiving duties to maintain or even enhance their quality of life. Some of these senior care responsibilities include:
Companionship with emotional support and socialization

Depression and social isolation in seniors are very common, so concerned families can rely on the dedicated emotional support and socialization companionship caregivers offer to older adults.

A companion caregiver is not merely a sitter for elderly adults. They help provide social interaction for seniors who are unable to see their family members frequently. Companion caregivers can serve as friendly acquaintances to go on walks with, help with hobbies, do favorite activities like board games or card games, and provide a familiar and cheerful face.

Housekeeping

Housekeeping duties can pile up quickly and become overwhelming, especially for seniors with mobility limitations. Companion caregivers can help lighten your loved one's housekeeping load and ensure they don't strain themselves; for example, they can place items on a high shelf or bend down to clean under furniture.

A companion caregiver can assist with daily household tasks such as sweeping or mopping the floor, clearing and cleaning the kitchen counters and table, running the laundry, or washing dishes.

Meal preparation

Companion caregivers will make sure your senior doesn't miss any meals and has a full pantry and refrigerator. Companion caregivers can help with food prep or cook full meals and package them for your loved one to eat at another time.

Their doctors also instruct many older adults to follow particular nutrition regimens, such as low-fat or low-sugar diets. Companion caregivers can help your senior understand and maintain these dietary recommendations.

Errands and shopping

Companion caregivers will ensure to-do lists are handled appropriately, especially if your senior has difficulty remembering to pick up necessary medications on time or purchase food and personal care items regularly.

A companion caregiver will provide the level of assistance your loved one needs, whether it's pushing a shopping cart, mailing a letter, retrieving items from hard-to-reach shelves, carrying grocery bags, or running necessary errands.

Appointment and activity scheduling

Companion caregivers can help your set up and maintain a calendar of all essential activities and give verbal reminders the day of an event.

A companion caregiver can also schedule necessary activities such as doctor visits and grooming appointments. They can also assist your senior with keeping in touch with friends and relatives.

Transportation

Many older adults have difficulty traveling to and from appointments or errands, especially if they are no longer able to drive. A companion caregiver can provide transportation or schedule public or private transportation.

Communication with the care team
While companion caregivers cannot offer medical assistance, they can monitor your senior's health and well-being and relay any worrisome changes. If your loved one falls, starts to miss meals, or has a personality change, a companion caregiver will request medical assistance immediately or inform you about a potential concern to communicate to a health professional.
Companion caregivers do not aid with dressing, bathing, toileting, or medication management. For seniors who need assistance with these tasks as well as companionship, consider a Visiting Angels' personal caregiver.

The elderly companion care from Visiting Angels Newton/Canton is provided by professional, experienced, and compassionate senior care providers. We have an intensive interview process to screen potential caregivers and choose the best fit for our agency. We utilize a thorough background check process on each of our caregivers and make certain they have a proven commitment to helping others. We carefully choose the right companion caregiver for each client, considering factors such as personality traits, technical skills, and experience.
If you have a loved one who could benefit from elderly companion care at home, call Visiting Angels Newton/Canton today and schedule a free in-home consultation.
Serving Brookline, Canton, Dedham, Natick, Needham, Newton, Norwood, Stoughton, Watertown, Wellesley and Westwood
Visiting Angels
NEWTON/CANTON, MA
29 Crafts St #320
Newton, MA 02458
Phone: 617-795-2727
Fax: 617-244-0260