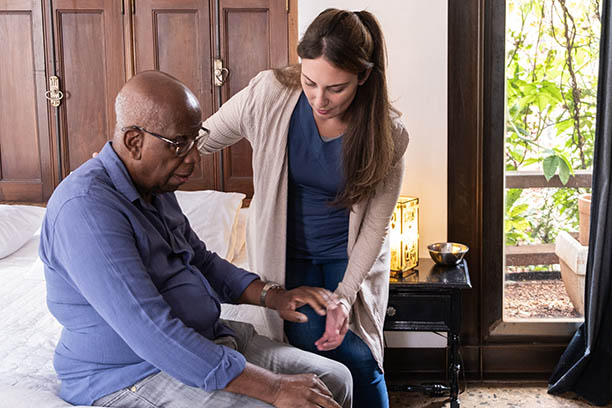 Palliative Care in Owings Mills, MD and the Surrounding Area
We Cater to Your Palliative Care Needs in Owings Mills, Pikesville, and Nearby Cities
Our Certified Nursing Assistants understand that keeping a holistic mindset within their palliative care is key. Each CNA is trained to be soothing, supportive, and comforting. Our goal is to provide hope to our clients through our in home care while healing as well. We cater to a wide range of needs including the physical, emotional, spiritual, and social. We see our clients as unique human beings, and not a to-do list.
We address the physical care needs of our clients by responding to physical signs that are common among the elderly. We then provide essential personal home care services to our clients to help soothe them.
We address their emotional needs by prioritizing compassion in our care and supporting seniors who may be suffering from anxiety, depression, loneliness, or stress.
We address their spiritual needs by helping our clients find comfort and relief from age-related difficulties and helping them find hope throughout their day. We always treat our clients with dignity and respect.
We address the social needs of seniors by building long-term relationships with our clients and their families. Also, we provide conversation and companionship throughout our home care.
How to Get Started
If you have any questions about our in home care, we'd be happy to answer them. We can also coordinate a free in-home consultation between you and our care director in your home so they can help you evaluate your options and help you take that next step. We offer the ability to Select Your CNA, customized care plans, and a kind, client-centered approach on senior care.
Would you like to learn more about our palliative care program? Call 410-218-9506 to schedule a free consultation.
Serving Pikesville, Owings Mills, Reisterstown, Glyndon, Mt. Washington, Finksburg, and Baltimore
Visiting Angels
PIKESVILLE, MD
316 Main Street #1 B
Reisterstown, MD 21136
Phone: 410-218-9506
Fax: 866-832-3222