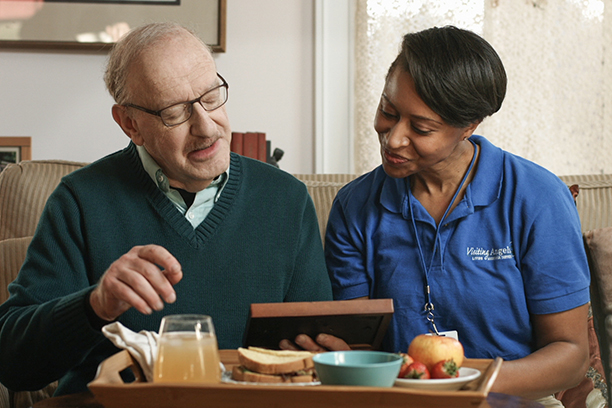 Custom Home Care Solutions in San Diego's Point Loma Neighborhood
Visiting Angels provides safe, one on one home care services for seniors and adults in the Point Loma neighborhood and throughout the Greater San Diego Metro area
As our parents, relatives, and other loved ones age, they will likely need assistance in their homes. When you recognize that your parent isn't able to care for themselves anymore, it can be difficult to know where to start. At Visiting Angels San Diego, we're here to help
Why Seniors in Point Loma Choose Visiting Angels San Diego
Visiting Angels provides essential home care services for seniors, disabled adults, and those needing temporary in-home assistance. This can include adults recovering from surgery as well as those managing chronic illnesses. Our care plans are customized to meet the unique needs of each client so that your loved one can live life on their own terms, in the comfort and safety of home!
Point Loma is a beautiful neighborhood with some of the most impressive views of the bay and ocean. No wonder so many adults are wanting to spend their senior years here! With help from a Visiting Angels caregiver, your loved one can maintain their independence and health without having to leave their home.
Home Care Options Available in Point Loma
Our caregivers can assist with all activities of daily living. These are the everyday tasks that ensure your loved one's comfort, safety and independence at home.
A few of the ways Visiting Angels San Diego can help include:
Running errands, grocery shopping and meal preparation
Basic housekeeping and laundry
Companionship through conversation, games, and light exercise
Personal care, such as bathing, using the bathroom, and getting dressed
Medication reminders
Transportation to doctor's appointments and other outings
Mobility assistance, transfers, and monitoring to prevent falls
Your care plan is created to meet your unique needs. This means you choose your schedule and what the caregiver will help with at each visit. We encourage a regular weekly schedule, as this type of routine helps clients and caregivers form a trusting bond. As your needs change, so can your care plan.
Call Us to Get Started
Whether your looking for part-time respite care, daily assistance, overnight care or 24-hour home care in Point Loma, Visiting Angels San Diego can help. Simply call our San Diego office to get started. We will schedule a free, no-commitment consultation with you and your loved one. Together we'll create a care plan and begin matching you with an experienced caregiver.
If you have questions or want to learn more, call us today at 619-488-6265!
Serving Mission Valley, Point Loma, Kensington, the College Area and surrounding neighborhoods in Downtown, Uptown and Peninsula communities of San Diego, including Coronado
Visiting Angels
SAN DIEGO METRO AREA, CA
2615 Camino Del Rio S. #308
San Diego, CA 92108
Phone: 619-488-6265
Fax: 619-488-6311