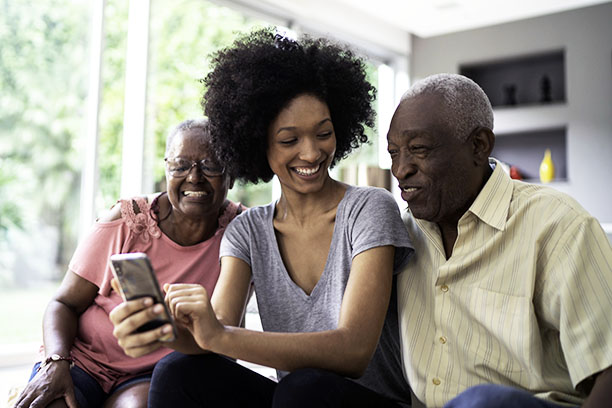 Social Care and Elderly Care Services in Virginia Beach, VA and Nearby Areas
Visiting Angels understands that caring for a loved one requires a multifaceted approach. This comprehensive approach includes personal care both inside and outside the house. Our social care program uses current technology to assist families in staying connected by using platforms such as Facebook, Skype, FaceTime, and others to be active and involved with friends and family. You can guarantee our caregivers will provide your loved one with excellent elderly care to keep them healthy and happy in the comfort of their home.
Visiting Angels Provides Vital Elderly Care Services to Help Senior Stay Connected with Friends and Family in Virginia Beach, VA, and the Surrounding Areas
Adopting a digital social life may be more challenging for older people who struggle with new technologies. Our caregivers are here to help your loved one with the use of their phone, computer, and any other device that can help them stay connected with friends and family. Our social care program can be provided as a stand-alone service, or it can be combined with other home care services if your loved one needs additional assistance.
However, recent research has demonstrated that digital technologies may provide the elderly with the following emotional and mental benefits:
Seniors may lower their depression by 20% by surfing the internet.
According to a University of Arizona study, seniors who use Facebook have a 25% boost in mental "updating" abilities, improving their working memory.
Another research found that older people who browse social networking sites such as Facebook had a good emotional experience as indicated by respiration rates, brain activation, and pupil dilation.
Using Technology to Keep Seniors Engaged
Technology has become a part of our everyday lives for people of all ages. If your loved one needs assistance with keeping in touch with family and friends, our compassionate caregivers are ready to help. Our senior care services make sure your loved one stays connected with those who matter most to them.
The Social Care Program at Visiting Angels teaches the elderly how to:
Make use of a mobile phone.
Text, email, Skype, or utilize FaceTime to communicate.
Create a Social media account and engage with relatives and friends.
Log in, shop online, or use a search engine to get information.
Contact Visiting Angels Virginia Beach to book your in home care consultation and learn more about our elderly care services.

Serving Virginia Beach and the South Side
Visiting Angels
VIRGINIA BEACH, VA
1642 Pleasure House Rd #104
Virginia Beach, VA 23455
Phone: 757- 216-1934
Fax: 844-795-8881