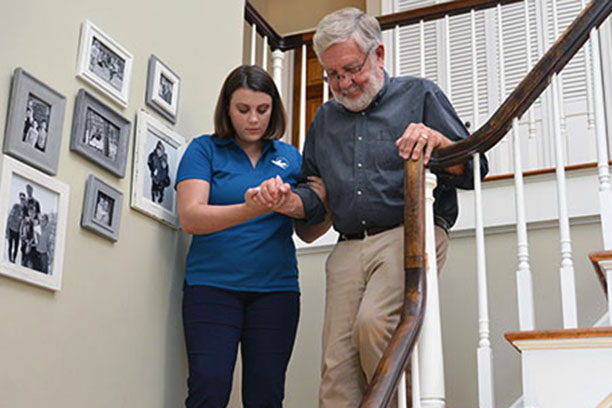 Elderly Care: Fall Prevention for Seniors in Chelsea, MA and the Surrounding Area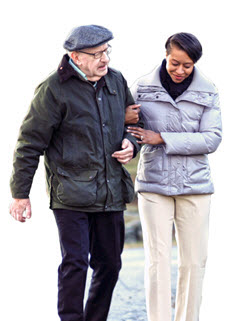 When a senior falls, it is understandable to be scared. Visiting Angels' elderly care helps seniors in Chelsea, Revere, and nearby cities prevent falls.
For an older adult, a serious fall can be debilitating and life-threatening. It not only attacks a person's physical health, but it can also affect a person's mental health as well. The fear of falling can be just as weakening as the fall itself.
Falls and Mental Health
Seniors should be enjoying every aspect of their lives from social events to being outdoors. But, the fear of falling may influence older adults to stay away from activities like shopping and taking walks outside. This fear may also stop them from engaging socially with family and friends. They may miss important, once-in-a-lifetime events like birthdays and family reunions. This disconnect with those that they love and adore may cause feelings of depression and anxiety in the future. If they do end up falling, they may deal with the physical effects of the fall as well as the emotional effects. Visiting Angels of Chelsea, MA elderly care services allow seniors to stay safe in their home, which allows them to not miss out on these special moments.
Physical Effects of Falling
One out of three older Americans sustains serious injuries after a fall like a fracture, a broken hip, or a concussion. Serious injuries such as these alter an individual's life drastically. 800,000 older adults are hospitalized annually due to falls. Of those individuals, many must go to a long-term recovery center for at least a year. Some of those people do not ever get to go back home. It's an awful reality that many seniors deal with every year, due to falls.
Risk Factors for Falling
Falls are not as unpredictable as many may believe. They are many different factors that go into a person's fall risk. These factors fall into three categories: medical problems, physical problems, and the home environment. The amount of risk factors that they have translates to a high probability of falling. Some examples of risk factors are poor eyesight, arthritis, and a lack of grab bars in the bathtub. Identifying these risk factors quickly is a great way to prevent falls in the coming future.
How Visiting Angels Helps Prevent Falls
Fall and injury prevention is incredibly important to maintaining a senior's preferred lifestyle. But it can be hard to research risk factors and evaluate a plan on your own. Visiting Angels of Chelsea, MA is dedicated to educating older adults, their families, service providers, about various ways to reduce falls through our elderly care fall prevention program. We hope that our elderly care will improve our client's quality of life, and in turn lead them into a brighter future.
Contact us or call 617-409-9039 to learn how we can help prevent falls and to schedule a free in-home assessment.
Download Your Free Safe & Steady Fall Prevention Resource Guide today.
Serving Somerville, Charlestown, Chelsea, Everett, Revere, East Cambridge and the Surrounding Areas
Visiting Angels
CHELSEA, MA
100 Everett Ave #4
Chelsea, MA 02150
Phone: 617-409-9039
Fax: 617-409-9148