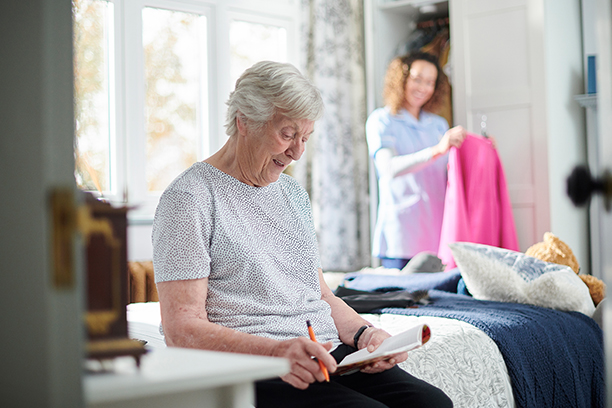 Senior Care In Home in Somerville, MA and Surrounding Areas
Visiting Angels Chelsea Senior Care In Home Support Services is here every step of the way during your loved one's time.
The need for senior care in home support services involving aging in place can arise suddenly or result over time from an ongoing decline in health. It can be shocking, no matter what the reason may be, to realize you now need senior care services. Your parents have always been the strong and reliable ones in your mind. They are the ones you spent your happiest times with and they were always there whenever you needed them. Understanding that your parents now need your help the same way you need them can be difficult.
When someone close to you requires senior care in home support services, your mind may start to go crazy with concerns and questions. Feeling overwhelmed by this new stage for your family is totally natural as you try to find the perfect caregiver and navigate how this provider will be able to help. Visiting Angels Somerville, MA can assist you and your family through this difficult time. We enjoy helping thousands of families from around the country find clarity and peace in this new area of their lives.
Visiting Angels Chelsea's Way of Helping You Age in Place
At Visiting Angels Somerville, aging in place becomes possible with senior care in home. What is aging in place? Aging in place is a way of describing seniors desire to live and age at home; their desire to stay put for as long as possible before transferring to a nursing home. Aging in place is comfortable with Visiting Angels compassionate caregivers assisting every step of the way. With our in home care services, seniors can stay independent much longer with one-on-one help from caregivers.
How can our angel companions help your loved one? There are multiple options. When you select Visiting Angels for in home care, we will help you make a plan that will take care of your loved one's exact necessities. The care provider's schedule will revolve solely around the needs of your loved one and can change whenever a patient's needs change. At Visiting Angels Somerville, we provide a diverse range of care options including:
Some of the most common activities we assist with are:
Preparing meals and monitoring daily diet

Minor housekeeping including making the bed, vacuuming, and washing clothes

Shopping assistance, running errands, and driving to and from activities and appointments

Help with grooming, bathing, dressing, and toileting

Medications, eating, and drinking reminders

Companionship and daily activities
Your convenience is what our caregivers are scheduled around. They can and will be available to you no matter when your loved one requires care, whether it's one hour a day, holidays, weekends, or 24/7.
When you welcome a caregiver into your home, it can feel foreign and uncomfortable. We try to make the process easier by providing a free in home care assessments that include safety and fall tests. Once your home is proven safe, your loved one can focus on choosing the perfect companion. When you pick Visiting Angels Somerville, MA for senior care in home support services, you will gain peace of mind knowing your loved one has found safety, comfort, and a trusting companion. Contact us for your free in home assessment.
Serving Somerville, Charlestown, Chelsea, Everett, Revere, East Cambridge and the Surrounding Areas
Visiting Angels
CHELSEA, MA
100 Everett Ave #4
Chelsea, MA 02150
Phone: 617-409-9039
Fax: 617-409-9148