Updated 9 July 2019
Client
Testimonials
Kelly & Ron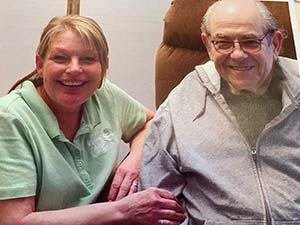 "Since Visiting Angels came in to help me every day, I now have a happy wife, and happy wife = happy life!" Client, Ron.
"I love working with my client—I'm helping him and his wife in many ways. They are teaching me things too!! I enjoy being their Angel." Caregiver, Kelly.
Ray & Caregiver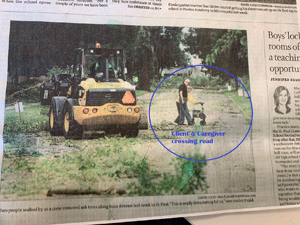 "We are so grateful to the staff at Visiting Angels! Because of our Angel Gary, my parents are able to stay in their beautiful home. Since I am 5 hours away it is such a relief to have people that you trust looking in on your folks. It is kind of scary to put your trust in strangers but we feel that this company is careful and through in their hiring and seem to have checks and balances in place to ensure quality. Thank you so much for this valuable service!" Susan L. (daughter of client, Ray)
Ginny & Tracy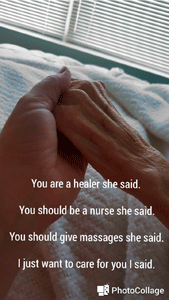 Tracy and Ginny's hands placed together with a written poem from our caregiver, Tracy. A very difficult situation due to the client being in hospice, but a bond that will forever live in Tracy's heart.
Client & Carol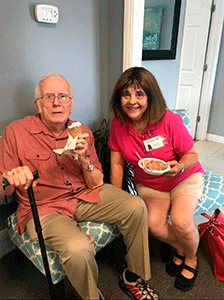 Visiting Angels Ice cream social 2018! Caregiver, Carol with her client enjoying some ice cream.
Priscilla & Melissa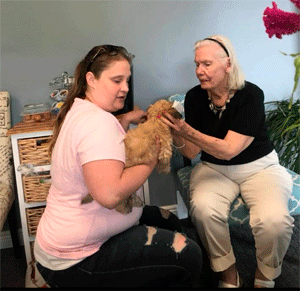 Priscilla and caregiver, Melissa at our 2018 ice cream social hosted at our home office.
A few more client statements about our home care service.
"Your time with us was short, but it brought such relief to all of us. Your staff made all of us so much more comfortable, taking care of simple household needs, watching Mom and Dad, etc. Again, many thanks".
K.W., Woodbury, MN
"Our 'angel' truly cares about my grand-mother's welfare. She understands her specific needs very well without being told. She is gentle, cheerful, practical, efficient, and effective. She stays on top of any physical problems in order to keep us to speed… I consider her [caregiver] invaluable to the efforts to keep grandmother out of a nursing home".
P.K., Oakdale, MN
"Sharon has been a true blessing to our family. My grandparents consider her to be a true friend. She brightens their week and is always thoughtful…When I am out of town over the weekend, they will frequently attend church together which my grandparents love! I have to say, Rhonda goes out of her way in every way to brighten their lives. I don't know what we'd do without her!"
T.S., Lino Lakes, MN
"Mary truly lives up to your organization's name –she is an angel. She cares greatly about the people and my mother is not easy to care for. Thank you for all your help".
P.O., Roseville , MN
"Thanks again for the care we received from Visiting Angels for my father in his last weeks. It allowed us to have him at home and as comfortable as possible".
V. Mahtomedi
"Paula is really good at this job and has done everything right. I have never found anything to complain about. I feel very lucky to have her help"
D.A., Marine on Saint Croix, MN
"I have been referring my residents to Visiting Angels for several years. I have been very happy with the customer service I am given every time I call whether it's day or night. Visiting Angels truly cares about my residents and it shows in everything they do…After working with many homecare agencies over the last 10 years, I feel strongly that Visiting Angels is one of the best agencies out there!"
C.H., Bayport, MN
"We are most pleased in every way".
A.M., Centerville, MN
Call 651.653.0110 for a free in-home consultation. Find Our Office