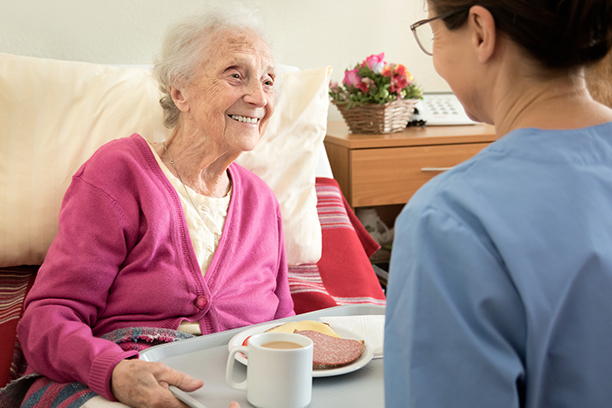 Social Care from Our Senior Home Companions in Loveland, CO and Surrounding Areas
Through our Social Care program, our senior home companions help older adults in Loveland, Greeley, Windsor and Fort Collins, CO learn how to use digital technology to stay in touch with friends and family
Our mission at Visiting Angels Loveland is to provide high-quality home care services to seniors in Loveland, Fort Collins, Greeley and surrounding communities in Colorado's Northern Front Range. Our dedicated caregivers enable older adults in our care to age at home, regardless of their health issues.
Aside from helping seniors with daily tasks, our senior home companions make certain that they remain linked to the outside world and live a fulfilled life. We will assist your parent in using modern technologies and staying connected to friends and family via channels such as Facebook, Skype and FaceTime.
The Benefits of Technology for Seniors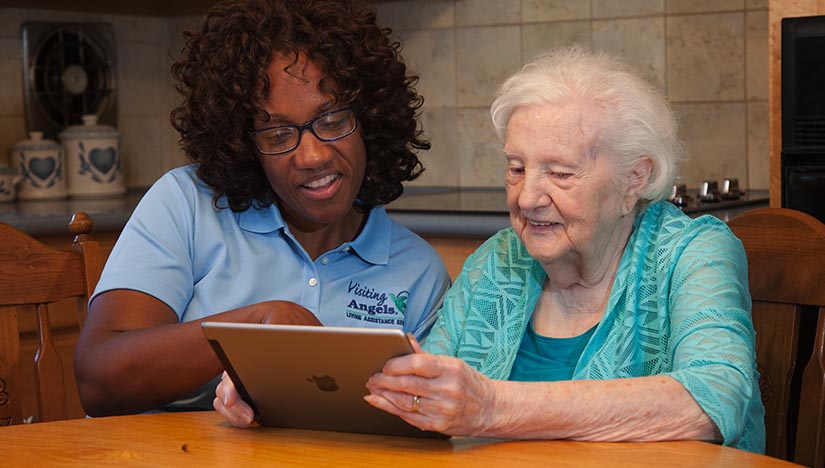 Recent studies show that surfing the internet can reduce depression in older adults by 20 percent*, while using Facebook can improve their working memory, according to a study from the University of Arizona. Studies also show that seniors who visit social networks have a positive emotional experience**.
At Visiting Angels Loveland, we understand how loneliness and isolation can lead to anxiety and depression, which is why in addition to providing meaningful companionship, our caregivers encourage our clients to use technology to stay in touch with their loved ones.
Helping Seniors in Loveland and Surrounding Areas Stay Connected with the Social Care Program
At Visiting Angels Loveland, our caregivers are trained to educate our senior clients on how to use the latest tablets and smartphones, along with other devices. Our caregivers understand the importance of keeping seniors connected so they can stay informed about the world around them and feel less lonely.
Through our Social Care program, our senior home companions can teach your parent to:
Use a cell phone to call or text their loved ones
Use Skype, FaceTime and send an e-mail
Create a Facebook account and teach them how they can find their college roommates and childhood friends, view videos, read posts, share pictures and chat with people
Use search engines so your parent can learn more about topics that interest them, find new hobbies and learn something new by doing research
Play online games, either by themselves or with family and friends
Read eBooks and blog posts
Find out what their favorite actors are up to by reading online news articles
Shop online
And so much more
Aside from helping your parent with everyday activities, our senior home companions can help them stay connected to the world around them. By teaching them how to utilize the technology we will help your parent stay in touch with loved ones who live miles and miles away.
If you want to learn more about our Social Care program, don't hesitate to contact our Loveland, CO office today.
* Washington, D.C. based Phoenix Center
** Journal Cyberpsychology, Behavior, and Social Networking
Serving Windsor, Loveland, Greeley, Fort Collins and the Surrounding Areas
Visiting Angels
LOVELAND, CO
5441 Boeing Dr #200
Loveland, CO 80538
Phone: 970-292-5668