Dementia Home Care Services For Families in Newton, Wellesley, Dedham & Nearby Communities
With the recent release of the HBO documentary on Robins Williams, dementia care, and specifically Lewy Body dementia, has been top of mind for many across America. At Visiting Angels, we have been helping families living with dementia find stability and assistance for more than 20 years.
As part of America's largest in-home care company, Visiting Angels Newton/Canton provides comprehensive dementia home care services in Newton, Needham, Chestnut Hill, Wellesley, Brookline, Natick, Westwood, Dedham, Canton, Norwood, Stoughton, Roslindale, Watertown and nearby cities and towns, as well as support and insight into how families can better cope with dementia.
What is Dementia?
Dementia is not a specific disease, but a term that is used to associate a variety of memory-related concerns. While Alzheimer's disease is the most widely known form of dementia, Lewy Body dementia is the second most widely diagnosed form of this condition.
Lewy Body dementia is a specific form of the disease that according to the National Institute on Aging is "associated with abnormal deposits of a protein called alpha-synuclein in the brain. These deposits, called Lewy bodies, affect chemicals in the brain whose changes, in turn, can lead to problems with thinking, movement, behavior, and mood."
Lewy Body dementia can be difficult to diagnose because symptoms are often similar to Alzheimer's. In the case of Robin Williams, his Lewy Body dementia was originally diagnosed and treated as Parkinson's disease.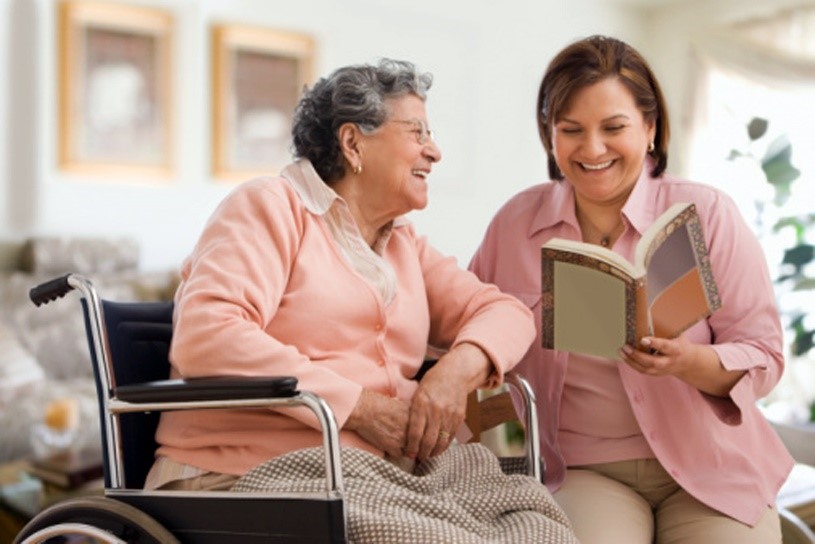 What are the Symptoms of Dementia?
Some of the most common symptoms of dementia include:
Increasing confusion
Depression
Difficulty carrying out daily tasks
Difficulty following instruction
Short-term memory loss
How Dementia Home Care Services Can Help People in Newton, Wellesley & Dedham
Family members are often the first line of defense when a loved one is diagnosed or begins to show signs of dementia. As family members step in to offer assistance, it is common for everyone to feel stress. Adult children are often juggling their own families, careers, and responsibility and it can easily become overwhelming to also find time to help Mom or Dad several hours a week.
Professional dementia and Alzheimer's home care services in Newton provide the relief and assistance families need to better cope with the effects of this condition. Home caregivers can provide assistance with a wide variety of needs including:
Preparing healthy meals
Socializing and companionship
Cognitive stimulation using technology, games, music and other techniques
Light housekeeping
Wandering prevention
Walking, exercise and mobility assistance
Medication reminders
Transportation to doctor and/or therapy appointments
Preparing for the day and assist with bedtime routine
Bringing in a caregiver to provide dementia care at home is often one of the best ways for families to cope with the challenges of daily care. Extended care at home allows your loved one to continue living at home and to also receive the continuity of care they need. Having a regular home caregiver will be a comfort as the dementia progresses. Staying at home provides a sense of comfort that seniors with dementia need.
If your loved one is showing symptoms of dementia, don't hesitate to contact us by calling 617-795-2727 or fill out our contact form. We will schedule a complimentary initial in-home consultation with one of our case managers to help you!
About Visiting Angels Newton/Canton:
Visiting Angels Newton/Canton MA is an award winning local home care agency providing high caliber in-home care services to elderly and people with disabilities. Countless families have benefited from our dementia care, Alzheimer's care, companion care, elderly care, respite support, transitional aid, and senior home care services in Wellesley, Newton, Needham, Brookline, Chestnut Hill, Canton, Westwood, Dedham, Watertown, Natick, Stoughton, Roslindale, Norwood and nearby towns . While non-medical in nature, the care provided by Visiting Angels Newton/Canton can make a big impact on your loved one's happiness and quality of life. Call us at 617-795-2727 for information!