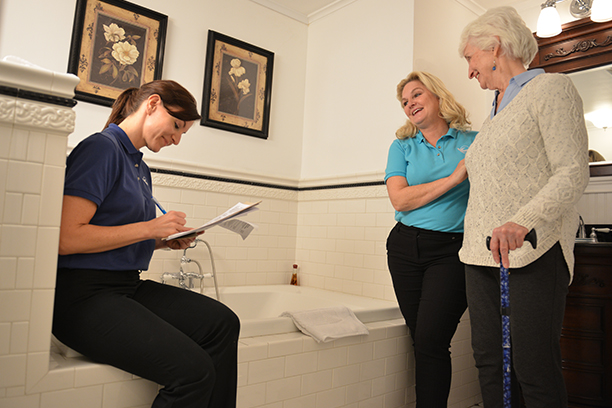 Alzheimer's Services in Raleigh, NC and Surrounding Areas
In Caring for Someone with Alzheimer's, Support is the Most Important Resource
When a loved one is diagnosed with Alzheimer's, it can shock an entire family to its core. Even though currently there isn't a cure for this fatal brain disease, there are treatments that can slow the progression of the disease. This drastically improves the quality of life for an individual dealing with Alzheimer's, and the caregivers around them.
If you believe that your loved one might have Alzheimer's it's important to get them in front of a doctor as soon as possible. The sooner you bring in a doctor, the sooner they can get a diagnosis, and the sooner they can make a plan for Alzheimer's services.
Be sure to know these 10 Warning Signs of Alzheimer's:
Challenges in planning or solving problems:

Memory loss that disrupts daily life

Confusion about time or place

Difficulty completing familiar tasks at home or work

Trouble understanding visual images and spatial relationships:

New problems with words in speaking or writing:

Decreased or poor judgment when making decisions

Misplacing things and losing the ability to retrace steps

Changes in mood or personality

Withdrawal from work or social activities
If someone that you care about has any of these symptoms, it's important to get them evaluated by a physician. It's important to note that Alzheimer's is not a normal part of aging. It shouldn't be mistaken for basic forgetfulness. Most people will experience a symptom or two in a varied way. But, for those with Alzheimer's, the symptoms will gradually get worse and more frequent with time.
Once a diagnosis is made, it's important to be proactive as you make decisions for your loved one's Alzheimer's services. If you or someone you love has been diagnosed with Alzheimer's, here are a couple of basic tips:
Take care of the financial, legal, and long-term care planning issues sooner rather than later.

Educate yourself about the disease.

Arrange for respite care and/or regular professional Alzheimer's services.

Prioritize cognitive stimulation.

Build a support system.
Even though an Alzheimer's diagnosis might make a person feel scared and alone, it's important to know that you aren't. For more information or to explore options for Alzheimer's services, call Visiting Angels Raleigh at 919-787-4317 or request Alzheimer's care here to learn more.
Serving Raleigh, Cary, Wake Forest, Fuquay-Varina and other Wake County, NC Communities
Visiting Angels
RALEIGH, NORTH CAROLINA
5700 Six Forks Rd #102
Raleigh, NC 27609
Phone: 919-694-4482
Fax: 919-861-6954