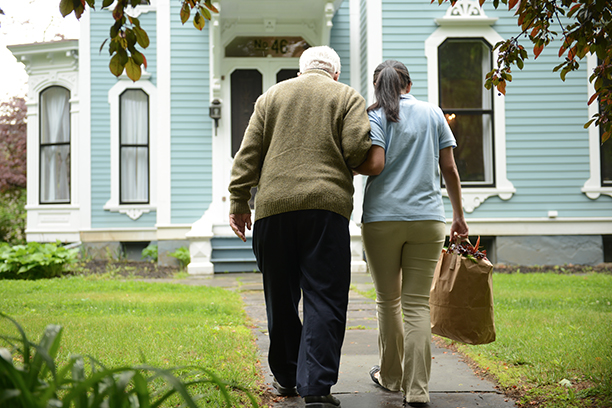 Incidental Transportation for Seniors in Raleigh, NC, and Nearby Areas
It may be difficult to balance caring for an aging relative with your other responsibilities, especially if you also have your own family. It may be challenging to find the time to transport a loved one with limited mobility who is also highly socially active. This is an issue that affects individuals of all ages who rely on friends and family for transportation due to sickness, accidents, or advanced age.
When it comes to in-home companion services in Wake County, NC, Visiting Angels of Raleigh is among the most trusted agencies. Our caregivers can assist your family member by offering incidental transportation services. We provide transportation to and from doctor's offices, as well as to social events where your loved one may spend time with friends and relatives. Since 2000, we've been helping seniors in Raleigh, Cary, Wake Forest, Fuquay-Varina, and the surrounding areas, and we'd be happy to do the same for your family member.
How Our Incidental Transportation Services Help Seniors in Raleigh and Surrounding Areas
Visiting Angels of Raleigh's caregivers are available around the clock to offer transportation services as needed anywhere in Wake County. You can trust us to get your loved one where they need to go, since all of our caregivers have been through extensive training in providing companion services for seniors and will travel with your family member. We provide trustworthy transportation to and from the clinic, shopping center, church, Sunday service, family get-togethers, the supermarket, and other locations.
Additionally, our caregivers may assist your aging loved one in getting ready for the trip by dressing them in loose, comfortable attire and assisting them in packing any essential items. They can also provide additional care when your loved one returns home, which may include making a meal after a trip to the grocery store or explaining medical information received following a visit to the doctor.
There are other options for getting your elderly loved ones where they need to go, but only Visiting Angels of Raleigh provides a secure, trustworthy service that is specifically designed for the requirements of your elderly loved ones.
What Other In-Home Companion Services Does Visiting Angels of Raleigh Provide?
For those in need of assistance at home, Visiting Angels of Raleigh provides a full suite of companion services, including occasional rides to appointments. Our customized care plans enable us to provide the finest quality home care services. Because of this, you can rest assured that your loved one is receiving the care they require.
Our caregivers can help your loved one with:
At Visiting Angels of Raleigh, we value the safety and well-being of your loved one as much as you do, so please don't hesitate to contact us with any questions or issues you may have regarding incidental transportation and our other companion services. Making our clients feel at ease during our home care visits is our top priority.
Call our Raleigh, NC, office at 919-694-4482 to schedule a free in-home consultation!
Serving Raleigh, Cary, Wake Forest, Fuquay-Varina and other Wake County, NC Communities
Visiting Angels
RALEIGH, NC
5700 Six Forks Rd #102
Raleigh, NC 27609
Phone: 919-787-4317
Fax: 919-861-6954