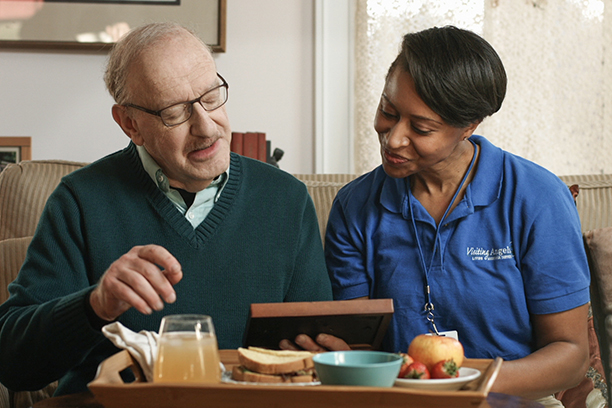 Hygiene, Grooming and Bathing Assistance for Seniors in Raleigh, NC and Nearby Areas
It may be time to consider hiring a professional home care agency if your elderly loved one is showing indications of having problems maintaining their personal hygiene. Age-related mobility and cognitive difficulties may make it difficult for seniors to take care of themselves, which can cause or worsen health concerns.
Visiting Angels of Raleigh is there to help if your loved one needs assistance with taking care of their personal hygiene. As part of our personal care services, we help seniors in Raleigh, Cary, Wake Forest, Fuquay-Varina, and nearby areas in North Carolina take care of themselves so they can stay safe, healthy, and comfortable in their own homes as they enjoy their golden years. Our caregivers will assist your loved one with personal hygiene tasks such as bathing, grooming, and dressing while maintaining their privacy and independence.
How Can Seniors in the Raleigh Area Benefit from Professional Personal Care Services?
Visiting Angels of Raleigh helps seniors in Wake County stay clean and germ-free. With our in-home personal care services, they will be able to develop and stick to healthy hygiene routines, which will reduce their risk of contracting a wide range of diseases and infections.
Common signs that seniors are having trouble maintaining their personal hygiene can include:
Bad breath
Wearing the same outfit for multiple days in a row
Messy hair
An unpleasant body odor
Unlike other local home care agencies, we at Visiting Angels of Raleigh believe in providing personalized, high-quality care for seniors. In other words, we don't treat everyone to the same set of services but rather, we personalize our approach to each client's specific needs and routine. When you rely on personal care services from Visiting Angels of Raleigh, you can rest easy knowing that your loved one will get the individualized, one-on-one assistance they need in a way that fits into their schedule.
How Visiting Angels of Raleigh Helps Seniors Take Care of Their Personal Hygiene
Here are some ways our caregivers can help your loved one take care of themselves:
Dressing
Wearing clean clothes is an important aspect of maintaining good personal hygiene. Many elderly adults have trouble getting dressed as they age. If your loved one wears the same thing for many days in a row, it might not only be embarrassing, but it can also cause them to get an infection and impact their physical health. One way in which our caregivers may support your loved one is by assisting them in choosing an outfit that is both clean and suitable for the weather. We can also provide a hand with getting dressed to ensure they don't hurt themselves in the process.
Bathing and Showering
Taking regular baths is an important part of taking care of one's health. It's also a great way for older adults to unwind at the end of the day. However, it is possible that taking a bath may grow more challenging as people age. If your loved one suffers with arthritis or joint pain, they may find it difficult to use a standard bathtub. The chances of falling are significantly amplified by slippery floors. Visiting Angels of Raleigh offers bathing and showering assistance to anyone who need help getting in and out of the tub or shower alone.
Hair Care
Growing older makes it harder to do things like combing your hair, which is a problem for many seniors. If your loved one doesn't take care of their hair, it may get tangled and be painful to take care of. Dandruff, especially prevalent in the elderly, may be avoided with regular brushing. To get ready for the day, our caregivers may help your loved one with daily grooming tasks like brushing their hair. We'll show them how to do it right and keep them from getting hurt. We can also accompany your loved one to the salon or barbershop of their choice and remind them of their impending appointment if their hair is growing too long.
Oral Care
Protecting your teeth and gums by brushing twice a day is a must. Plaque and bacteria on the gums may also contribute to tooth decay, therefore brushing your teeth can help get rid of them. As people get older, their hand dexterity gets worse, which makes it harder to brush their teeth than it used to be. Don't let it discourage your loved one from maintaining good oral hygiene. If your loved one has trouble holding a toothbrush because of a condition like Parkinson's disease, Visiting Angels of Raleigh can remind them to brush and even help them brush and floss properly.
Call our Raleigh, NC office at 919-694-4482 to schedule a free in-home consultation today!
Serving Raleigh, Cary, Wake Forest, Fuquay-Varina and other Wake County, NC Communities
Visiting Angels
RALEIGH, NC
5700 Six Forks Rd #102
Raleigh, NC 27609
Phone: 919-787-4317
Fax: 919-861-6954