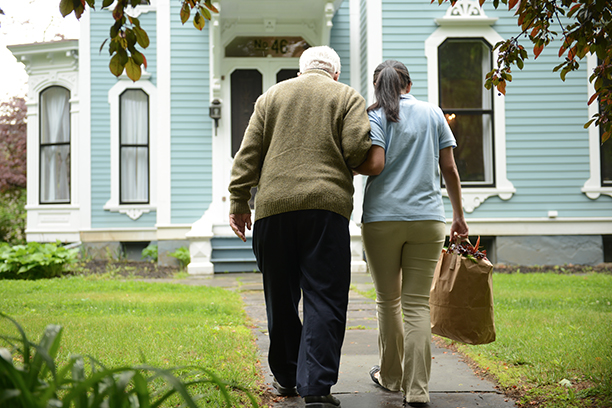 At Home Care In Bridgewater, MA
Visiting Angels provides superior at home care to seniors in the Bridgewater, MA
Maybe you and your loved one have been considering at home care recently. You know that your loved one wants to stay in their home, but they can no longer meet their needs on their own. Visiting Angels can help you receive the care you're looking for in Bridgewater, MA.
In order to make sure you are receiving the right care, follow these five steps we suggest:
Be Heard
Share your care experiences with your loved one and your feelings about it. You should also discuss the needs and difficulties of your loved one before you make any decisions about a care plan. No care plan should be created until both of you are on the same page.
Create A Customized Care Plan With Visiting Angels of Bridgewater
We create a customized, personal care plan after our free in home visit, where we learn about your loved one's needs. When your loved one requires more care, their plan can be altered to meet their evolving needs.
Choosing the Right Caregiver
Your loved one is special and should be given a caregiver that reinforces that idea. At Visiting Angels, we allow you to choose an at home caregiver that you feel is best for your loved one, whether you find one right away or talk with a few.
Receive Care Notes
Sometimes it's hard to keep up with your loved one's care. Our caregivers provide notes to keep you informed about your loved one's care in Bridgewater, MA.
Care notes are most helpful in situations where distance is an issue and there isn't constant communication. Knowing what is going on, even when you aren't close, can make a big difference.
Bond With Your Loved One's Caregiver
We feel as though bonding is extremely important in at home care. Our caregivers strive to create a special bond with our clients and their families. We understand it may take a little while but forming a meaningful bond with the caregiver can be very beneficial long-term.
Contact Visiting Angels to learn more about how our compassionate caregivers can help both you and your loved one in Bridgewater, MA.
Serving Abington, Avon, Berkley, Bridgewater, Brockton, Dighton, Halifax, Hanson, Holbrook, Middleborough, Plympton, Randolph, Raynham, Rockland, Taunton, Whitman, and Neighboring Towns
Visiting Angels
RAYNHAM, MA
473 S St W #18
Raynham, MA 02767
Phone: 774-501-3861
774-501-3923