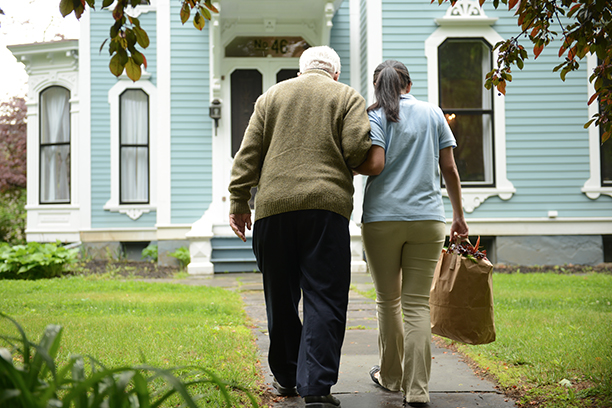 Homecare Services for Seniors in Raynham, MA
Some seniors need homecare services when they are not able to perform daily tasks on their own. Visiting Angels in Raynham, MA can help!
At a certain point, your parent will be unable to do everything that he or she is used to doing at home, which will lead them to require additional help around the house to meet each of his or her needs. This is where Visiting Angels comes in. We have many skilled caregivers who seek to provide excellent homecare for seniors in the Raynham, MA area. If you think your parent is at the point where this may be a viable option, contact our office today.
We can provide your parent with any care he or she needs, whenever they need it. This can be once a week just to keep him or her company to continuous specialized homecare each week. We offer personal care, respite care, transition care, and hospice care. If you choose us, we will work with you and your family to form a care plan that will fit your parent perfectly and allow him or her to live a happy and fulfilling life in his or her Raynham, MA home.
The two most popular aspects of care are personal care and companionship. We offer personal care such as grooming, housework, and shopping for groceries. Companionship can be achieved by taking walks around the neighborhood with your parent or simply talking to him or her about his or her day. Both aspects are extremely important in meeting your parent's needs.
Transportation is another important aspect of homecare that is often forgotten. Your parent may want to grab a bite to eat at Flippin' Burgers or they may have a doctor's appointment to get to at Signature Healthcare, but no way to get there. A caregiver can be the person to take him or her to those places and provide good company as well. If your parent likes the outdoors, perhaps Hewitt's pond reserve will be a destination.
At Visiting Angels of Raynham, we recognize that staying active in the community is important, so we will make a conscious effort to get your parent out and about in the area as much as possible. Ultimately, our caregivers will get your parent to his or her destination safely and provide great company.
Should you wish to know more about homecare through Visiting Angels of Raynham, contact us by calling 774-501-3861.
Serving Abington, Avon, Berkley, Bridgewater, Brockton, Dighton, Halifax, Hanson, Holbrook, Middleborough, Plympton, Randolph, Raynham, Rockland, Taunton, Whitman, and Neighboring Towns
Visiting Angels
RAYNHAM, MA
473 S St W #18
Raynham, MA 02767
Phone: 774-501-3861
774-501-3923