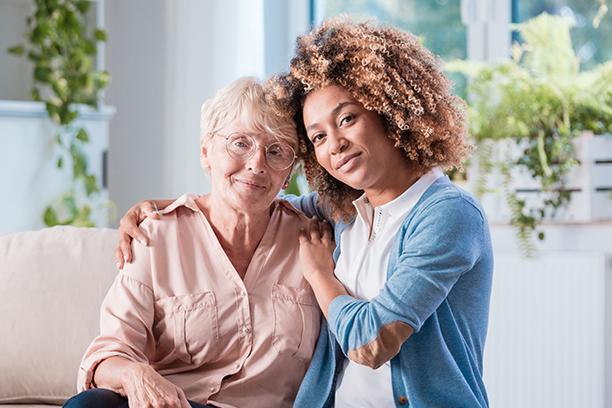 Overnight Assistance for Seniors in Richmond, VA, and Nearby Areas
Overnight care from Visiting Angels Richmond is a wonderful option for seniors in Richmond, Mechanicsville, Glen Allen, Short Pump and throughout Henrico and Hanover Counties who need assistance and monitoring while they sleep. An awake, attentive caregiver can insure your loved one's comfort and safety throughout the night. This not only helps your loved one maintain their health and wellness but gives you time to rest as well.
Call us at 804-353-0000 to schedule a free in-home consultation today!
"Recently, I contacted Visiting Angels for special all-night care and service for my mom who has congestive heart failure.
The total experience with Visiting Angels was excellent. The Care Angel assigned to care for my mom was outstanding. She connected with my mom and was attentive to her needs throughout the night. I especially valued how the Care Angel connected with my mom on a personal level as witnessed in the exchange of hugs and best blessings when we said good bye."
- John B.
How Can Overnight Care from Visiting Angels Richmond Help My Loved One?
Your loved one may be fairly active and independent during the day; if they are in an assisted living facility or senior community, they likely have fairly consistent support from staff or even your family members during the daytime.
But who is caring for your loved one during the nighttime? If there is an urgent need, will someone be available to help right away?
Overnight monitoring and assistance from Visiting Angels Richmond can assist seniors with a variety of in-home care needs. Some instances where our home care providers can be most helpful include:
Help with getting out of bed, into the bathroom to use the toilet and settled back in bed
Prevent wandering and nighttime falls or accidents
Provide medication and fluid reminders throughout the night
Provide comfort and companionship during lonely nighttime hours
Give family members and other caregivers time to sleep
Overnight home care services from Visiting Angels Richmond can be a great solution for seniors with dementia, those with mobility or balance issues, those managing chronic illnesses, or seniors who are simply lonely, confused, or afraid during the night.
Finding the Right Care Solution for Your Needs
Even if full-time home care may not be the best fit for your loved one, they may need at least some level of support. That's where Visiting Angels Richmond can help. Our care plans are customized to meet the needs and schedule of your senior loved one.
We can provide overnight care as well as part-time and full-time senior care services. Our caregivers can assist with all Activities of Daily Living including:
Getting started is simple – just contact our office in Richmond, VA. We'll get to know your situation a bit better and schedule a no-cost Home Care Assessment with your loved one. Once we've created a care plan and schedule, we'll be able to detail pricing information with you and help you find the right caregiver.
Please contact Visiting Angels Richmond today to learn more about our overnight care services!


Serving communities in the Metro Richmond Area including Richmond, Mechanicsville, Glen Allen, Short Pump, Henrico & Hanover Counties
Visiting Angels
RICHMOND, VA
4914 Radford Ave #211
Richmond, VA 23230
Phone: 804-353-0000