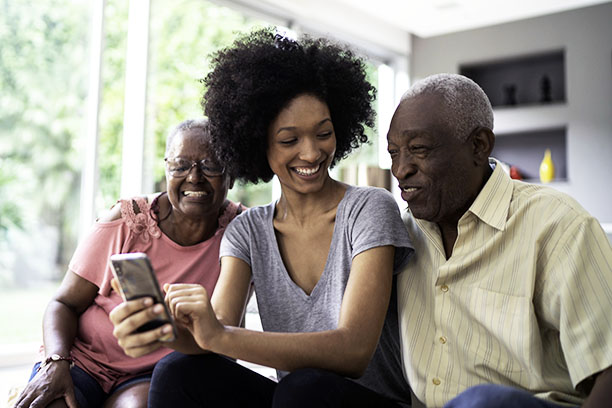 Promoting Social Wellness with Help from a Home Health Aide from Visiting Angels Silver Spring
The Visiting Angels home health aide team helps seniors stay connected to family & friends through social care in Silver Spring, Bethesda, Rockville, Chevy Chase and the surrounding areas in Maryland
Providing care for your elderly loved ones does not stop with their physical needs. It requires a holistic approach such that you also need to look not only on their physical well-being but also their mental well-being. Part of having a good mental well-being for our loved ones is to ensure that they are engaged in social activities and have meaningful companionship. But what if their mobility is limited and they are confined to their beds?
Surely it is difficult for them to engage in social activities unless they use technology. That's why Visiting Angels offers our social care program to older adults in the Silver Spring area. Through this program, our home health aides help clients learn how to use digital tools and platforms to engage with loved ones and improve their quality of life from the comfort of their own home.
The Benefits of Technology for Seniors in Silver Spring, Chevy Chase and Surrounding Communities
Fortunately, the age of the internet allows our elderly loved ones to still socialize by using online platforms like Skype, Facebook, and FaceTime. Recent studies suggest that surfing the internet can reduce symptoms of depression among the elderly by as much as 20 percent*. Moreover, it also helps increase their working memory and cognition as well as stabilize their breathing rates and pupil dilation**. Logging on the internet can definitely help elderly adults.
The problem with the elderly population and technology is that the older generation is a bit recalcitrant to learning about new technology. Many seniors don't think about the possibility of using computers, smartphones and other digital tools to communicate with loved ones. That's why our home health aides are committed to helping seniors in Silver Spring find modern methods to stay in touch with the people they care about.
How Home Health Aides from Visiting Angels Silver Spring Can Help with Socialization
Thus, it is crucial that you have them learn how to use technology to enrich their lives. Enrolling them in a social care program teaches them how to properly use technology to their advantage. Here at Visiting Angels, we provide a comprehensive social care program to our senior clients.
Our caregivers can teach your loved one how to
Use the internet so that they can send emails
Use video chat on their phone or computers
Browse for books and movies on the local library's website
Watch videos and utilize streaming services that may have
Shop online

Our caregivers will teach your loved ones in a pace that they are comfortable with so that they will enjoy technology. Your Visiting Angels caregiver can help your loved one make phone calls, stay connected with family and friends, and enjoy their favorite shows, movies, music and more!
To learn more about how our home health aides can help your loved one stay connected, contact our Silver Spring, MD office today!
* Washington, D.C. based Phoenix Center
** Journal Cyberpsychology, Behavior, and Social Networking
Serving Silver Spring, Rockville, Kensington, Chevy Chase, Olney, Bethesda and throughout Montgomery County, Maryland
Visiting Angels
SILVER SPRING, MD
804 Pershing Dr #110
Silver Spring, MD 20910
Phone: 301-578-1616
Fax: 301-578-1619