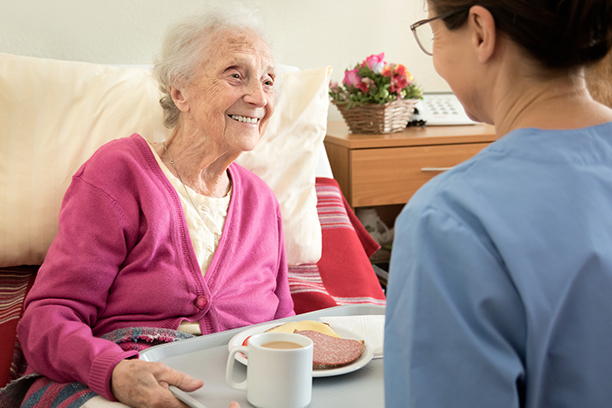 A Senior Caregiver Can Help Your Loved One Recovering for a Stroke in Tucker, GA, or a Nearby Area
When a loved one experiences a stroke, it can be a challenge for the whole family. Your loved one may not be able to communicate, move, eat, or take care of themselves. The stroke recovery process is long, complicated, and has different results for everyone. To give your loved one the best hope of comprehensive recovery, a senior caregiver from Visiting Angels of Tucker offers home care expertise, support, and companionship.
Visiting Angels' Senior Caregivers Can Improve Seniors' Quality of Life in Tucker, Lilburn, and Nearby Cities
Living assistance services can help with stroke recovery and help your loved one's lifestyle evolve to meet their new health needs. After a stroke, many people experience partial paralysis, speech impairment, or memory loss. About two-thirds of stroke survivors also experience physical disability. Your loved one, your family, and your loved one's home environment will all go through a period of adjustment, and a senior caregiver can provide support during that process.
How Visiting Angels of Tucker Can Help
A home care provider from Visiting Angels of Tucker has the experience and knowledge your family can rely on throughout the recovery process. We will partner with your loved one to explore and expand their capabilities in everyday tasks while ensuring their every need is met. Successful recovery will look different for every patient and requires a very engaged network of support.
Daily tasks Visiting Angels of Tucker can assist with include:
Companionship and regular wellness checks
Using a mobility assistance device
Transportation to doctor's appointments and physical therapy
Medication reminders and maintaining a daily schedule
Meal preparation and made-ahead meals
Transferring, positioning, and re-positioning throughout the day
A senior caregiver can help your loved one get to every appointment that is set. Accessing the doctor, physical therapist, and other specialists regularly will aid in recovery but can be challenging for family members with busy schedules and competing responsibilities. A home care specialist can take notes at every appointment, report back to family members any changes, and communicate family concerns to your loved one's medical team.
Transitioning from Hospital to Home
If your loved one has not been able to return home yet, transitional care from a caregiver can ease that process. Exiting the hospital means leaving the watchful eye of medical staff; but adding Visiting Angels of Tucker to your support network at home means your loved one will still have monitoring, companionship, and an expert on call.
Contact Visiting Angels of Tucker to Learn More
If you are helping to meet the needs of a loved one who has experienced a stroke in Tucker, Lilburn, or the surrounding area, partnering with a senior caregiver from Visiting Angels of Tucker can improve your loved one's quality of life. Call our companion care agency today at 678-853-7904 to learn more about our care in Tucker, Lilburn, Stone Mountain, Lawrenceville, and the surrounding area.
Serving Lilburn, Stone Mountain, Lawrenceville, Tucker, GA, and the Surrounding Area
Visiting Angels
TUCKER, GA
4500 Hugh Howell Rd #530
Tucker, GA 30084
Phone: 678-825-8072
Fax: 678-825-3808