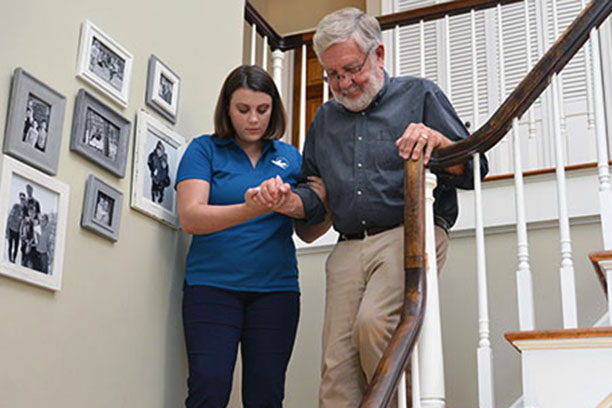 Safe and Steady Fall Prevention Program with At-Home Caregivers in Tucker, GA and the Surrounding Area
Aside from the various injuries older adults sustain after experiencing a fall, they also succumb to emotional and social issues. In the end, falling can greatly affect a senior's quality of life, as it tends to eventually result in avoiding leaving the house altogether due to fear. This fear can result in feelings of anxiety, loneliness, social isolation, sadness, and depression.
Download our complimentary Fall Prevention Resource Guide to help your loved one stay safe in their home.
Seniors in Tucker, Lilburn, Stone Mountain, and Nearby Cities Frequently Lose Their Independence to Life-Changing Falls – Hire an At-Home Caregiver from Visiting Angels Today!
But there is a solution for families in Tucker, Lilburn, Stone Mountain, Lawrenceville, and the surrounding area: Visiting Angels of Tucker provides care for those in need of assistance. Our at-home caregivers are compassionate and dedicated individuals that can assist in situations, so there is no need to fear falling again.
Home Falls: A Leading Cause of Senior Injury
Did you know that…
One in three seniors experience a fall each year
One in five withstand grave injuries, such as a hip fracture, broken bone, and concussion
Those who fall once are more likely to fall again
More than 800,000 people are hospitalized because of falls every year
It can take up to a year to recover from a fall – and some seniors never return home to an independent life ever gain
Prevention is Key
Falls do not just happen – they are caused by a variety of risk factors that can typically be prevented if you are prepared. Typically, these factors are linked to a physical condition, medical problem, or home environment. Furthermore, factors like taking multiple medications, limited mobility, poor eyesight, arthritis, dehydration, and the lack of grab bars in the bathtub are a few examples of common risk factors. Preventing falls starts with identifying and addressing risk factors such as these promptly.
At Visiting Angels of Tucker, our at-home caregivers are committed to helping seniors regain their independence and safety by overcoming fall risks and by assisting them with care, thus significantly lessening the likelihood of falls. Contact us today at 678-853-7904 to find out how our at-home caregivers can help you or a loved one.
Call us today to schedule your free in-home consultation and learn more about our senior care services!


Serving Lilburn, Stone Mountain, Lawrenceville, Tucker, GA, and the Surrounding Area
Visiting Angels
TUCKER, GA
4500 Hugh Howell Rd #530
Tucker, GA 30084
Phone: 678-825-8072
Fax: 678-825-3808