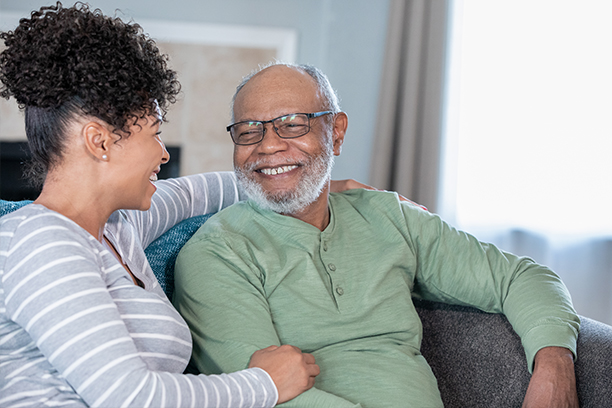 FAQs about Visiting Angels' Elderly Care in Greater Tucker, GA
At Visiting Angels of Tucker, we answer questions about elderly care every day. We understand how difficult this process can be for families just getting started with seeking out professional care, which is why we wanted to compile a list of our most common questions and the best answers in response. Our agency wants to make this process as easy as possible for you, and a great first step is knowing what questions to ask and getting to know what care at home can entail! Please read below for our frequently asked questions.
Frequently Asked Questions About Visiting Angels' Elderly Care in Tucker, GA, and Nearby Areas Answered by Our Care Team
How Do I Know If My Loved One Needs Professional Care?
There are many signs that a senior may need additional elderly care assistance at home, including:
Their hygiene takes a turn for the worse
You notice they are wearing the same clothes days in a row
Their house is unkept
You notice that they have lost weight
They have unexplained bruises or scrapes
They avoid social gatherings
You notice that they struggle with performing daily tasks
How Long Does It Take to Establish Care?
Care can be established within 24-48 hours in most cases.
What Are Your Office Hours?
Visiting Angels of Tucker has a 24/7 call line for emergencies, but for scheduling elderly care and inquiring about services, we recommend calling between 9 a.m. and 5 p.m.
How Do We Get Started?
Getting started with elderly care from Visiting Angels of Tucker is as easy as picking up the phone and dialing 678-853-7904. You will be forwarded to one of our staff members, who can set up a free, in-home assessment with one of our care coordinators. Once this assessment is conducted, we can begin developing a care plan and begin services.
Questions About Visiting Angels of Tucker
Is Visiting Angels of Tucker Licensed?
Yes, all Visiting Angels locations are required to be licensed by the state.
Why Choose Visiting Angels of Tucker?
Visiting Angels of Tucker is one of the leading elderly care providers in the area. We offer a wide range of services that help keep seniors independent at home for as long as possible. We also hire only the best local caregivers to care for our clients. Each caregiver must go through a rigorous interview process that includes background checks, references, personality assessments, and more.
What Services Does Visiting Angels of Tucker Provide?
Visiting Angels of Tucker provides a wide range of elderly care services through our Life Care Navigation Program:
Can You Provide Transportation?
Yes, our caregivers are able to provide transportation for your aging loved one. They can either take their own vehicle (in which we charge for mileage) or they can take your loved one's vehicle free of charge.
Questions About Caregivers
Are the Caregivers Under Visiting Angels of Tucker's Employment?
Absolutely. All of our senior care providers are W2 employees of the agency. Our office handles scheduling, payroll, and more so your family can have peace of mind.
Are Your Caregivers Licensed and Bonded?
Yes! We license, bond, insure, and train all the caregivers on our team to the best practices of care.

Is There Consistency Among Caregivers?
At Visiting Angels of Tucker, we strive to provide you with reliable caregivers. If there is ever a change in caregiver, service, or scheduling, we will do our best to accommodate in a timely manner.

Do You Provide Training for Your Caregivers?
Our caregivers can participate in ongoing training at our agency to ensure they are up to the best practices of care.

What If I Don't Like My Caregiver?
While we do our best to provide you with the perfect fit for your aging loved one and offer interviews between family and caregiver, you can request a new caregiver at any time.
Questions About Cost
How Much Does Care Cost?
The cost of care varies depending on the services need and how far our caregivers must go out to provide services. We charge an hourly rate.

Does Insurance Cover Your Services?
Government assistance programs such as Medicare and Medicaid do not cover our services, though if your loved one has long-term care insurance, that may cover our care!
What Is Long-Term Care?
Long-term care is an insurance that helps with the cost of long-term care like in-home elderly care. This type of insurance typically covers care that is not covered by health insurance, Medicare, or Medicaid.
Questions About Logistics
What Hours Can Your Caregivers Work?
Our caregivers are available 24/7. During your initial assessment, we will go over specific schedules and times you will need assistance and find the perfect caregiver or caregivers for that schedule.
Can You Work with Home Health Agencies?
Yes, we are able to work alongside home health agencies and hospices.
Do You Provide Care in Assisted Living Facilities and Nursing Homes?
Yes, we can provide care within assisted living facilities and nursing homes; we just need to get permission from the facility first.
What Areas Does Visiting Angels of Tucker Serve?
Visiting Angels of Tucker offers in-home elderly care to more than just Tucker! To see a list of our most popular service areas, click here.
Have More Questions? Contact Visiting Angels of Tucker Today!
If you have any more questions about our agency, caregivers, costs, or getting started, please contact our agency today at 678-825-8072. Our staff will be happy to answer any additional questions you may have and, if you would like, schedule a free, in-home assessment with one of our care coordinators. During this assessment, they will go over any concerns about elderly care services and get started on creating the perfect care plan for your loved one.


Serving Lilburn, Stone Mountain, Lawrenceville, Tucker, GA, and the Surrounding Area
Visiting Angels
TUCKER, GA
4500 Hugh Howell Rd #530
Tucker, GA 30084
Phone: 678-825-8072
Fax: 678-825-3808