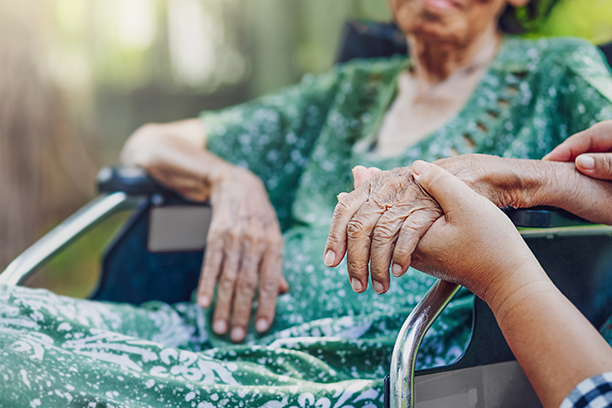 Alzheimer's Home Care Specialists in Greater Tucker, GA Answer Your Biggest Questions About Alzheimer's Disease
Our Home Care Specialists Answer Alzheimer's Care Questions from Families in Tucker, Lilburn, and Nearby Cities
At Visiting Angels of Tucker, we have worked with hundreds of clients with Alzheimer's
in Tucker, Lilburn, and the surrounding area
over the years, we have noticed a lot of fear and myths about Alzheimer's. Many people fear that their family member will have to leave their home and stay in a live-in memory center; our clients have heard myths they would not receive individual or attentive care, or that they would not be able to visit with loved ones as much as they would like to. At Visiting Angels of Tucker, our home care specialists can help your loved one with a variety of needs, including expert
Alzheimer's care
and
dementia care
.
Is Alzheimer's Disease Just Forgetfulness?
While the aging process can have some slight impacts on memory or cognition, Alzheimer's is not a natural symptom of getting older. While there is no cure, the understanding of this disease has increased greatly in the past few decades, and doctors are able to diagnose and treat Alzheimer's now than in decades past. Alzheimer's affects memory, cognition, behavior, and other mental tasks, but it is different than being forgetful or not remembering where you put your car keys.
Is There a Cure?
There is no cure for Alzheimer's. While you may have received a diagnosis because memory loss or personality changes are already taking place, Alzheimer's is not an immediate change in mental processes. Alzheimer's symptoms tend to appear slowly and become more noticeable over time. When you work with Visiting Angels of Tucker, our home care specialists will work with you to adapt your care plan over time to make sure your needs are still being met even when symptoms change.
What Services Does an Alzheimer's Patient Need?
While Alzheimer's can have a variety of effects and symptoms, it does not automatically mean that your aging loved one cannot continue to live in their own home. Our home care specialists are dedicated to having up-to-date knowledge on how to help your loved one manage symptoms. For instance, adhering to a regular daily schedule has been useful for many clients with Alzheimer's or dementia. Keeping a set time to get up and go to bed, make and eat meals, and maintaining a regular medication schedule can be challenging for those with Alzheimer's, but our caregivers will help your loved one implement a schedule that works for their needs. Services can include transportation to appointments, medication reminders, meal preparation, memory care, and more.
Contact Visiting Angels of Tucker
If you are concerned about a loved one who has or may have Alzheimer's, Visiting Angels of Tucker can help. Call our agency today at 678-853-7904 to learn more about our expert care and how our home care specialists can help your loved one enjoy the best possible quality of life every day.
Serving Lilburn, Stone Mountain, Lawrenceville, Tucker, GA, and the Surrounding Area
Visiting Angels
TUCKER, GA
4500 Hugh Howell Rd #530
Tucker, GA 30084
Phone: 678-825-8072
Fax: 678-825-3808