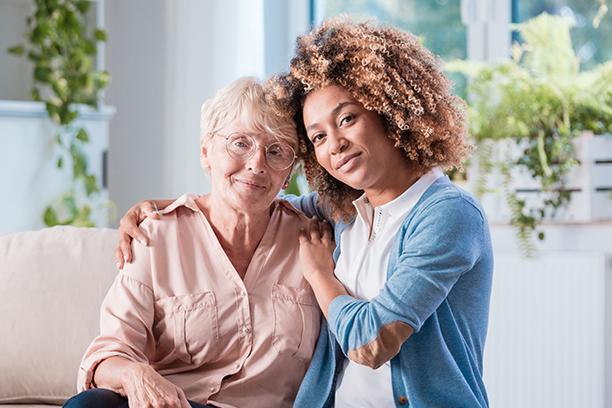 Exceptional Senior Home Care Agency for Alzheimer's Disease in the Greater Tucker, GA Area
Support Is the Best Tool When Caring for Someone with Alzheimer's. As a Senior Home Care Agency in Tucker, Lilburn, Stone Mountain, and Surrounding Areas, We Are Committed to Providing This Support
5.1 million Americans may have Alzheimer's disease, according to the Alzheimer's Foundation of America. Alzheimer's is a fatal brain disease that causes a slow decline in reasoning, memory, and thinking skills. Getting an Alzheimer's diagnosis can be devastating. However, there are several steps you can take to make this time less stressful.
Therapies and treatments for Alzheimer's are available, but there is no cure. Medication can slow the worsening of dementia symptoms, thus improving the quality of life for both the person with the diagnosis and their family caregivers. If you believe you or someone you love is displaying symptoms of this condition, then it is of the utmost importance to seek immediate medical help and potentially start senior care with a senior home care agency. The sooner a diagnosis is given, the sooner our senior home care agency in Tucker can help!
The 10 Warning Signs of Alzheimer's:
Memory Loss: disrupting everyday life, this can range from not remembering recent events to people's names, where things go to newer information.
Solving and Planning Challenges: while they previously had no issues with these things, they now can't keep track of bills or follow a well-known recipe. There is also difficulty concentrating and it takes much longer to perform a simple task.
Difficulty with tasks: difficulty performing familiar tasks at home or at work.
Confusion: typically, confusion surrounds time and place, where individuals can lose track of dates, seasons and the passage of time.
Visual and Spatial Difficulties: there are often visual and spatial difficulties, such as trouble reading, judging distance, and determining color or contrast.
Word Problems: new issues with writing or speaking, where signs include completing sentences, following directions, trouble finding the appropriate words, and difficulty with conversations.
Misplacement: people with Alzheimer's may put things in unusual places or accuse others of stealing.
Poor Decision-Making Skills: there may be less attention to hygiene and grooming or issues with monetary scams.
Withdrawal from Society: there may be withdrawal from work or social activities.

Mood or Personality Changes: signs include increased depression, fearfulness, anxiety or suspicion, rapid and persistent mood swings, withdrawal and disinterest in usual activities.
Do you know someone with these symptoms? If you do, it's essential to seek help right away. Many of these signs seem natural for advanced aged, but when most of these combine they can point to Alzheimer's. Gradually, they will increase in severity, so it is important to get a diagnosis quickly.
We Can Help!
If you or your loved one has been diagnosed with Alzheimer's, our senior home care agency can help. Please remember, you are not alone, so call us today for more information on our various care services. With our senior home care agency by your side, your loved one will always be safe and secure, giving you a chance to rest and take care of yourself. Contact us today at 678-853-7904, we're here for seniors in Tucker, Lilburn, Stone Mountain, Lawrenceville, and the surrounding area!
Serving Lilburn, Stone Mountain, Lawrenceville, Tucker, GA, and the Surrounding Area
Visiting Angels
TUCKER, GA
4500 Hugh Howell Rd #530
Tucker, GA 30084
Phone: 678-825-8072
Fax: 678-825-3808