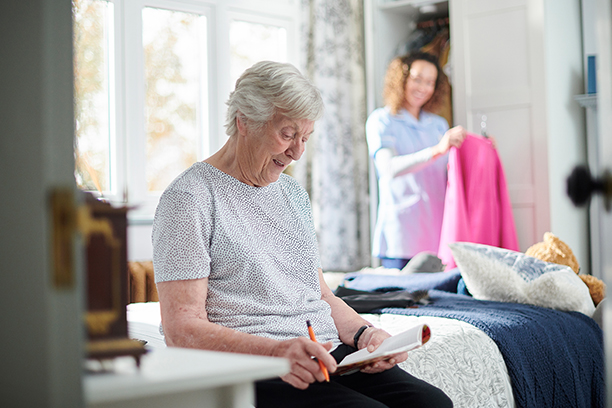 The Benefits of One-on-One In-Home Care Services in Tucker, GA, and the Surrounding Areas
At Visiting Angels of Tucker, we know that the well-being of an aging family member has an impact on every family member. Our mission is to provide all of the in-home care services that can make a difference while upholding your loved one's dignity, privacy, and preferred lifestyle. Seniors are choosing to age in place more and more, maintaining connections with community, neighbors, family, and friends. We are proud to offer services that can help any senior maintain their health at home.
Visiting Angels Offers One-on-One In-Home Care Services to Seniors in Tucker, Lilburn, and Surrounding Areas
Visiting Angels of Tucker offers completely customizable care plans. This is not a sales gimmick—it is a necessity in the senior care industry. Just like no two individuals are alike, no two care plans should be alike!
We respect the individuality of each of our clients and work hard to:
honor their daily preferences
incorporate their hobbies
encourage an active social life
support holistic health
You are always in control of the schedule and budget of the care plan you choose.
One-on-One Care Decreases Loneliness and Isolation
One-on-one assistance has been proven to increase positive health outcomes for many seniors. Companionship and senior care services decrease loneliness and isolation and decrease the many negative health impacts that isolation can cause. The key to success in companionship care is finding the right caregiver. Our whole team of caregivers is licensed, bonded, insured, fully trained, and has years of experience working with seniors and their families. By picking the most compatible caregiver based on your loved one's personality and the level of care they need, we create strong caregiver/care recipient bonds – which are essential to provide the best care for seniors.
One-on-One Care Gives You Freedom
For seniors who choose institutional care, their health often depends on whichever orderly is on the clock and the health conditions of all the seniors in their building. Choosing in-home care services ensures your loved one ongoing access to a care provider who understands their wants and needs. With in-home assistance, your loved one sets their own schedule – when they want to get out of bed, when they want to eat when they want to run errands, and more. Seniors who receive care and support at home enjoy the freedom that comes with it.
Learn More About One-on-One Care Today
If you are concerned about the well-being of a loved one who lives alone, in-home care services can make a difference. Call Visiting Angels of Tucker today to learn more about our care in Tucker, Lilburn, and the surrounding area.
Serving Lilburn, Stone Mountain, Lawrenceville, Tucker, GA, and the Surrounding Area
Visiting Angels
TUCKER, GA
4500 Hugh Howell Rd #530
Tucker, GA 30084
Phone: 678-825-8072
Fax: 678-825-3808