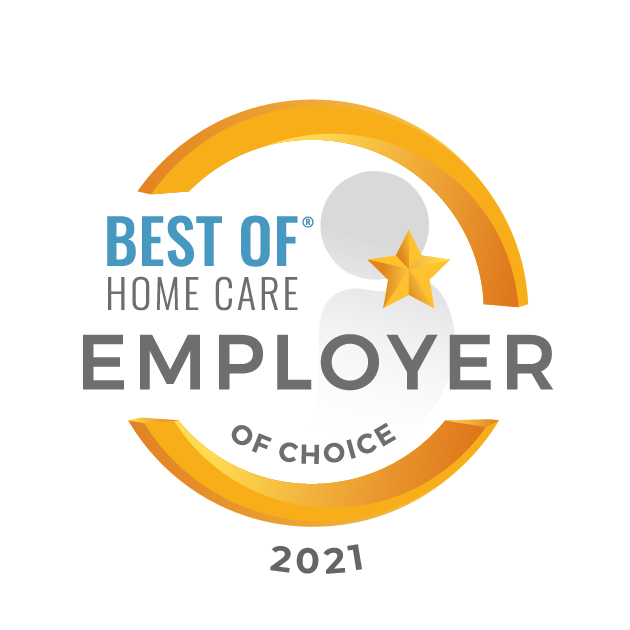 Visiting Angels of Aurora's caregivers help those who cannot help themselves, allowing seniors to remain in the place they love most, their own home. Are you looking to make a meaningful contribution to society? Do you feel great when you're helping the elderly? If you've answered yes to both questions, then Visiting Angels of Aurora, a leader among home health aide agencies, would love to talk to you!
We're in search of one-of-a-kind individuals in Aurora, Centennial, Denver, and surrounding Colorado communities to work with our clients, individuals who are cheerful, dependable, and compassionate. People who believe in personal accountability. When you work with us, we strive to give you the ideal schedule considering your personal needs to create a work schedule and environment that is a great fit for you. Simply pick when and where you prefer to work and we'll put together a schedule that matches!
How Does Visiting Angels of Aurora Help Seniors?
Our home care agency provides companionship and assistance to seniors in the homes. We provide one-on-one assistance with certified, experienced caregivers to allow seniors to stay at home in the comfort of familiar surroundings. For many of our elderly clients, everyday tasks are difficult, sometimes impossible. Whether it's running errands, driving them to a medical appointment, helping with meals, taking them shopping, going with them to visit a friend, laundry, personal care, respite care, or keeping the house clean, our support team will lend a helping hand.
While these tasks are essential, there is one very crucial task our care providers perform that comes above all others, helping elderly clients reengage in activities and enjoy their lives again! As one of our companion aides, that's where you shine, finding your greatest personal satisfaction in such a meaningful goal.
Are You a Five-Star Angel?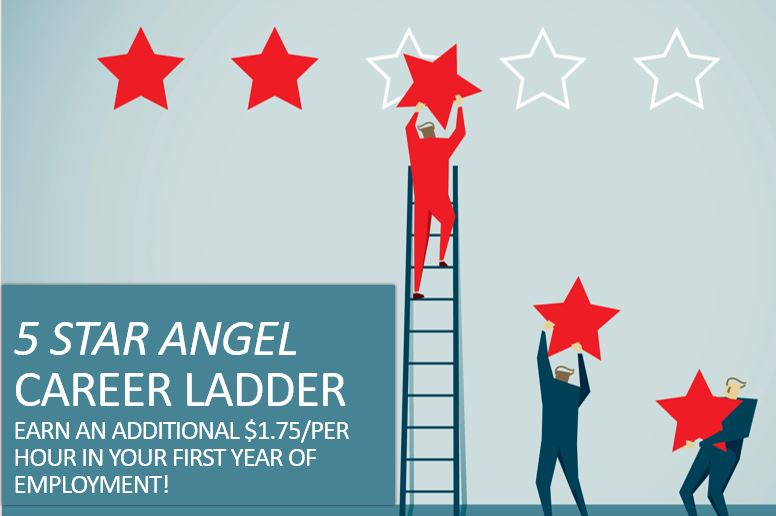 We are so excited to introduce our 5-star rating system! We understand that besides training and education, it is important for our caregivers to have a clear path of advancement that includes performance-based raises. The 5-star rating system does just that by outlining achievable goals that encourage professional growth.
Earn up to $1.75/hour in performance-based raises within your first year
Advance your skills by obtaining certifications in Dementia and Palliative Care
Participate in our "Refer a Friend" incentive program - available to new hires!
We want every member of our team to not only take pride in their work but also be rewarded for their contributions and dedication.
Our Caregivers Make Our Agency Work So We Take Your Feedback Seriously
At Visiting Angels of Aurora, one of the premier home health aide agencies in the Greater Aurora, CO area, we're very serious about employee satisfaction. We hired an outside company, Home Care Pulse, to review how our aides feel about working with us.
Once a month Home Care Pulse contacts our current providers to submit their honest, anonymous feedback about their work experiences. We use this feedback to continuously improve our procedures so that our team of caregivers can have a positive experience working with us!

Apply today to learn more about becoming a valued member of our team.