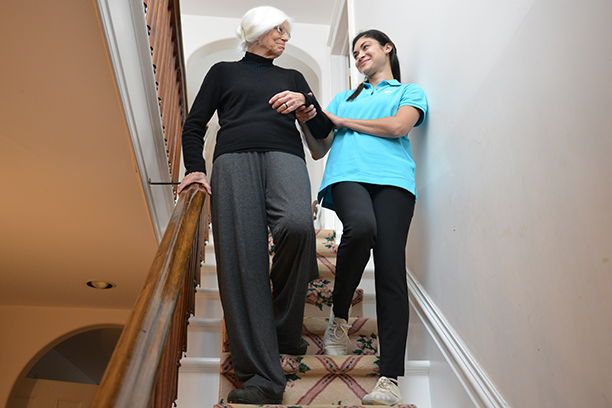 Compassionate Living Assistance Services in Greater Aurora, CO
As one of the top providers of living assistance services in Aurora, Centennial, Denver, and the surrounding area, Visiting Angels of Aurora knows that character counts: the better our team is, the better quality elder care we can provide. That is why we focuses on the character of our team, our individual home care aides, and the services our coordinators and administrators provide to our clients in Aurora and the surrounding area.
When it comes to caring for an elderly loved one, you also care about the character of the caregivers who serve them. We use a comprehensive screening system to ascertain the details of our caregivers' personal and professional backgrounds, so that we can match clients with caregivers based on needed expertise, specializations, and personality traits. We have heard from many clients that our caregivers become part of their family, and that is our proof that the screening system works.
How Our Caregivers Improve Lives
It is important to us that our caregivers and clients form trusted, respectful bonds because of the personal living assistance services we provide.
Our in-home caregivers can help with:
Mobility assistance, including re-positioning and safety in the home

Companion care that offers increased socialization, social care, and personal check-ins
Personal care that is private and respectful, such as help with bathing, grooming, and toileting
Reminding seniors to take their medication and keeping an eye out for signs of side effects

Transportation to appointments, events, day centers, community sights, and more

Attending doctor's appointments to take notes if family members are unavailable
Visiting Angels of Aurora's caregivers assist with a variety of daily tasks, but the heart of what we do is companionship care, providing one-on-one help that gives you and your family confidence that your loved one is safe, happy, and comfortable throughout the day.
How do we ensure that our character up to par? Every home care provider that works with Visiting Angels of Aurora shares our values and vision. The training we provide for all our employees reinforces the importance of upholding every individual's right to dignity and respect in care. We look for qualities like dedication, patience, loyalty, and kindness for all those who help us provide living assistance services to seniors. When you work with Visiting Angels of Aurora, you will experience the difference for yourself.
Get Started with Visiting Angels of Aurora
If you are helping to care for an aging loved one who needs in-home care, but you want to be sure they get the best care available, call Visiting Angels of Aurora today at 720-277-3574 to learn more about our flexible living assistance services and compassionate caregivers.
Serving Aurora, Centennial, Denver, and the surrounding communities in Colorado
Visiting Angels
AURORA, CO
14231 E 4th Ave. #1-210
Aurora, CO 80011
Phone: 720-277-3574
Fax: 720-277-3943