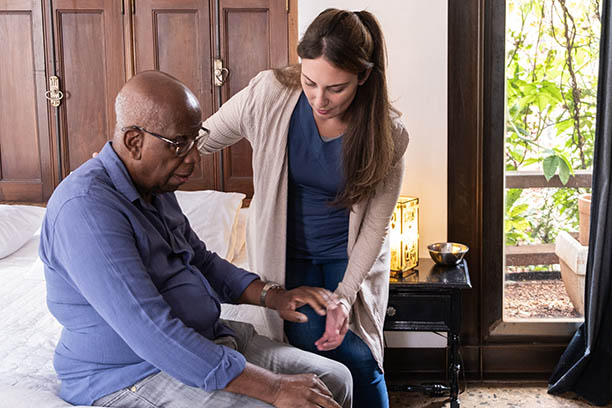 Certified Palliative Care for Seniors in Aurora, CO and Neighboring Communities
When a loved one's health takes a turn, it can ring alarm bells for family members: how can you be sure they have the best possible care? What resources are needed for your loved one to maintain a good quality of life? Where can you find quality, but affordable, home care?
If your family is going through a tough moment in trying to support an aging loved one, Visiting Angels of Aurora can help. We offer a personalized, one-on-one approach to palliative care designed to meet your loved one where they are and find ways to increase their well-being and comfort.
The Difference Between Palliative and Hospice Care
Many of our clients think of hospice care when they think of palliative care. While palliative services are offered by many hospice facilities, it is an approach that works throughout your loved one's golden years. Palliative care is defined as a technique that seeks to reduce pain, increase comfort, and maintain quality of life. Our approach can help seniors with a diverse range of needs, no matter their life expectancy.
Why You Should Choose Visiting Angels of Aurora for Palliative Care
At Visiting Angels of Aurora, your loved one's comfort and well-being is always centered. Visiting Angels of Aurora uses a compassionate approach, and our caregivers work hard to listen to your loved one's specific needs and preferences. Because we offer comprehensive home care services, your loved one's one-on-one care plan might include transportation to a specific church service or helping them access a movie or song that reminds them of their younger years. Depression, loneliness, stress, and anxiety can all have major impacts on health, including physical health, and our essential care is designed to combat these stressors along with alleviating other everyday needs.
Here is the range of care we can provide:
Care for Physical Health - our caregivers can assist with mobility, transferring, and participate in physical therapy or other exercises.
Care for Emotional Health - we are companions at heart, meaning we build long-lasting bonds with our clients.
Care for Social Health - we help seniors keep social connections with friends and family in many different ways.
Care for Spiritual Health - our caregivers can take your loved one to their worship house of choice.
Learn More About One-on-One Care from Visiting Angels of Aurora
If you are helping to care for a loved one whose quality of life has been changed due to health needs, Visiting Angels of Aurora is ready to partner with you and ensure that your loved one in Aurora, Centennial, Denver, or the surrounding area can make the most of every day.
Call our senior care agency today at 720-277-3574 or fill out our form to learn more about our Certified Palliative Care program and to schedule a free, in home assessment with one of our experienced care coordinators.
Serving Aurora, Centennial, Denver, and the surrounding communities in Colorado
Visiting Angels
AURORA, CO
14231 E 4th Ave. #1-210
Aurora, CO 80011
Phone: 720-277-3574
Fax: 720-277-3943