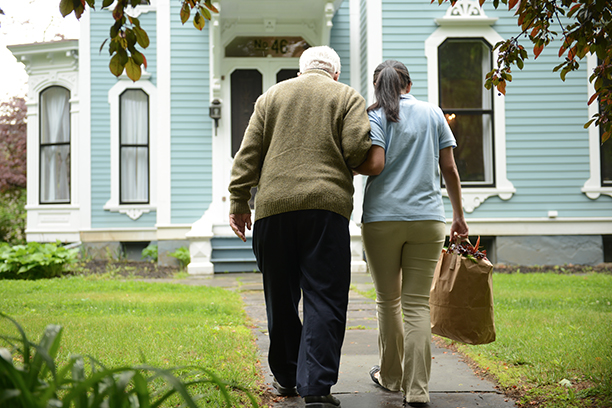 Senior Home Care Services for Post Hospitalization in Greater Aurora, CO
For seniors, the aging process can mean frequent visits with doctors and care providers. Maintaining good health for seniors throughout their golden years is our focus at Visiting Angels of Aurora, and our expertly trained caregivers are ready to help your family at each step.
When your loved one has an illness, surgery, hospitalization, or other health event, it is important to learn from it and update daily habits to accommodate for new needs. The two most important things you can do to help a loved one who is recovering from a medical event is to access senior home care services and help mediate the underlying cause of the health problem.
As your local agency, Visiting Angels of Aurora is proud to offer top-quality recovery care, transitional care, and other services. We take pride in providing the best care possible to our neighbors, and value the health of our community. If your family is looking for a partner in providing senior care to an aging family member, a personal care assistant from our team has the expertise you can rely on.
We Will Provide Care Anywhere
Senior home care services from Visiting Angels of Aurora can be provided to your loved one no matter where they call home. Our expert caregivers can help with your loved one at the hospital, at their home, and throughout their aftercare and follow-up. We are present at each step of the way, providing holistic assistance to your loved one and your whole family.
The Importance of Care During Recovery
Care is vital to seniors returning home after a hospitalization. Your family will need to be mindful of aftercare recommendations, changes in medication or medication schedules, changes in dietary needs or sleep habits, and keeping follow-up appointments with your loved one's medical providers. Receiving senior home care services means you will have help with all of it.
We all know it can be difficult to keep the house clean, to eat right, and to take medication on time when we are recovering from a severe illness or injury. A personal care assistant can assist with meal planning and preparation, as well as light housework to make sure that recovery takes place in a clean and safe environment.

Contact Us Today to Get Started with Our Recovery Care
If your loved one expects to have a surgery soon or is recovering right now from a major event or illness, we are ready to help. Most of our new clients can start care in as little as a few business days. Call Visiting Angels of Aurora today at 720-277-3574 to learn more about our senior home care services.
Serving Aurora, Centennial, Denver, and the surrounding communities in Colorado
Visiting Angels
AURORA, CO
14231 E 4th Ave. #1-210
Aurora, CO 80011
Phone: 720-277-3574
Fax: 720-277-3943