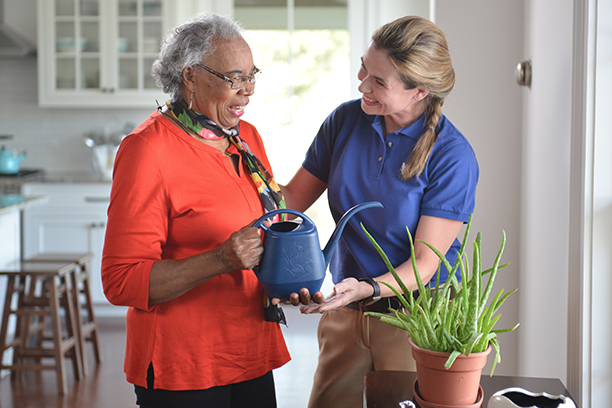 Long-Term Care Assistance for Seniors in Aurora, CO, and the Surrounding Area
Living at home can be a difficult chore for seniors who suffer from age-related issues that make the daily activities of living a challenge. Even simple tasks we often take for granted such as getting dressed, bathing, or washing the dishes become more difficult for older adults who suffer from Alzheimer's, Parkinson's, cancer and many other illnesses and diseases. Many older people still value their independence and would prefer to stay at home rather than move to an assisted living facility.
That is exactly why Visiting Angels of Aurora offers long-term care services to seniors in Aurora, Centennial, Denver, and surrounding areas in Colorado who want to maintain their independence and live safely in the comfort of their own homes. Our professional caregivers can assist with several daily tasks that may become too difficult due to age-related issues.
What Does Long-Term Care from Visiting Angels of Aurora Include?
Our professional caregivers go above and beyond to help improve the quality of life for their senior clients. They assist with many services both physical and emotional to enhance the quality of life and keep clients healthy, happy, and safe within their homes.
Our caregivers can help in many ways, including:
Our long-term care solutions can help make it easier for your loved ones to manage their age-related issues by helping them stick to a healthy routine in a familiar and comfortable environment.
How Can Long-Term Home Care Help My Loved One?
Our home care services can greatly benefit your loved one in the long run. Here are some of the many ways long-term home care can help seniors:
For seniors with chronic illnesses, our personal care services can help manage symptoms while keeping a healthy daily routine.
Seniors with Alzheimer's, Parkinson's, ALS and other memory and cognitive illnesses may need more hands-on assistance from friendly and compassionate caregivers. This includes fall prevention, getting lost, or anything else that could be a health risk.
Seniors receiving in-home cancer treatment may benefit from meaningful companionship and conversation in addition to help with the daily physical tasks that may become too much for them to handle.
For seniors with irreversible vision and mobility issues, our personalized services allow them to retain their independence in the safety of their own homes.
How Can My Loved One Afford Long-Term Care?
Long-term care can be expensive for some families; however, long-term care insurance policies can help offset the cost of care. If your loved one needs assistance with ADLs, they may be eligible to use these benefits to get reimbursed for the cost of quality home care services after a certain period. If your loved one already has a policy, speaking with an insurance broker can help your family understand their specific policy.
If you think that you or a loved one could benefit from our long-term care services, then do not hesitate to reach out today!
Get Started with Visiting Angels of Aurora Today
Schedule your FREE, in-home assessment today by contacting Visiting Angels of Aurora at 720-277-3574 or by filling out our form.
Serving Aurora, Centennial, Denver, and the surrounding communities in Colorado
Visiting Angels
AURORA, CO
15290 E 6th Ave #260
Aurora, CO 80011
Phone: 720-277-3574
Fax: 720-277-3943