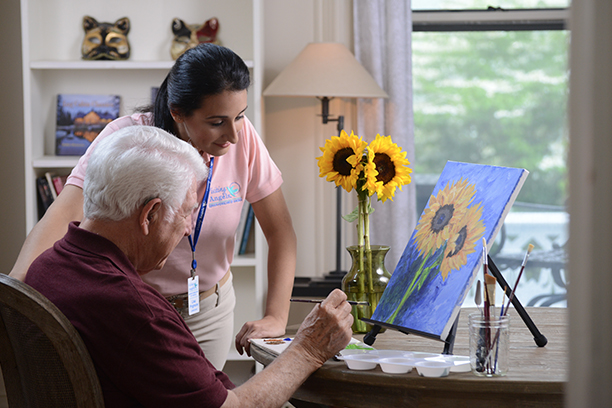 Elderly Companion Care in Aurora, Centennial, CO, and Neighboring Communities
Throughout Aurora, Centennial, Denver, and the surrounding area, Visiting Angels of Aurora is known for providing compassionate senior care through our experienced staff of caregivers. We also put dignity and respect at the forefront and prioritize helping our clients maintain their independence. If you believe that your loved one could benefit from companion care, consider Visiting Angels of Aurora as your home care provider.
We understand that accommodating the needs of your loved one is the most important factor in choosing the right type of care. For this reason, we won't push your loved one to change and switch their routines and schedules. If they prefer to go to bed at a certain time or eat their meals at a certain time during the day, we'll make sure they keep that routine. We are dedicated to customizing our companion care around the preferences and needs of our clients.
How Can Companion Care from Visiting Angels of Aurora Help My Loved One?
What makes Visiting Angels of Aurora stand out from other home care agencies in Greater Aurora is the ability to customize a care plan as circumstances and needs change. Making adjustments to the care that your loved one is receiving is easy and can be accomplished with a simple phone call.
Our caregivers can assist with tasks such as:
Errand running
Meal preparation
Walking assistance
Along with the above in-home care services that make daily living easier, you can count on the caregivers from Visiting Angels of Aurora to provide the type of emotional support that you yourself would like to provide. It isn't easy to choose a professional care solution for a loved one. When choosing the caregivers from Visiting Angels of Aurora, you can rest easy knowing that they have not only a care partner but a friend to provide much needed social interaction and engagement.
Contact Visiting Angels of Aurora
Contact our local office at 720-277-3574 or fill out our contact form to learn more about how our elderly companion care can help you and your family. After learning a bit more about Visiting Angels of Aurora, we are happy to schedule a free, in-person meeting in the comfort of your home to discuss how we can customize a care plan for your loved one and address any concerns that you may have.
Also, be sure to ask about how Constant Companion can help your loved one!
Serving Aurora, Centennial, Denver, and the surrounding communities in Colorado
Visiting Angels
AURORA, CO
14231 E 4th Ave. #1-210
Aurora, CO 80011
Phone: 720-277-3574
Fax: 720-277-3943