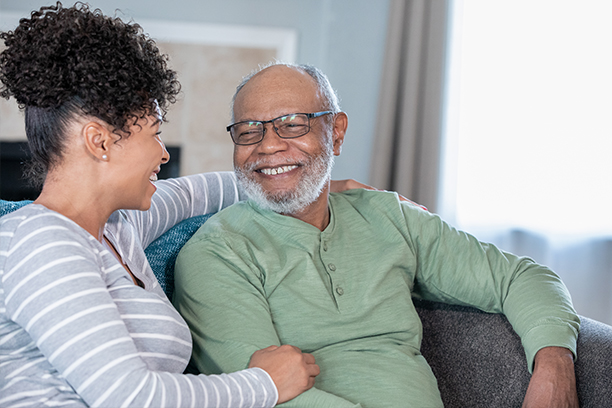 Elder Care Services for Alzheimer's Disease in Aurora, Centennial, CO, and Nearby Cities
Being diagnosed with Alzheimer's disease can be both devastating and scary for the person diagnosed and the rest of their family in Aurora, Denver, Centennial, and the surrounding area. Alzheimer's disease is a fatal form of dementia that affects over five million Americans. Despite this disease's final outcome and the challenges of caring for a loved with this disease, many families choose to continue providing essential elder care services for them.
Treatments, Therapies, Symptoms of Alzheimer's Disease
Although there is no cure for Alzheimer's disease, there are treatments and therapies your doctor can provide that will help slow down its progression. These treatments and therapies can help improve the person's quality of life as well as that of their loved one. If your loved one is showing any signs of Alzheimer's disease, they need to see their doctor immediately. Once the diagnosis has been made, your next step should be to arrange for one-on-one elder care services by a senior care provider like Visiting Angels of Aurora.
Top Ten Warning Signs of Alzheimer's Disease
Memory loss – forgetting key information like names, addresses, appointments, where things go, where they put their keys.
Problem Solving and Planning – includes problems following things like recipes they are familiar with, paying their monthly bills, and spending too much time on familiar tasks.
Confusion – unsure of dates, time, and the seasons.
Visual Images and Spatial Relationships – this includes difficulties with determining distance or color/contrast and reading.
Speaking or Writing – difficulty finding the right words, following conversations and directions, and talking in complete sentences.
Losing Things or Getting Lost – Alzheimer's can lead to misplaced things, getting lost, accusing others of stealing.
Poor Judgement – problems with money, scams, and personal hygiene.
Withdrawal – from social activities and work.
Mood and Personality – increases in depression, anxiety, fearfulness, suspicion, and sudden mood swings.
If you notice any of these symptoms in your loved one's behavior, it is very important that you take them to their doctor for an evaluation. Keep in mind, aging does include a certain amount of forgetfulness. This does not necessarily indicate that your loved one has Alzheimer's disease or that they are in need of professional elder care services.
Being Proactive
If your loved one is diagnosed with Alzheimer's the sooner you start finding the right level of one-on-one elder care services is vital. With the right care plan in place, it will be easier for you to manage the disease.
Basic Steps You Can Take
Learn as much as you can about Alzheimer's disease by visiting the Alzheimer's Association and the Alzheimer's Foundation of America.
You should also consider these solutions to help your loved one get the support they need:
Long-term Planning - this is the time to take care of things like long-term care plans, finances, legal issues, and issues that are going to come up when your loved one passes.
Cognitive Stimulation – doing things with your loved one like puzzles, listening to music, and playing memory games can help slow the progression of this disease and are a lot of fun.
Hire the Right Care – while your loved one is still in the early stages is the best time to find the right essential elder care services in Aurora or the surround areas. At Visiting Angels of Aurora, we have caregivers who are trained to work with clients who have Alzheimer's disease. Keep in mind that the longer you wait the harder it will become to integrate an in-home caregiver into the picture.
Create a support system to help you deal with the stress of caring for someone with Alzheimer's disease. There are support groups where you can reach out for help when things start to become overwhelming. You can also contact the National Family Caregivers Association online for help and information.
Contact Visiting Angels of Aurora to Learn More
To learn more about the elder care services we offer for those who have been diagnosed with Alzheimer's disease, contact our agency in Aurora, CO at 720-277-3574 or fill out our intake form and schedule your free in-home care consultation with one of expert care managers.
Serving Aurora, Centennial, Denver, and the surrounding communities in Colorado
Visiting Angels
AURORA, CO
15290 E 6th Ave #260
Aurora, CO 80011
Phone: 720-277-3574
Fax: 720-277-3943