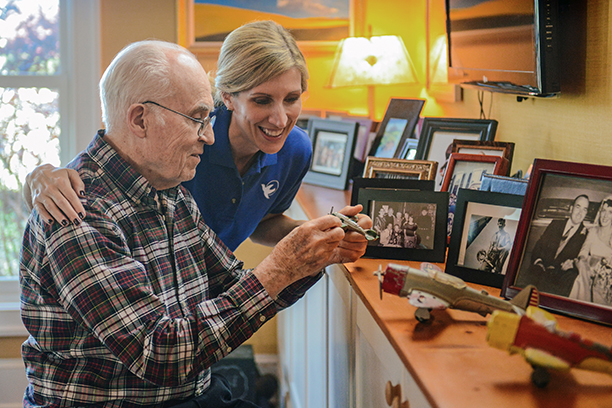 Home care in Canterbury, NH
Visiting Angels provides essential home care in the Lakes Region of New Hampshire and the surrounding areas.
Families must contend with several challenges when a loved one is diagnosed with Alzheimer'. While some family members are concerned about losing a loved one, others are concerned about their loved one's mental capacity. Taking care of a loved one physically and emotionally can be taxing.
One of Visiting Angels' specialties is senior home care. Visiting Angels were created because we understand how crucial it is for your loved one to remain at home. Your loved ones can receive Alzheimer's care from us in the comfort of their own homes. Due to our expertise and experience in the sector, we know your worries and can help you with Alzheimer's care.
Customized home care is provided for the elderly.
We established Visiting Angels of Gilford, New Hampshire because we recognize that every person has unique needs and preferences. As a result, each client receives a treatment plan that is specific to them. Our compassionate caregivers work with you and your loved ones to provide senior care customized to your relative's needs, preferences, and general health. Our caregivers have been trained to provide your loved ones with the required care while assisting you in feeling better.
Visiting Angels of Gilford offers top-notch in-home care for older adults.
Observing an aging parent or other adults in Canterbury, New Hampshire, struggle with duties that once came easily to them may be upsetting. Living alone becomes increasingly difficult as seniors' physical and cognitive impairments increase. Placement in a nursing home or assisted living facility is difficult since many older adults value their freedom. Many families are unaware of other options for keeping their loved ones healthy, safe, and capable of living independently in addition to nursing facilities.
Visiting Angels helps older individuals in Canterbury, New Hampshire, age securely and joyfully in place by providing specialized home care options. Your loved ones can spend their golden years in the comfort of their homes by receiving assistance from our trained caregivers with housework, errands, and other needs.
How can the elderly get help from Visiting Angels?
We provide a range of options for in-home care, including:
Companion care
Alzheimer's and dementia treatment
Our care strategies are unique and adaptable. If you need to modify the care plan or schedule for your loved one, kindly contact our office, and we'll make the necessary adjustments. Every day of the week, including weekends and holidays, our caregivers are readily available for live-in care that is provided continuously.
Call Visiting Angels to locate long-term care in Canterbury, New Hampshire.
Receiving home care is straightforward with the help of Visiting Angels of Gilford, New Hampshire. Contact our Gilford, New Hampshire office to arrange a free in-home consultation with a care coordinator. We shall get to know our loved ones when we ultimately meet them. We'll also discuss their needs, objectives, and timetable. A caregiver will answer your questions about our home care services immediately. This meeting is crucial for easing your concerns regarding our services and creating a personalized care plan to give your loved ones the assistance they require at home.
We'll work with you to locate the best caregiver in our network if our services seem a good fit for your loved one. Contact our Gilford, New Hampshire office to learn more about our home care services in Canterbury, New Hampshire.
Serving the Lakes Region of New Hampshire and surrounding towns
Visiting Angels
LAKES REGION, NH
401 Gilford Ave #208
Gilford, NH 03249
Phone: 603-366-1993