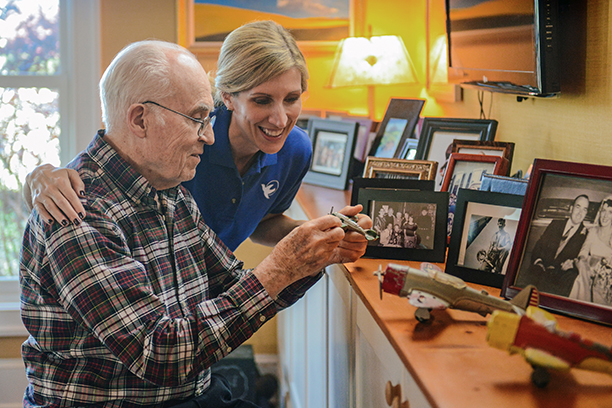 Senior Care in Sanbornton, NH
Visiting Angels provides essential senior care in Stevens, Quarryville, Lancaster, Lititz, and the surrounding areas.
Families must deal with several difficulties when a loved one is diagnosed with Alzheimer's disease. Many family members worry about their loved one's mental capacity, while others worry about losing someone they care about. It may be draining to care for a loved one physically and emotionally.
Senior in-home care is one of Visiting Angels' areas of expertise. Because we recognize how important it is for your loved one to remain at home, Visiting Angels was established. We can provide Alzheimer's care for your loved ones in the convenience of their own homes. We know your concerns and can assist you with Alzheimer's care since we are knowledgeable and experienced in the field.

For the elderly, customized in-home care is offered.

We started Visiting Angels of Lancaster, Pennsylvania, because we understand that everyone has distinct requirements and preferences. Each client thus gets a treatment plan that is unique to them. Our kind caregivers collaborate with you and your loved ones to deliver elder care tailored to your relative's needs, preferences, and overall health. Our caregivers have received training to help you feel better while giving your loved ones the necessary attention.

Increasing the effectiveness of Alzheimer's treatment

Visiting Angels of Gilford provides excellent senior home care in Sanbornton, New Hampshire.
It may be upsetting to see an elderly parent or other adult in Sanbornton, New Hampshire, struggle with responsibilities that formerly came naturally to them. With time, a senior's physical and cognitive disabilities may worsen, making living alone more challenging. However, many senior citizens prize their independence, which makes placement in a nursing home or assisted living facility challenging. Many families are unaware that nursing homes are not the only option for keeping their loved ones safe and well and in their ability to live independently.

With specialized home care alternatives, Visiting Angels assists senior citizens in Sanbornton, New Hampshire, in safely and contentedly aging in place. Our qualified caregivers can help your loved ones with housework, errands, and other needs so they may live out their golden years in the comfort of their own homes.

How can Visiting Angels assist the elderly?

We provide a variety of in-home care choices, such as:

Take care of those who need a break
Housing for those who are transitioning
Care for dementia and Alzheimer's disease
Avoiding falls

Our care plans are distinctive and flexible. Please contact our office if you need to change your loved one's care plan or schedule, and we'll make the appropriate changes. Our caregivers are readily accessible for 24-hour live-in care seven days a week, including weekends and holidays.

To find long-term care in Sanbornton, New Hampshire, call Visiting Angels.

Visiting Angels of Gilford, New Hampshire makes it simple to get home care. To schedule a free in-home consultation with a care coordinator, contact our Gilford, New Hampshire office. When we finally meet our loved ones, we will get to know them. We'll also talk about their requirements, goals, and timeline. Any queries you have concerning our in-home care services will be swiftly addressed by a caregiver. This meeting is essential for allaying your worries about our services and developing a customized care plan to provide your loved ones with the help they need at home.

If our services seem like a suitable match for your loved one, we'll work with you to find the ideal caregiver in our network. To learn more about our home care services in Sanbornton, New Hampshire, contact our office in Gilford, New Hampshire.
Serving Lakes Region of New Hampshire and Surrounding Towns
Visiting Angels
LAKES REGION, NH
401 Gilford Ave STE 208
Gilford, NH 03249
Phone: 603-366-1993