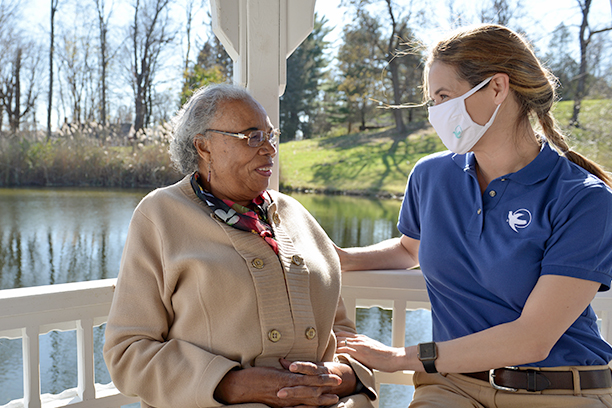 Home Care in Alton, NH
Visiting Angels of Gilford Offers Essential Home Care to Seniors in Alton
Seniors face many challenges as they continue to age. You may notice that your aging loved one is starting to have trouble getting around or completing average daily tasks. When this happens, it may be time to consider one-on-one home care options. At Visiting Angels of Gilford, we provide essential home care services to the elderly in Alton because we recognize the importance of helping seniors stay independent throughout the aging process.
How We Can Help
Our care plans are founded upon two ideas: that all seniors should enjoy their best quality of life possible, and that all individuals require a unique care plan tailored to their needs and preferences. Visiting Angels of Gilford can help seniors in Alton with a number of essential home care options, including but not limited to:
Fall Prevention – Our professional caregivers help seniors avoid falls.
Respite Care – Allows family caregivers to take a much-needed break for however long they need.
Certified Palliative Care – Our caregivers at Visiting Angels of Gilford focus on your aging loved one's emotional, physical, social, and spiritual health.
Transitional Care – Seniors who have recently returned home from a hospital visit due to illness, surgery, or injury can benefit from transitional care. Our caregivers provide the assistance they need to recover.
Social Care – Caregivers can help your loved one learn how to use modern technology to socialize and engage in the community.
Alzheimer's & Dementia Care – For seniors with degenerative cognitive diseases such as dementia and Alzheimer's, our caregivers can provide your loved one with the support they need to stay safe and healthy in their own homes.
End of Life Care – Our team can provide support for your loved one and family when your loved one is experiencing the end of life process.

Transportation Assistance in Alton
Visiting Angels of Gilford's home care assistants can provide transportation and monitoring in Greater Alton. This means that your loved one can go wherever they need while remaining safe outside of their home. There is a lot for seniors to see and enjoy in Alton.
New Hampshire is known for its beautiful sights, especially in autumn. It is also important for seniors to remain active and to get enough exercise, but this can be difficult without assistance. Hiking is a great way to stay active while accompanied by one of our caregivers. The Mount Major Trail is a wonderful place to get exercise with trails safe for all ages. This is the perfect way to explore the great outdoors and enjoy the beauty of nature.
The Gilman Library is located right in the heart of Alton. The Gilman Library has been around since it first opened in 1892 and owns a wealth of interesting books. All you need is a library card to have access to hundreds of stories. This library is the perfect location to sit back and relax and lose yourself in a story.
Our caregivers can also provide transportation to Huggins Hospital. They have doctors working at a number of different locations in the surrounding area, including Alton. The Huggins Hospital is located only 15 minutes outside of the center of Alton and is easy to find.
What's Next?
If your loved one is having a hard time staying independent, it may be time to consider home care. To get started or to learn more, call our agency at (603) 215-7103 today.
Serving Lakes Region of New Hampshire and Surrounding Towns
Visiting Angels
LAKES REGION, NEW HAMPSHIRE
401 Gilford Ave STE 208
Gilford, NH 03249
Phone: (603) 215-7103