Mosunmola (Mo) Johnson, and Marie Bellefleur-Raymond, co-Angels of the Month, June, 2019
Angel of the Month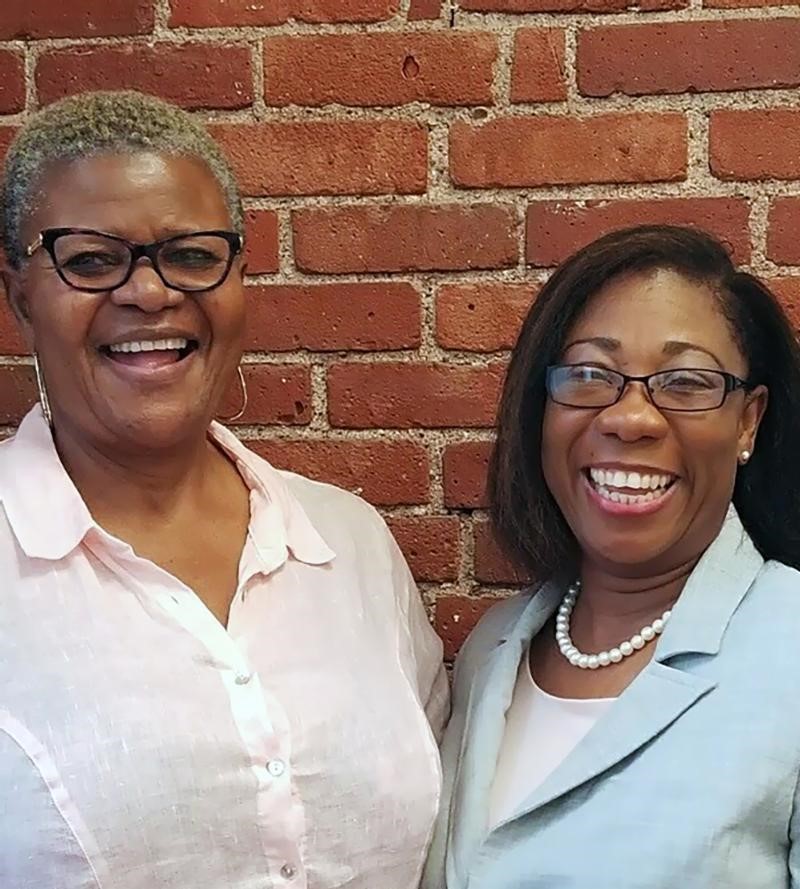 ANGEL OF THE MONTH | Mosunmola (Mo) Johnson, and Marie Bellefleur-Raymond
June 2019
We are incredibly honored to award Mosunmola (Mo) Johnson, and Marie Bellefleur a very special Co-Angel of the Month for June 2019. Mo began working with Visiting Angels Newton/Canton in November of 2013, and Marie came aboard in March of 2017.
We are celebrating these two amazing women together because of the outstanding home care services they provided as a team. Their Client has just recently been moved out of state and will be missed greatly. She was with us for two years and needed much support. Her Case Manager, Elizabeth Quagraine, took on the task of setting up a team of Caregivers that would provide top-notch services. Many obstacles and situations led Elizabeth and her team to assist with more than just providing home care assistance to their Client. This included, bug infestations, water damage and several house maintenance issues, which required in-depth communication with the Clients family and friends frequently.
Both Mo and Marie had live-in shifts with this Client. Both caregivers accepted this case in August of 2017 and worked with their Client through May 2019, when she was relocated. Mo was able to navigate her dementia with laughter and redirection. She showed this Client patience and used her years of experience and training to reassure her and provide quality care. Mo remembers fondly taking her Client to dinner, for long walks, and endless conversations before her dementia became severe. Mo's primary goal was to make sure her Client was happy and comfortable. This Client will always hold a special place in Mo's heart, "She is just a wonderful person inside and out. Her joy and smile always filled me with happiness."
This Client was Marie's second and longest case to date. Marie was wonderfully patient and understanding with her and sympathized with her challenges. She put extra effort into cleaning the home and preparing their Client's favorite meals. She and their Client built a wonderful bond, and Marie cared for her as she would her own mother. The Client's family asked if Marie would travel with her to the new location and stay with her for the first week to help her adjust. Marie stayed with their Client in her room at the nursing home, providing reassurance and support. Just like Mo, Marie was heartbroken when she had to leave their Client on the final day.
Family and friends would frequently remark on the outstanding quality of compassionate home care their loved-one received from both Caregivers. They consistently told Elizabeth how grateful they were to have Mo and Marie on board.
Mo and Marie stayed committed to their Client through many exceptional circumstances. They did not waver in their dedication to providing her with loving care. Elizabeth remarked that these two professional caregivers continuously went above and beyond their care duties.
Mo and Marie, we are so grateful for your outstanding service, dedication, and reliability on this assignment. You have both shown strength and great compassion, never becoming discouraged by conditions, and faithfully caring for your Client. Congratulations on being Co-Angels of the Month for June 2019! The award is well-deserved.
newton-MoAndMarie_AOM_June2019.pdf
About Visiting Angels Newton/Canton:
Visiting Angels Newton/Canton MA is an award-winning local home care agency providing high caliber in-home care services to elderly and people with disabilities. Countless families have benefited from our Alzheimer's care, dementia care, companion care, senior care, respite support, transitional aid, and home care services in Brookline, Watertown, Needham, Dedham, Canton, Stoughton, Natick, Wellesley, Newton, Chestnut Hill, Roslindale, Westwood, Norwood and nearby towns . While non-medical in nature, the care provided by Visiting Angels Newton/Canton can make a big impact on your loved one's happiness and quality of life. Call us at 617-795-2727 for more information and to schedule a free in-home consultation!