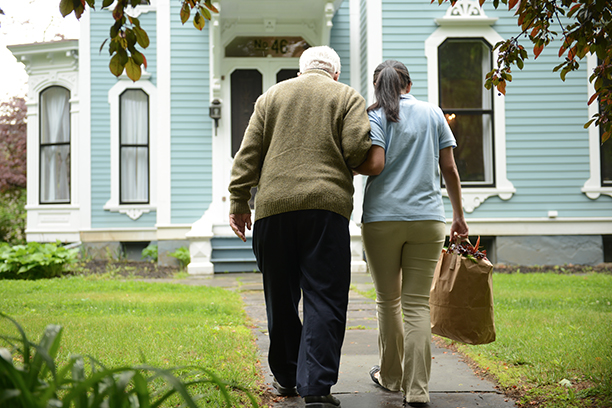 In-Home Care Services, Westwood and Norwood, MA
Since 2004, Visiting Angels Newton/Canton has been providing premium in-home care services to our neighbors in Westwood, Norwood and surrounding areas. Our highly trained, compassionate caregivers perform non-medical home care from light housekeeping to bathing and dressing, dementia care and cognitive health assistance, as well as meal preparation and medication reminders, all with attentiveness, compassion, and respect for their clients. Countless families in Norwood, Westwood and nearby areas have benefited from our at home living assistance and the quality of our home caregivers and services has been recognized by the national customer satisfaction survey firm, Home Care Pulse.

Private Duty Non-Medical Home Care Services, Norwood and Westwood, Massachusetts
Visiting Angels Newton/Canton understands that each client has unique needs. To start, we offer a complimentary initial in-home consultation to design a personalized care plan for each client. Then we carefully choose the right caregiver for him/her, considering factors such as technical skills, personality traits, and experience. Depending on the client's requirements, our private duty home care aides will perform non-medical home care tasks including
Specialized Dementia & Alzheimer's care
Light housekeeping
Meal preparation
Errands and shopping
Walks, exercise routines
Accompany to doctor appointments
Medication reminders
Assist with all ADLs & transfers
Dressing and laundry
Personal hygiene and bathing.
Our home care aides are trained in the use of Hoyer lifts, transfer boards and other mobility devices. If your loved one has special needs, please give us a call at 617-795-2727. One of our case managers will speak with you right away.
We are on call 24/7 at 617-795-2727, always ready to provide help to your loved one. And, Visiting Angels has a large pool of back-up caregivers. Your loved one will not be alone if your regular caregiver cannot provide service due to unexpected circumstances.
Dementia/Alzheimer's Home Care Services, Westwood and Norwood, MA
Visiting Angels Newton/Canton's Dementia and Alzheimer's Care services offer specialized in-home support to seniors with dementia in Westwood, Norwood and surrounding areas. Our directors and case managers are all certified by the National Council of Certified Dementia Practitioners (CDPs). Each caregiver has a full orientation program with sensitivity training, as well as specialized classes in dementia and home care services for Alzheimer's .
We have developed cognitive health programs that includes cognitive stimulation, social engagement, physical exercise and brain-healthy meal recommendations. These programs enable you or your loved one to maintain quality of life so that aging in place remains possible. We also provide family caregivers much-needed respite.

Long-Term, Hourly or Respite Care?
Visiting Angels Newton/Canton provides in-home care services depending on the individual needs of the client.
Hourly care
Temporary or long-term care
Weekends and holidays
Our case manager will design a personalized care plan for your loved one after an initial consultation. This will be adjusted as your needs change.
Reviews from Our Elder Home Care Clients in Westwood and Norwood, Massachusetts
Sandy is one of the kindest, most diligent home health aides we have ever known. It has been our great privilege and pleasure to know and work with her these past few years. We feel so very fortunate that she has been able to care for our mom and grandmom. What a gift she is! She is truly a God-send.
--The McCoy Family, Westwood, MA
The office staff is great and they call to check on me from time to time. The caregiver and I are a match made in heaven. She just seems to know exactly what I need without even asking me. I haven't had any problems because Visiting Angels is so efficient. The impact that Visiting Angels has had on my quality of life is tremendous. Visiting Angels does exactly what I wanted. There are things that they do that I didn't even know I wanted! I am really very pleased.
--- Helen, client in Norwood, MA
If I needed a schedule change or if something arose, everything was coordinated and worked out extremely well. I can't recall any incident that occurred that was a problem. Everything worked out very well. Visiting Angels' efforts towards my mother were terrific.
--- Ron in Norwood
Best Home Care Agency in Norwood and Westwood, MA
Choosing a home care agency for your loved one is not easy. Visiting Angels Newton/Canton has won the Best of Home Care Leader in Excellence Award from the national client satisfaction survey firm Home Care Pulse six years in a row! We are dedicated to making your home care experience a positive one. Call us now at 617-795-2727 to get started with a free in-home consultation.
Serving Brookline, Canton, Dedham, Natick, Needham, Newton, Norwood, Stoughton, Watertown, Wellesley and Westwood
Visiting Angels
NEWTON/CANTON, MA
29 Crafts St #320
Newton, MA 02458
Phone: 617-795-2727
Fax: 617-244-0260