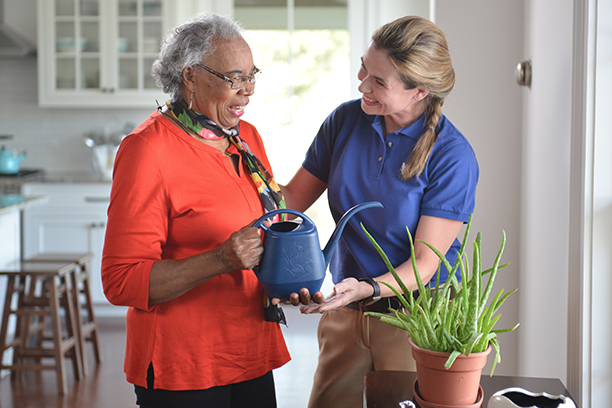 Is It Time to Call Visiting Angels Jacksonville for Elderly Care?
At Visiting Angels Jacksonville, we know that all too often the need for elderly care services can seem sudden. As an adult child of an aging parent the following scenario may seem all too familiar: You and your family go to visit your parent in the Jacksonville area for a vacation or long weekend. Perhaps you are there to celebrate a holiday or birthday. You are surprised to discover that your mom has a stack of unopened mail on the counter and very little food in the refrigerator. You might notice that your dad seems to be forgetting his medications or having difficulty getting dressed on his own. These situations can be commonplace as our parents and loved ones age. So what happens next?
Checking in with your loved one can help you assess how well they're handling the tasks of daily living. Asking questions about their day such as what they ate, if they had any appointments and whether or not they are spending time engaged in social activities can give you an idea of their overall wellbeing. If your family member is skipping meals, having difficulty getting to the grocery store, or not following physician guidelines for nutrition, then this is a definite cause for concern.
Additionally, if you notice an aging parent suddenly spending all their time alone, missing social activities they once enjoyed and becoming withdrawn, you want to be on the lookout for depression. As you age and begin to lose friends and loved ones, it's easy to feel lonely or down. Finding an elderly care companion for your family member can have an impact on their mood and emotional wellbeing. Elderly care from agencies like Visiting Angels Jacksonville can provide trusting companionship to your loved one and even help them stay connected to friends and family via social media.
Elderly Care Makes Independent Living Possible
Just because you notice a parent or family member having difficulty around the home, doesn't mean they are unable to live independently. Particularly after holidays and extended visits with loved ones, family members may question whether it's time for an aging parent to move to an assisted living facility. Elderly care services, such as those offered by Visiting Angels Jacksonville, can be a huge help. In home elderly care helps aging clients maintain the feeling of independence while giving them the daily assistance they need.
The most important thing to consider when deciding if your loved one could use elderly care services, such as those from Visiting Angels Jacksonville, is to trust your instincts. You know your parent best. If your gut is telling you it's time to bring in some professional help, then you can't go wrong by calling and speaking with a knowledgeable professional. You will likely find your loved one is relieved and thankful to have help with certain tasks and you can gain peace of mind.
Call and speak with a compassionate staff member in our Jacksonville or Amelia Island offices to see if it may be time for elderly care services for your loved one. We provide elderly care to Amelia Island, Fernandina, Fleming Island, Orange Park, Neptune Beach, Jacksonville and the surrounding areas.
Serving Jacksonville, Amelia Island, Duval, Clay, and Nassau Counties
Visiting Angels
JACKSONVILLE & AMELIA ISLAND, FL
4250 Lakeside Dr
Jacksonville, FL 32210
Phone: 904-302-7560
Fax: 904-352-2357
HCA232729 & HHA299994100