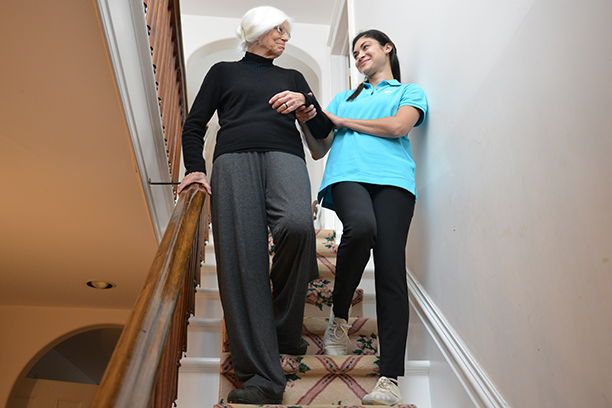 Experienced Senior Caregivers in Orland Park, LaGrange, IL, and Nearby Areas
Aside from compassionate and friendly care providers, you will also get a care provider with several years of on hands assistance when you choose to work with Visiting Angels of Orland Park.
Visiting Angels Hires Only the Most Qualified Senior Caregivers to Provide Essential One on One Care in Orland Park, LaGrange, Flossmoor, Hinsdale, and Nearby Cities
With our comprehensive, personalized screening system, Visiting Angels of Orland Park's essential care services give both elderly clients and their families peace of mind. Designed to ensure only experienced and skilled
senior caregivers
are employed by our agencies, this system also helps clients find the ideal type of support staff for their loved ones. Rest assured, before starting any
home care program
with us, you and your family will have the opportunity to meet and approve any caregiver.
Professional and Compassionate Caregivers
Quickly, you will come to realize that Visiting Angels of Orland Park's senior caregivers are not just highly trained, but they are also professional and caring companions. No doubt, at the top of your list of necessities, you will want to find a caregiver that has extensive knowledge of the home care industry and someone who genuinely knows how to care for your loved one with dignity, empathy, and respect.
At Visiting Angels of Orland Park, you will be glad to know that we do not believe in "on-the-job" training. Rather, we insist that all our home care providers have a strong background in care via healthcare certification training programs or a significant amount of experience in the industry. Whether it's help with personal hygiene or personal care needs, our expert companions are highly knowledgeable. However, should your senior require care that does not require a skilled aide, then we can also provide your family with an experienced unskilled caregiver. Our extensive database of senior caregivers includes aides that have worked with our agency for many, many years.
Multiple Interviews and Extensive References
How do we find the ideal candidates to work with our elderly clients? In essence, it all boils down to our agencies, who perform multiple interviews and extensive references. Prior to hiring new support staff, we insist on speaking to their previous clients, volunteer organizations, past agencies, certification training schools, and healthcare institutions, all previous sources that play a huge role in the hiring process. So, before a support staff member of the team is referred to a family, they're well-vetted.
We believe in working closely with your family in order to find the perfect caregiver for your loved one in Orland Park, LaGrange, Flossmoor, Hinsdale, and the surrounding area.
Let Visiting Angels of Orland Park assist with your home care needs. Contact us at 708-226-1028 today to learn more about our services!


Serving Orland Park, LaGrange, Flossmoor, Hinsdale, and the Surrounding Area
Visiting Angels
ORLAND PARK, IL
11532 W 183rd St #NW
Orland Park, IL 60467
Phone: 708-226-1028
Fax: 708-226-1025