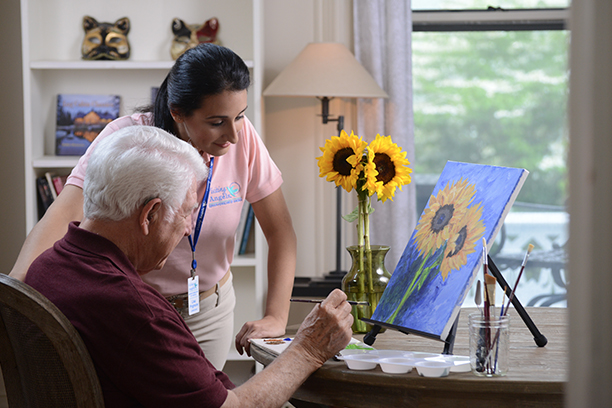 Post-Hospitalization Elder Care in Greater Orland Park and LaGrange, IL
When an aging loved one experiences a physical health event, it can be upsetting to the whole family. At Visiting Angels of Orland Park, we know your priority is the safety and well-being of your family. So, when something happens that requires hospitalization for your aging loved one, it is important to learn from it and get new resources that can help.
The two most important things you can do to help a loved one who is recovering from a medical event is to access one-on-one elder care and help mediate the underlying cause of the health problem.
Visiting Angels' Ready-Set-Go-Home Program Is the Essential Elder Care That Seniors Need to Reduce the Risk of Hospital Readmission in Orland Park, LaGrange, Flossmoor, Hinsdale, and Nearby Cities
Our elder care providers in Orland Park, LaGrange, Flossmoor, Hinsdale, and the surrounding area can help you identify hazards in the home that can impact your loved one.
If your loved one tripped and fell, a home care provider can provide advice about flooring, furniture layout, lighting, grab bars, and other strategies to avoid future trips and falls.
If poor nutrition or lack of daily activity is harming your loved one's health, our caregivers will work with you to incorporate transportation to the grocery store, healthy meal preparation, and doctor-approved exercises or activities into your loved one's life.
Essential Assistance with Homecoming
To make sure your loved one enjoys a full recovery and future good health, elder care is essential for seniors returning home after a hospitalization.
Not only will your loved one require more assistance throughout their first few days at home, but you will also need to:
be mindful of aftercare recommendations
changes in medication or medication schedules
changes in dietary needs or sleep habits
keeping follow-up appointments with your loved one's medical providers
Visiting Angels of Orland Park can help with each part of that homecoming process.
Three Prong Approach
Our transitional elder care services for clients returning home from the hospital use a three-prong approach: we assist your loved one at the hospital, at their home, and through our local agency. We are present at each step of the way, providing holistic living assistance services to your loved one and your whole family.
Ready: The first step is for your family to connect with Visiting Angels of Orland Park and collaborate with us to build your customized care plan. At the agency, we will do all the planning and logistics to make sure that your loved one's needs can be met, whether that is around-the-clock monitoring, revising their medication schedule, or planning transportation for future medical appointments.
Set: We begin working with your loved one while they are still in the hospital. Our Angels will make sure they understand your loved one's medical situation, any instructions provided by your loved one's medical care team, and what to watch for as your loved one heals.
Go Home: Finally, when your loved one is ready to be in their own home, our caregiver help to ease the transition and make sure that your loved one always remains safe and comfortable. That includes helping with everyday needs—making meals, changing bedding, cleaning living spaces to maintain a healthy home environment—and watching to make sure your loved one's health remains stable.
Contact Visiting Angels of Orland Park
At Visiting Angels of Orland Park, we are committed to reducing hospital readmission, and we have the experience and skill to help your family navigate your loved one's medical needs. Call our home care agency today at 708-226-1028 to learn more about our Ready-Set-Go Home elder care program.
Learn more about how our senior care services can help by contacting Visiting Angels of Orland Park today.


Serving Orland Park, LaGrange, Flossmoor, Hinsdale, and the Surrounding Area
Visiting Angels
ORLAND PARK, IL
11532 W 183rd St #NW
Orland Park, IL 60467
Phone: 708-226-1028
Fax: 708-226-1025