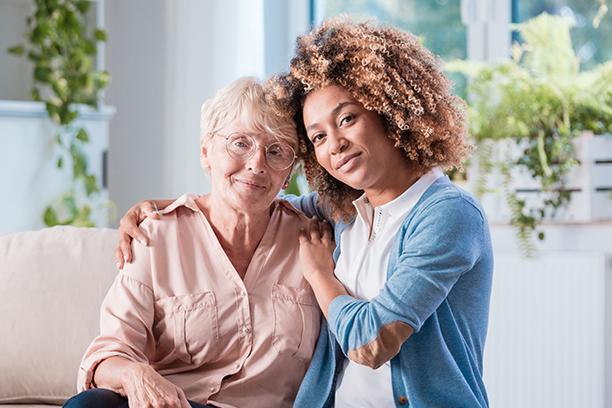 Respite Care Throughout Orland Park, LaGrange, IL, and Neighboring Communities
At Visiting Angels of Orland Park, we welcome new clients in Orland Park, LaGrange, Flossmoor, Hinsdale, and the surrounding area into our caregiving family every day. When we provide essential one-on-one care services for your family, and your aging loved one, it means we are working with you and your entire family to ensure that your loved one has the type of care, and amount of care, that helps them stay happy and healthy every day.
Visiting Angels Offers Respite Care to Family Members Who Are Caring for an Aging Loved One in Orland Park, LaGrange, Flossmoor, Hinsdale, and Nearby Cities
Respite care is a way for you and other family caregivers to be able to step away from caregiving duties for any amount of time while making sure that your aging loved one has the help they need whenever you are away. When your loved one receives in-home care, they will work with one of our licensed, bonded, and insured caregivers on the schedule that is right for you and your family. We help clients through our intake process, creating a custom care plan that meets individual health needs. We welcome the continued assistance of family members, friends, church volunteers, and others who have helped support your aging loved one throughout the years.
Why Family Input is Essential
You and your family remain a part of your loved one's care during the respite care process and throughout our services.
Family member input is especially important for:
Creating a Schedule
Whether our respite care providers are with your loved one for a few hours a day, overnight, the week you go on vacation, or any other amount of time—we will work with you and your family to ensure you have the coverage you need.
Collaborating with Medical Providers
Home care providers can help your loved one keep doctor's appointments, keep up with physical therapy, and more. If your loved one needs transportation, mobility assistance, or any other help accessing medical care, we will work with you to understand which providers would be best for you. We take detailed notes during medical appointments so that you can keep up with your loved one's progress.
Relationship Building
It is not unusual for our clients to say that their caregiver became part of their family! It is important to us that your loved one's caregiver is compatible, knowledgeable, and a good personality fit. Your family will have the opportunity to interview any home care provider we recommend to you as a provider of your loved one's care.
Getting Started with Visiting Angels of Orland Park
All of us need time to recharge and rest, and family caregivers can often find themselves overworked in maintaining professional, personal, and family responsibilities. Working with Visiting Angels of Orland Park can give your family time to focus on other needs, as well as the assurance that your loved one is receiving the help they need. We offer respite care as a specialty and as a standalone service, meaning whenever your family caregivers need to step away, we can step in and assist your loved one.
If you are helping to care for an aging family member and you need another pair of hands to assist, call Visiting Angels of Orland Park today to learn more about our respite care options for family caregivers!


Serving Orland Park, LaGrange, Flossmoor, Hinsdale, and the Surrounding Area
Visiting Angels
ORLAND PARK, IL
11532 W 183rd St #NW
Orland Park, IL 60467
Phone: 708-226-1028
Fax: 708-226-1025