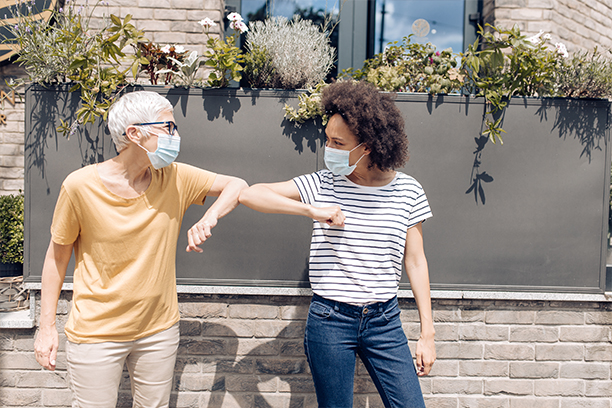 Certified Palliative Care Throughout Orland Park, LaGrange, IL, and Neighboring Communities
Visiting Angels' Certified Palliative Care Focuses on a Senior's Overall Health in Orland Park, LaGrange, Flossmoor, Hinsdale, and Nearby Cities

While you might hear the terms "hospice care" and "palliative care" used interchangeably, they are not one and the same. Both seek to reduce pain and discomfort and improve quality of life, however hospice care is reserved for end-of-life services only. Palliative care, on the other hand, can help seniors with a diverse range of needs, no matter their life expectancy.
Our Services
At Visiting Angels of Orland Park, our mission is to improve the quality of life of your loved one in Orland Park, LaGrange, or the surrounding area every day. We do this by providing a wide range of in-home services, including our Certified Palliative Care. We will work with you to build a customized care plan that considers your loved one's specific needs, wants, and preferences. Our care focuses specifically on increasing the comfort and well-being of our clients, especially when your loved one is faced with challenging health, mobility, or ability circumstances.
Here is a list of our specialized care services:
Certified Palliative Care is part of our Life Care Navigation services. Life Care Navigation does include end of life services, which can provide your loved one and family with assistance throughout this transitional time; but we can also help your loved one with companionship care, personal care, social care, and more throughout their golden years.
We Have a Holistic Mindset
We approach home care with a holistic mindset. Our caregivers will work to restore dignity, hope, and healing in every aspect of your loved one's life, including emotional, mental, social, and spiritual needs. We use a compassionate approach and work hard to listen to your loved one's specific needs and preferences, whether that's transportation to a specific church service or helping them access a movie or musician who reminds them of their younger years. Depression, loneliness, stress, and anxiety can all have major impacts on health and our living assistance services are designed to combat these stressors along with alleviating other everyday needs.
Contact Visiting Angels of Orland Park
If you are concerned about the health or decline of a loved one, Visiting Angels of Orland Park can help. Call us at 708-226-1028 today to learn more about our essential senior care services and to schedule a free, in-home assessment with one of our care coordinators. They can go into more detail about our Certified Palliative Care and how it can help your loved one maintain their independence and health at home.
Serving Orland Park, LaGrange, Flossmoor, Hinsdale, and the Surrounding Area
Visiting Angels
ORLAND PARK, IL
11532 W 183rd St #NW
Orland Park, IL 60467
Phone: 708-226-1028
Fax: 708-226-1025