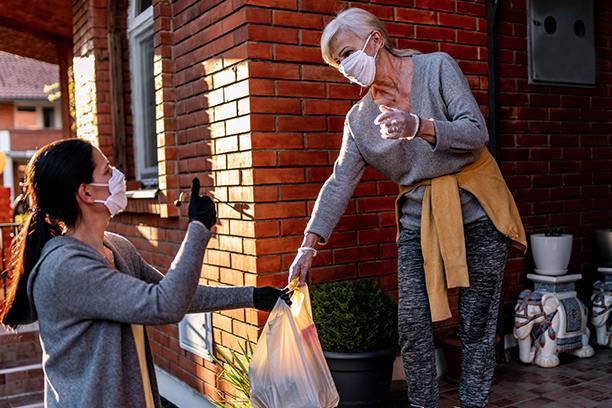 Do You Have Questions About Alzheimer's Disease? Our Elderly Home Care Experts in Greater Orland Park and LaGrange, IL Can Answer Them!
When a Loved One Is Diagnosed with Alzheimer's Disease, You Will Have Questions About How to Find Essential Elderly Home Care Services in Orland Park, LaGrange, Flossmoor, Hinsdale, and Nearby Cities
Having a loved one diagnosed with Alzheimer's disease can be devastating, and it can also bring up a lot of questions. At Visiting Angels of Orland Park, families often ask us questions like: "What is Alzheimer's disease?" "What are our elderly home care options?" "What are its symptoms?" "Is Alzheimer's Curable?" and many more. We provide a wide range of essential elderly home care services for those with this debilitating disease. Here are the most common questions, along with their answers.

1. What Is Alzheimer's Disease?
Alzheimer's is a degenerative cognitive disease that progressively affects a person's ability to think, short and long-term memory, and in time, their ability to complete the simplest of life tasks. Over 5.5 million people in the U.S. have been diagnosed with Alzheimer's. The average lifespan of a person with severe Alzheimer's is approximately 4 to 8 years.
2. Is There a Difference Between Alzheimer's and Dementia?
At Visiting Angels of Orland Park, we see seniors with all forms of dementia. Dementia is an umbrella term that covers many types of mental disorders that lead to memory loss, such as Alzheimer's disease. While Alzheimer's patients have dementia, not all who are diagnosed with dementia have Alzheimer's disease.
3. What Risk Factors are Associated with Alzheimer's Disease?
While there are many risk factors associated with Alzheimer's disease, the leading risks are:
Age – most patients diagnosed with Alzheimer's are over the age of 65
Genetics – most individuals diagnosed have a family history of Alzheimer's disease
Heart health – heart diseases, such as hypertension, diabetes, high cholesterol, cardiac arrest, or stroke are a likely contributor to Alzheimer's
Other risk factors include smoking, high levels of stress, air pollution, issues with sleeping, and heavy drinking.
4. What are the Common Symptoms of Alzheimer's Disease?
The most common symptoms of Alzheimer's disease include:
Problems with mixing up words or forgetting them while talking
Confusion with names
Behavioral changes including irritability, irrational behavior, and depression
Loses things and becomes lost more easily
Confusion, especially about dates and times
Struggles to complete routine daily tasks
Short-term and long-term memory loss
Difficulty with simple problems
5. How Does Alzheimer's Disease Progress?
The progression of Alzheimer's disease is relatively standard as we have seen at Visiting Angels of Orland Park:
Mild – minimal impact on the person's life and well-being
Moderate – includes issues such as confusion, memory loss, and difficulty with words are common
Severe – potential loss of both short and long-term memory, the ability to speak or understand speech, and or the inability to perform most personal care activities.
6. Has a Cure for Alzheimer's Disease Been Found?
As of 2019, there has been no cure discovered for this highly debilitating disease despite ongoing research.
7. What Options are there for my Loved One?
For mild and moderate stages of Alzheimer's, most seniors can live at home under the care of their loved ones and with elderly home care services. However, Alzheimer's in its severe stage, it becomes necessary for seniors to be moved into an assisted living facility or nursing home.
Learn More About Essential Care Services Today
To learn more about Alzheimer's disease and the many one-on-one elderly home care options we offer in Orland Park, LaGrange, Flossmoor, Hinsdale, and the surrounding area, contact Visiting Angels of Orland Park at 708-226-1028.
Serving Orland Park, LaGrange, Flossmoor, Hinsdale, and the Surrounding Area
Visiting Angels
ORLAND PARK, IL
11532 W 183rd St #NW
Orland Park, IL 60467
Phone: 708-226-1028
Fax: 708-226-1025